Smarter packaging driving down costs in the Automotive industry
The speed of business isn't getting any slower, especially when it comes to the automotive industry. That is why Magneti Marelli approached DS Smith to optimise their packaging to increase their competitiveness.

Challenge
In brief the challenge was to move from 48 shock absorbers per box to 56 per box while ensuring that none of the parts touched, that all of the parts lay horizontally and that the packaging solution shouldn't need any assembly prior to use. At the same time, the solution should be recyclable, should prioritise employee safety and, of course, it should be less expensive than its predecessor.
Our Approach
Our approach to meeting Magneti Marelli's demanding criteria was multifold. We reduced the bumpers between parts to maximise space, we replace internal dividers with brackets, these allowed us to save weight, space and better protect the parts and we ensured that the shock absorbers could be stored on a Left/Right basis so they could be used quickly and effectively at the assembly point.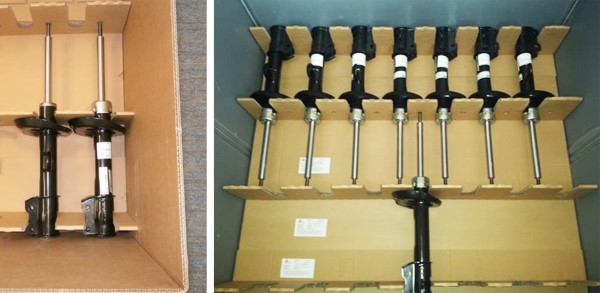 Results
Lower transport cost per piece of 14% for shock absorbers
17% more parts per box reducing shipments and emissions
No increase in amount of corrugated used per box
Intelligent design for faster and easier use of part
Safe solution for employees
About Magneti Marelli
Magnetti Marelli is a major international auto parts supplier and part of the Fiat family. Their 38,000 employees across 89 plants in 19 countries are spread over 4 continents, 8 product segments and deliver €5 billion in annual income.