COP26 - How can the Circular Economy help us address Climate Change?
Around the world we are experiencing the impacts of climate change. Storms, floods, wildfires and air pollution are intensifying and affecting communities and natural habitats across the globe. Now is the time to unite and tackle climate change together.

What is COP26?
COP26 is the 26th United Nations Climate Change Conference of Parties, happening this November in Glasgow, UK. The annual summit brings together world leaders, government representatives, businesses and citizens to formulate and outline their plans to reverse climate change.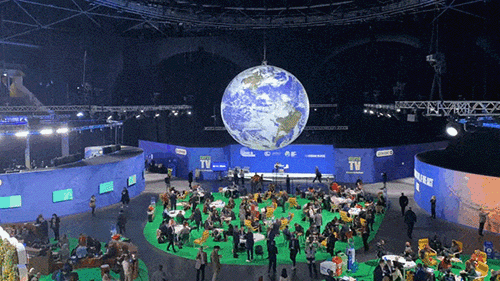 COP26 is arguably the most significant climate event since the 2015 Paris Agreement – when all countries agreed to work together to limit global warming to well below 2 degrees and aim for 1.5 degrees, to adapt to the impacts of a changing climate and to make money available to deliver on these aims.
The window for achieving this goal is closing and the experts believe that the decade out to 2030 will be crucial. This year in Glasgow, countries must go much further to keep the hope of holding temperature rises to 1.5 degrees alive.
Why is COP26 important to us?
Businesses play a vital part in preventing and mitigating climate change. At DS Smith, we recognise how important it is to reduce carbon emissions. That's why in June we announced our new science based carbon target which will reduce our C02 emissions by 40% per tonne of product by 2030, compared to 2019 levels, alongside a commitment to reach Net Zero by 2050.
Reducing carbon emissions is only half of the climate challenge. The other half is how we live and run our businesses – using our resources responsibly, many times over. We need to evolve from a linear use of resources to a circular use of resources.
We believe that the climate crisis is a result of the take-make-waste 'linear economy', and by applying a circular economy through designing out waste, keeping materials in use, and regenerating natural resources we can reduce emissions by 9.3 billion tonnes*.
*Completing the picture: How the circular economy tackles climate change by the Ellen MacArthur Foundation
What is our role at COP26?
Sustainability is at the heart of everything we do at DS Smith so we're excited to be a part of COP26. Here are just a few ways we are involved:
1 - 12 November - Sustainable Packaging installation at the Ellen MacArthur Foundation Cafe in the New York Times Climate Hub
We designed and created a sustainable and fully recyclable installation for the EMF Cafe at the New York Times Climate Hub. Its purpose is to make the attendees stop, examine the installation and think about what responsible packaging means.
The installation showcases DS Smith employees holding a corrugated box, originating from a tree to demonstrate the natural fibre in our packaging solutions. A globe forms above the box, as a representation of our continued commitment to reduce CO₂ emissions and care for forests and biodiversity wherever we operate.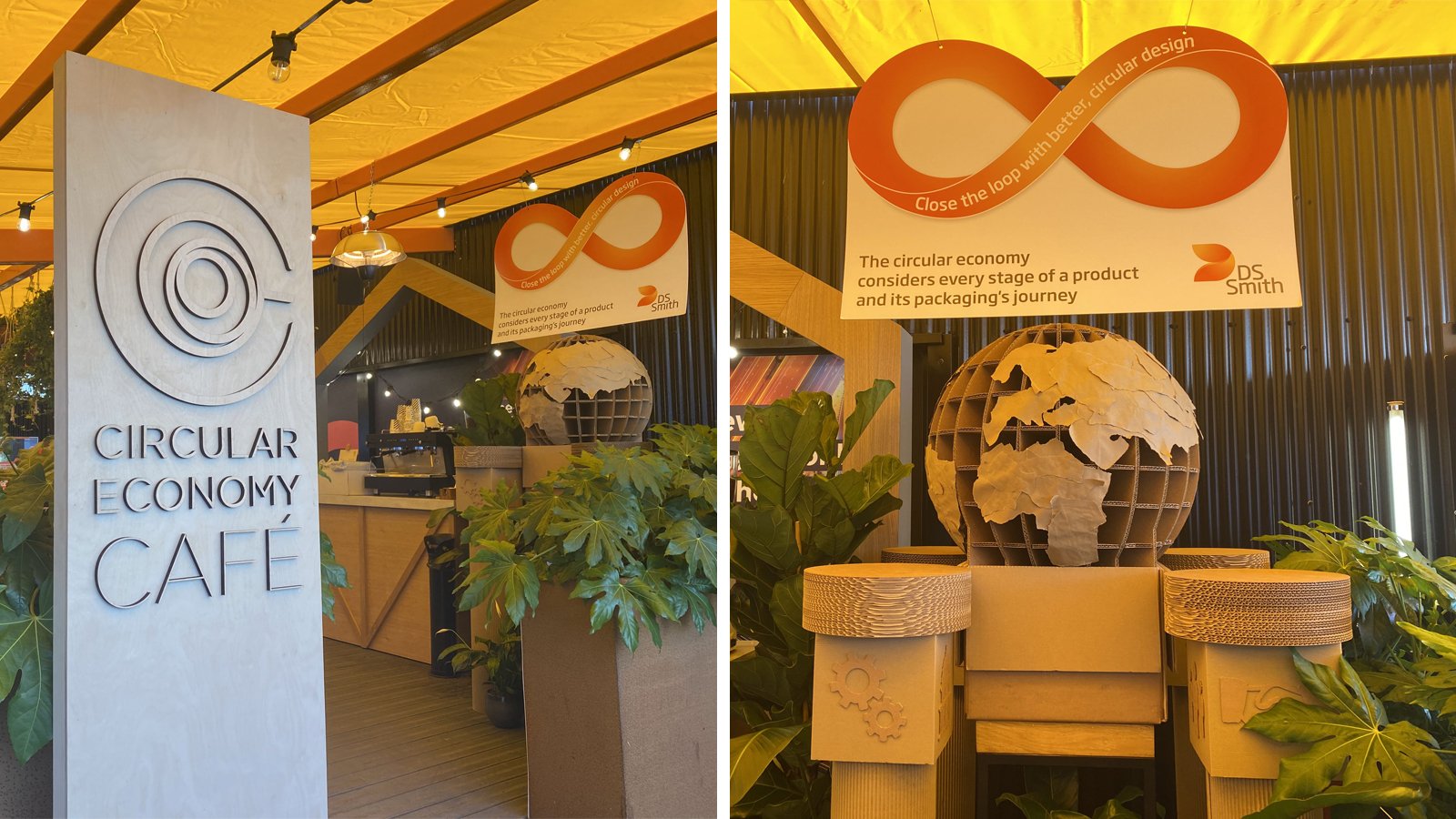 Our Now and Next Sustainability Strategy focuses on closing the loop through better design, protecting natural resources by making the most of every fibre, reducing waste and pollution through circular solutions and equipping people to lead the transition to a circular economy.
3 November - Accelerating the green transition through sustainable supply chains panel discussion
How can we improve sustainability outcomes within supply chains? At DS Smith sustainability is at the heart of everything we do and we strive to help our customers to be circular too. Lauren Hankinson, our Government and Community Affairs Senior Manager, is speaking in a panel discussion about accelerating the green transition through sustainable supply chains.
The discussion will highlight how collaboration between buyers, suppliers, industry associations, lenders, and other stakeholders can create successful strategies for decarbonizing and building climate resilience within the supply chain.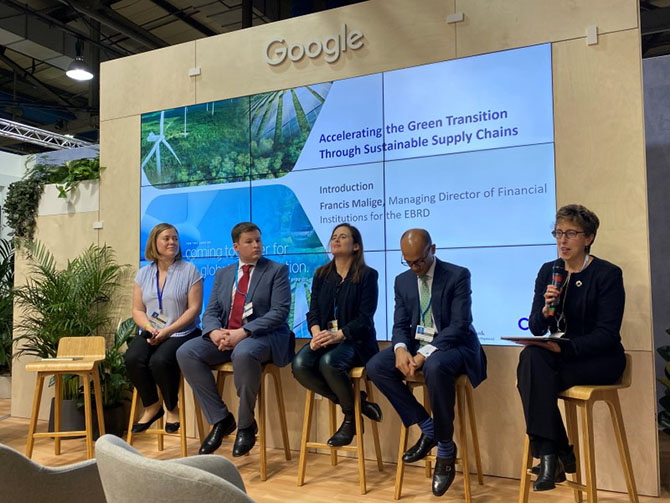 4 November - Circular Economy Lesson Plan at the Ellen MacArthur Foundation Cafe in the New York Times Climate Hub
We want to lead the way towards a more circular economy, through engaging and educating our people, our industry and the next generation. We've pledged to engage 5 million people on the circular economy and circular lifestyles by 2030.
We're already delivering this through a series of community projects and deploying digital platforms to inform and educate people on the benefits of the circular economy. But we want to go further, so at COP26, we are launching our Circular Economy Lesson Plan to use in schools across the world.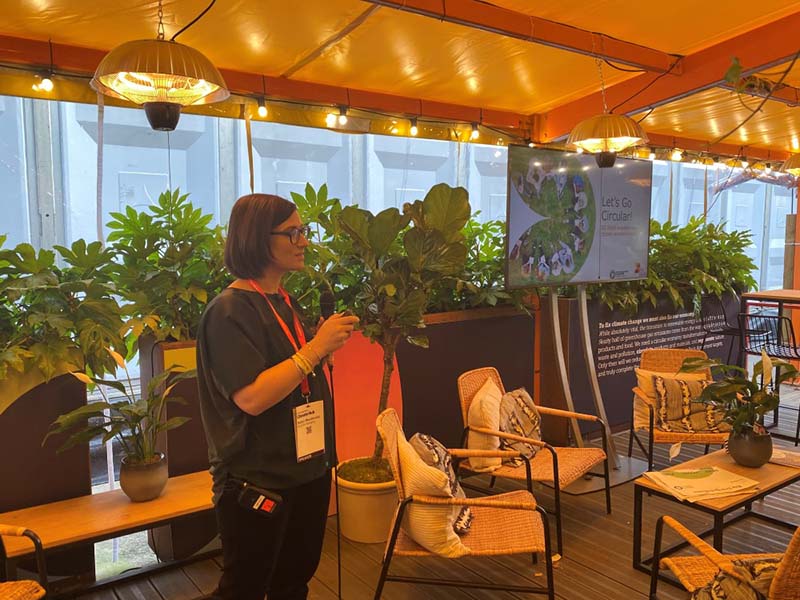 5 November - Holyrood COP26 Fringe Festival
Holyrood's COP26 Fringe Festival takes place in the centre of Glasgow, with each day exploring a different theme. The event acts as a hub for people to meet, discuss ideas and share best practice on the way to, and coming back from, the COP26 official zones.
We're sponsoring 'Nature and the Environment' day which takes place on the 5th of November. Wouter van Tol, our Head of Government, Community Affairs & Sustainability, is speaking at The Nature Emergency: The Forgotten Crisis panel discussion.
The discussion will highlight the plight of the natural environment, bring the issue of biodiversity to the fore and discuss how adoption of the principles of circularity and regeneration across society and business can be part of the solution in the restoration of nature to the benefit of us all.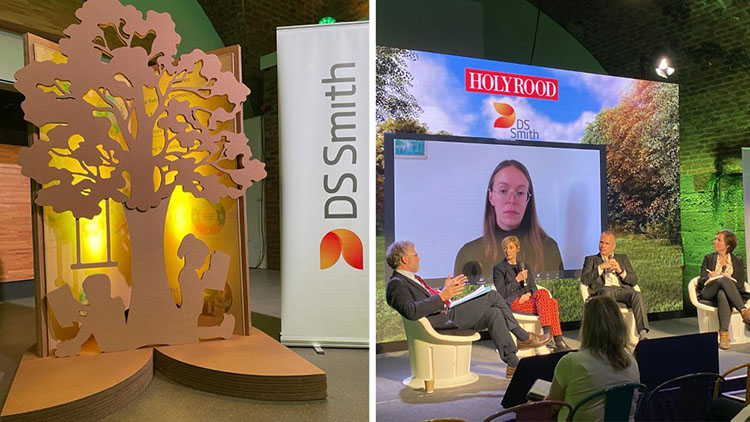 6 November - Get Nature Positive
The 'Get Nature Positive' campaign invites businesses to commit to starting the journey to become nature positive by 2030, the first step to protecting and restoring the natural world.
With sustainability at the heart of everything we do at DS Smith, we're committed to demonstrating business leadership in the area of biodiversity and nature conservation. We're excited to join the Get Nature Positive scheme and participate in worldwide efforts to halt biodiversity and nature loss.
At COP26, our Director of External Affairs, Greg Dawson, is attending a lunch meeting with other members of the initiative to explore how different industries can learn from each other and build a common agenda together.