Debt investors
DS Smith funds its operations from the following sources of capital: operating cashflow, borrowings, shareholders' equity and, where appropriate, disposals of non-core businesses.
The Group's objective is to achieve a capital structure that results in an appropriate cost of capital whilst providing flexibility in short and medium-term funding so as to accommodate material investments or acquisitions. The Group also aims to maintain a strong balance sheet and to provide continuity of financing by having a range of maturities and borrowings from a variety of sources.
Borrowing facilities
DS Smith finances its operations using a number of funding instruments, including Medium-term notes, private placement debt and bank borrowings.
Borrowing facilities as at 30 April 2018
Facility
Currency
Committed funds million
Maturity
£ million equivalent
Syndicated bank RCF
GBP
800
2020
800
EMTN

EUR

1,250

2

022-24

1100
EMTN

GBP

250

2029

250
Term loan facilities

EUR

270

2

018-21

238
Private placement
EUR
118

2

018-20

104
Private placement*
USD
380

2018-22

276
Total
2,768
* Net of cross-currency interest rate swaps
Analysis of Gross Debt at 30 April 2018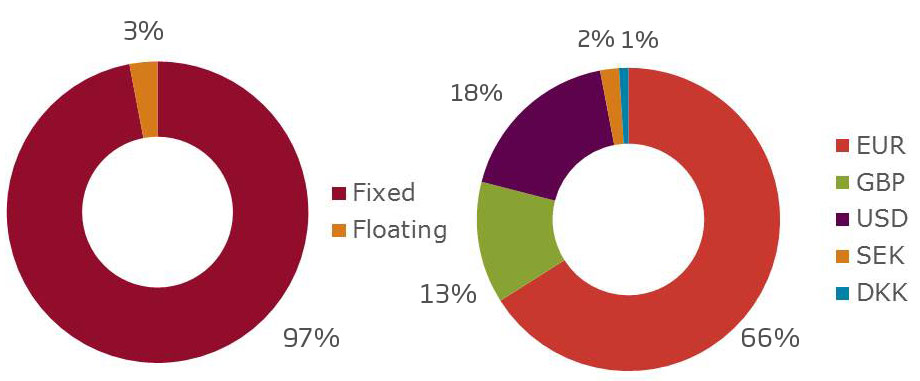 Available committed facilities as at 30 April 2018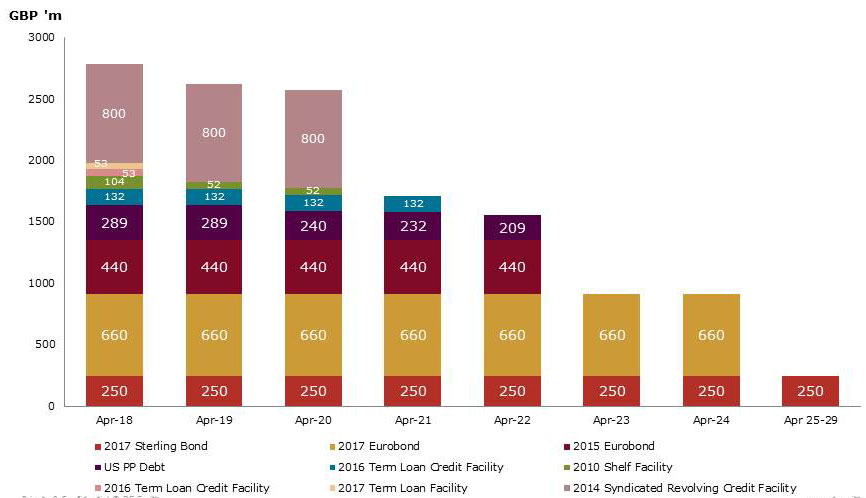 DS Smith has been given a credit rating of BBB- by Standard & Poor's.
Euro Medium-term Note Programme
| Maturity date | Issued amount | Coupon | Interest paid | Date | Minimum denominations |
| --- | --- | --- | --- | --- | --- |
| 16 September 2022 | €500m | 2.25% | annually | 16 September | €100k |
| 26 July 2024 | €750m | 1.375% | annually | 26 July | €100k |
| 26 July 2029 | £250m | 2.875% | annually | 26 July | £100k |