Inventing, re-imagining and redefining to deliver the Circular Economy
The need to abandon the 'take, make, waste' economy has never been more pressing. That's why governments, companies, society and individuals all around the world must join forces to develop innovative new thinking that will accelerate the transition to the Circular Economy. We are leading the way.

From our packaging to our processes, our designers and innovators are relentlessly pursuing every new opportunity to create circular solutions designed to eliminate waste and pollution, circulate products and materials, and regenerate nature. They're being inspired by our Purpose and supported by our leadership and stakeholders. Our ambition is attracting the world's most exciting minds to join us.
We are innovating 'for Now and for Next'
Every designer and innovator is motivated by an aspirational purpose. Ours is 'Redefining Packaging for a Changing World', so they don't come much bigger than that.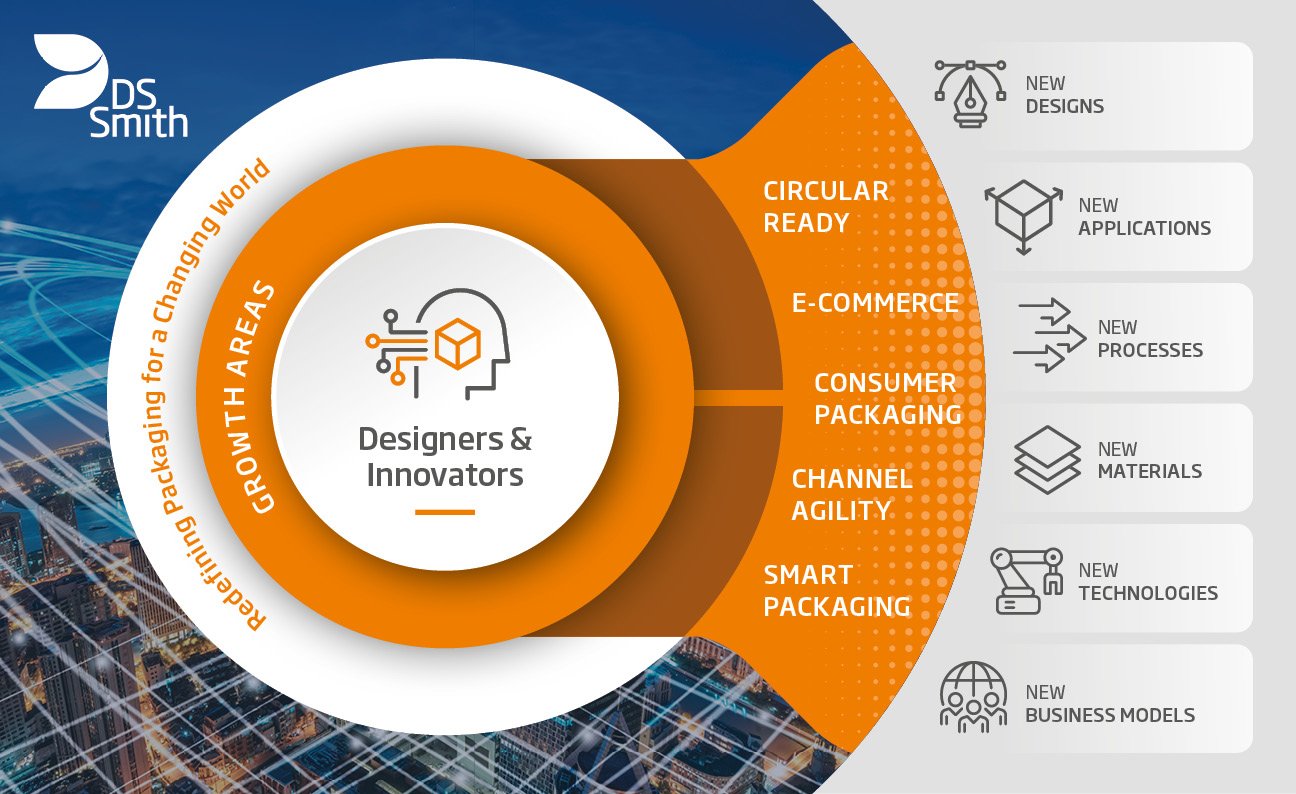 Delivering our Purpose and leading the transition to the Circular Economy will require resources to match. So we are investing globally in our people, plant and our partner ecosystem, including over £100m to invest in Innovation and Research & Development over the next five years.
Just as our Now and Next Sustainability Strategy is focused on the sustainability challenges we are facing today as well as those that will impact on future generations, our innovation strategy is based on delivering our objectives on the immediate, medium and long-term horizon.
1. Innovating for 'Now'
Innovation is a process and it can take years between having a breakthrough idea and launching it. However, we never forget that first and foremost we are a packaging business, with tens of thousands of customers who count on us to solve their packaging problems and meet their immediate needs. With more of our customers switching to sustainable packaging, we are already creating over 3,500 bespoke, sustainable packaging products every month by:
Embracing Circular Design Principles. Inspired by becoming a Strategic Partner of the Ellen MacArthur Foundation in 2019, we have developed Circular Design Principles and rolled out masterclass training to all our 700+ designers and innovators that makes circular thinking second nature.
80% of waste occurs at the product's design stage. That means innovative design, and the materials and processes we use, is at the heart of the transition to the Circular Economy.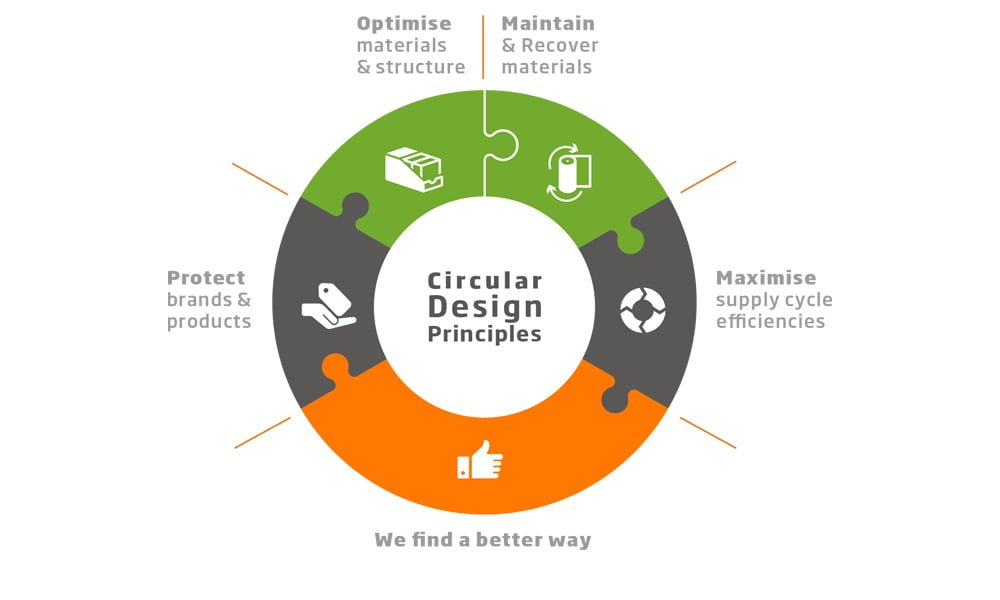 Measuring effectiveness. Our designers know every decision has a consequence. So we never look at the sustainability benefits of our packaging in isolation but examine the broader picture. To make this possible we've embedded our pioneering Circular Design Metrics tool – another industry first – at all our packaging sites. This way we can measure and compare the sustainability performance of different packaging designs across eight key indicators: carbon footprint, design for reuse, supply chain optimised, recyclable, planet safe, material utilisation, renewable source and recycled content. Now our designers can give our customers a good understanding of the circularity performance of their packaging and can make informed decisions on which designs meet their sustainability objectives most.
DS Smith has set ambitious design goals, establishing and adopting circular design guidelines, training over 700 of its Designers and Innovators, and embedding circular economy curriculum in its core training programmes – which has been inspiring to see.
Tackling deep-rooted problems. We are developing new, fully recyclable, translucent packaging for long-standing challenges, like replacing plastic windows in sandwich and ready meals packs. We've already launched some innovations in this space onto the market, with more to come.
Applying science to fibre. Over the next five years we are rolling out a multi-million Research & Development package that will enable our designers and innovators to unleash new thinking and fast-track next generation technology. It will include the creation of a new breakthrough technologies hub and Prototyping Acceleration Hub. Our work will include the analysis of different fibres in recycled paper and corrugated to optimise its strength, resilience, and recyclable properties. Connected to this we are exploring alternative raw materials and fibre sources including seaweed and cotton, as well as agricultural waste fibre sources such as straw, hemp, sugarcane pulp and more.
"Our scale means even minor changes in packaging design can make a huge difference just using our existing fibre-based materials. But over the next 5 years we are investing £100 million in R&D to accelerate our work in the Circular Economy. This investment could be a real gamechanger for designers and innovators – and our customers"
Magnus Renman, Research & Development Director at DS Smith
2. Innovating for 'Next'
Our focus cannot only be on helping to deliver the Circular Economy, we must also ensure our customers, partners and communities can thrive in it. So, in parallel, we are actively working on the DS Smith of the future - a business where services may come to replace products, where the value of data in our systems and our customer supply chains and networks is leveraged and translated into ever more relevant packaging solutions.
Many of these innovations are radical changes from how we're doing things today. Driving the transition to the Circular Economy may increasingly require us to reconsider and define the edges of our businesses. We're challenging our own ideas and each other.
For example:
Our fibre optimisation programme, PACE which has helped to reduce fibres by 11%, has arguably been one of the best innovations in our industry in decades, mining supply chain data to deliver the exceptional, consistent packaging performance our customers need and delivering:
Clear performance specifications
Clear conformance criteria
Reliable consistent packaging
No unnecessary cost or risk
Using no more material than absolutely necessary.
We give our designers the trial time in our factories to prototype and properly test their concepts and, where appropriate, we fund lighthouse pilots of the most exciting, transformational new products or ideas. For example, we have an active programme focusing on barrier technologies and we recently piloted 'Touchguard', an anti-microbial packaging coating that minimises the risk of transmission of bacteria and viruses.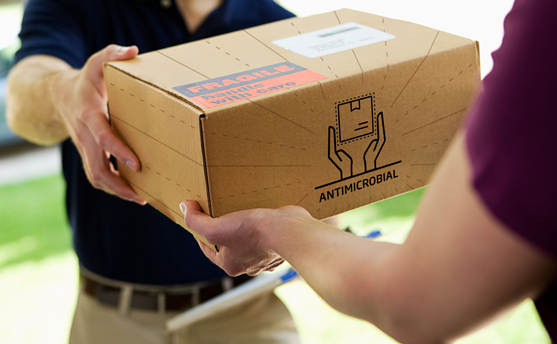 We are already investigating a range of new technologies and materials to create fundamentally different packaging products and fulfilment solutions that may be operated on service model basis.
As early adopters of new technology and new ways of thinking, we're embracing the fourth industrial revolution. Industry 4.0 will boost our use of digital technology with smart and autonomous systems, fuelled by data and machine learning. We are developing new areas of expertise, like robotics and bio-tags that will track our packaging to check it is recycled. We are always keen to know how computers and robots can help us build a more sustainable world.
We are increasingly moving from manufacturing to a design-led business, solving customer problems using the best partners in the market, regardless of whether it gets made in our factories.
Innovation takes teamwork and infrastructure
We are empowering our innovators to work seamlessly together across the world. They are collaborating with our divisions in multi-disciplinary, cross-functional teams to deliver everything from research and development to incremental and radical innovation. Our digital platforms are also pulling down the traditional physical and administrative barriers, accelerating the efficiency and impact of our innovative services and solutions. So a packaging design created in Sweden can be in front of a customer in Spain the same day.
As part of our investment in collaborative working, we are extending our global, state-of-the-art innovation centre in Redditch, UK. The centre will become the hub for our design, development and testing of radical innovations, including proof of concepts, prototypes and pilot machinery. Importantly, it will support collaboration with pilot customers and development partners and we are already building the commercial skills that will allow us to onboard game-changing partners and suppliers sooner.
Our new global centre will complement our network of over 40 Impact and PackRight centres across Europe, where design teams brainstorm with customers to generate ideas that help increase sales, lower costs, address supply chain challenges and ensure our packaging is always fit for purpose and 'circular ready'.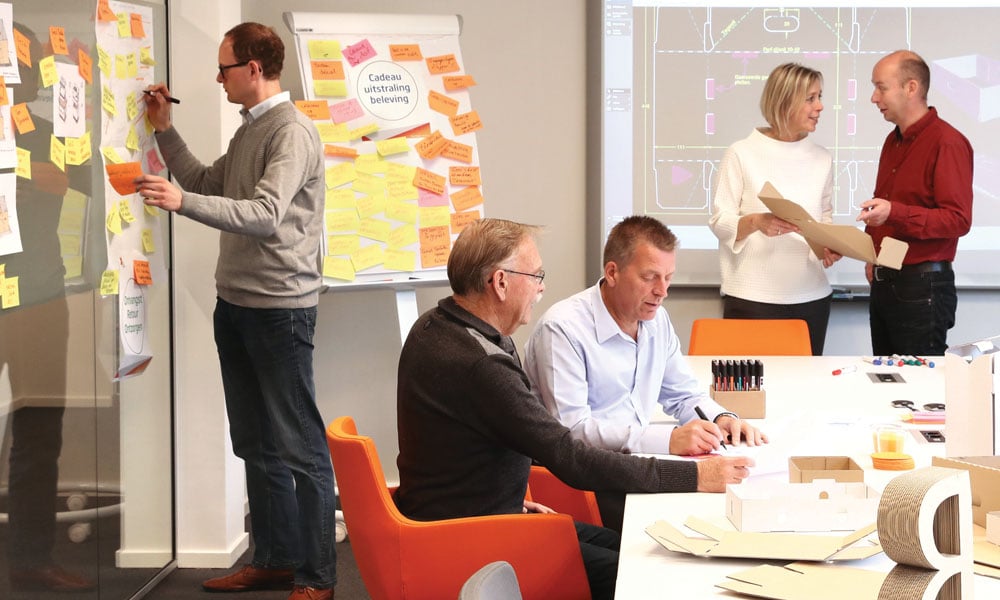 Innovation is in our DNA
We are serious about innovation and leading the transition to the Circular Economy. The green light to think radically comes right from the top and we have created an environment where everyone is empowered to have and share ideas.