Measuring Our Progress
We are redefining packaging through our four strategic goals: delighting our customers, realising the potential of our people, leading the way in sustainability and doubling our size and profitability. We believe that if we deliver in this way, we will meet our vision to be the leading supplier of sustainable packaging solutions.

Strategy and Key Performance Indicators
To delight our customers
To realise the potential of our people
To lead the way in sustainability
To double the size and profitability of the business
Our strategic goals are aligned with the requirements of all our stakeholders, so that we are delivering for all.
To delight our customers
We do this by:
Delivering on our commitments for quality and service
Providing value-adding packaging solutions
Driving innovation, rolled out internationally
On-time, in-full delivery (OTIF)
Packaging is an essential part of an efficient supply chain. Delivering as promised is a critical component to ensuring we remain a trusted partner to our customers.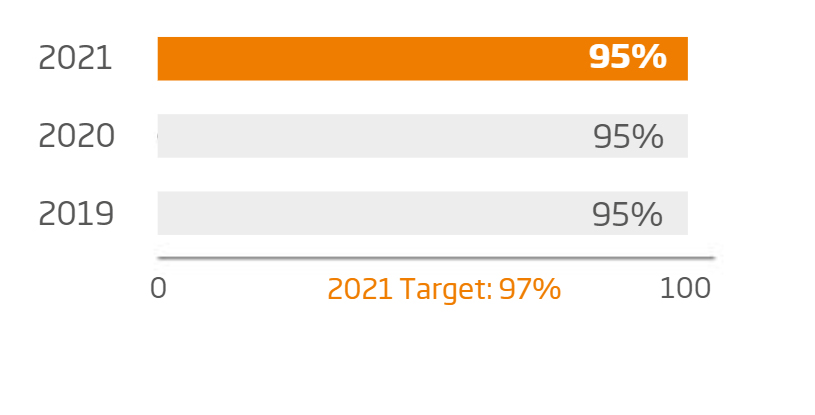 2020/21 performance: Our overall OTIF remained at 95 per cent, despite the significant disruption caused by Covid-19, close to our overall target of 97 per cent. We continue to strive for higher service levels.
To realise the potential of our people
We do this by:
Creating an environment that people are proud of and where they can give their best
Ensuring the health and safety and wellbeing of all
Building capability for the future
Accident Frequency Rate (AFR)
We have a strong focus on individual ownership, and we believe that by engaging our people to contribute to a safe working environment and culture, everyone can influence a reduction in our AFR.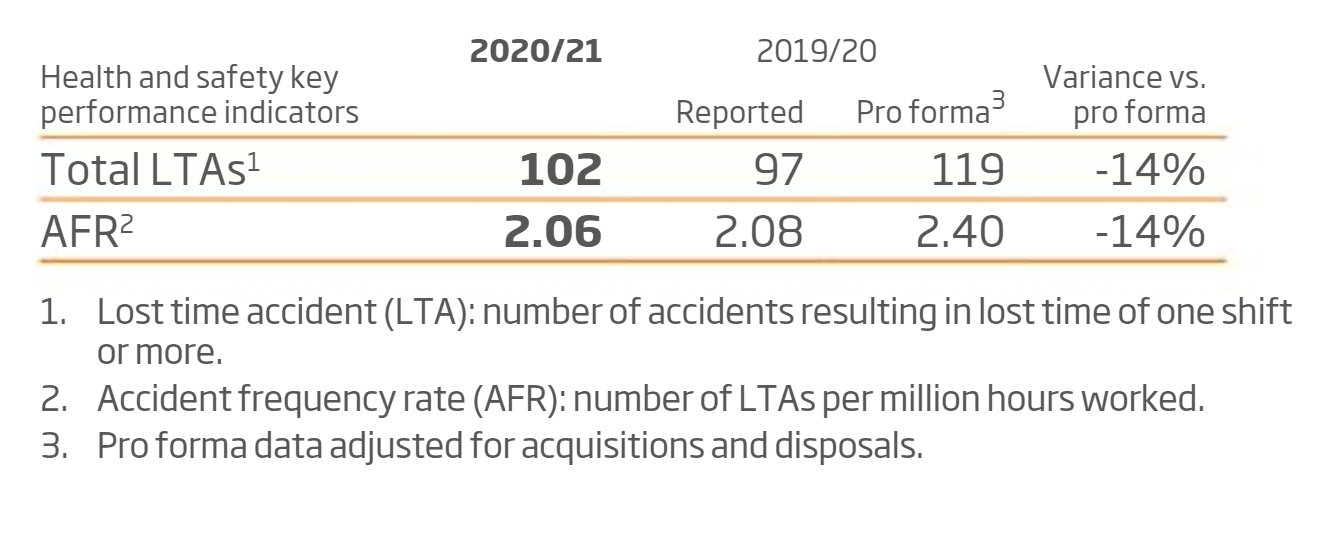 2020/21 performance: A healthy and safe working environment and culture is the cornerstone of any responsible, sustainable and profitable business. In the context of our health and safety aim of zero harm, our target AFR is zero.
The past year has been like no other. The Covid-19 pandemic has had a profound effect, touching every aspect of how we work. It is therefore a remarkable achievement that against this ever changing and increasingly demanding landscape, we have managed to maintain and improve our health and safety performance. We are very pleased with this tremendous achievement.
To lead the way in sustainability
We do this by:
Closing the loop through better design
Reducing waste and pollution through circular solutions
Equipping people to lead the transition to a circular economy
Protecting natural resources by making the most of every fibre
2020/21 highlights:
23% CO2e per tonne reduction since 2015
54 million units of plastic replaced in the year
Set a science-based target and committed to achieving Net Zero emissions by 2050
To double the size and profitability of the business
We do this by:
Driving organic market share gains
Investing behind innovation in growing areas of the corrugated packaging market
Investing in new corrugated packaging capacity
Like-for-like corrugated volume growth
We target volume growth of at least GDP +1 per cent because we expect to win market share by delivering value to our customers across their supply chain on a multinational basis.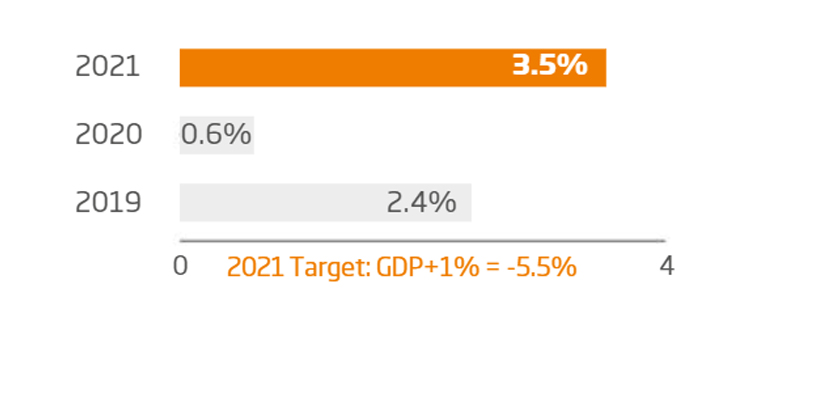 2021 Performance: We delivered volume growth of +3.5 per cent, being -1.0 per cent in H1 and +8.2 per cent in H2. The exceptional growth in the second half of the year was driven by very strong demand in particular from e-commerce customers and also a recovering trend in industrial customers. While all regions showed good growth, the UK was the stand-out country, due to our success in e-commerce.
Return on sales
The margin we achieve reflects the value we deliver to our customers and our ability to charge for that value. It is also driven by our scale. A higher return on sales makes the profit more resilient to adverse effects.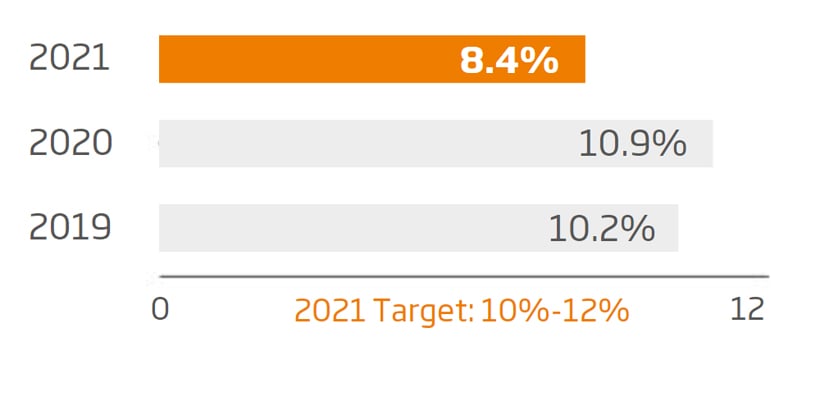 2021 Performance: Return on sales of 8.4 per cent, down 250 basis points in 2020, reflects the reduction in profitability in the year, driven by Covid-19 impacts and a decline in pricing in H1 combined with input cost pressures in H2.
Return on average capital employed (ROACE)
Our target ROACE to be delivered throughout the economic cycle, is above our cost of capital. ROACE is a key measure of financial success and sustainability of returns and reflects the returns available for investment in the business and for the servicing of debt and equity. All investments and acquisitions are assessed
with reference to this target.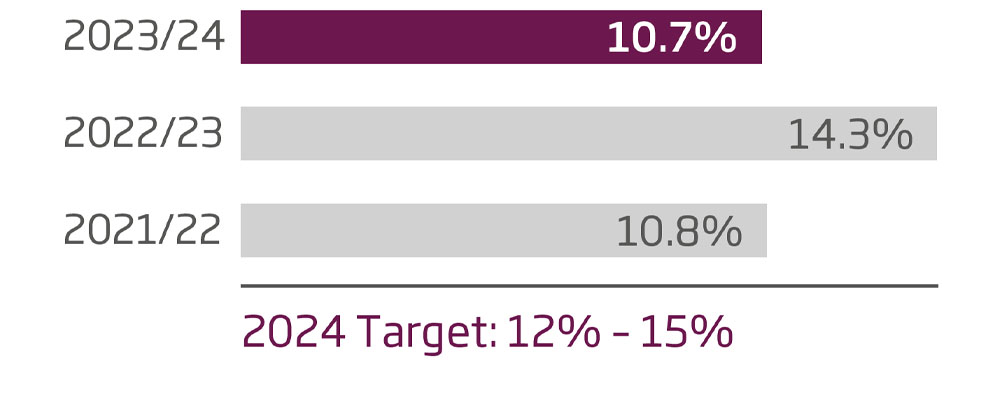 2021 Performance: ROACE declined 240 basis points to 8.2 per cent, reflecting the reduction in adjusted operating profit for the business in the year on a stable capital base.
Net debt/EBITDA
Net debt/EBITDA is a key measure of balance sheet strength and financial stability.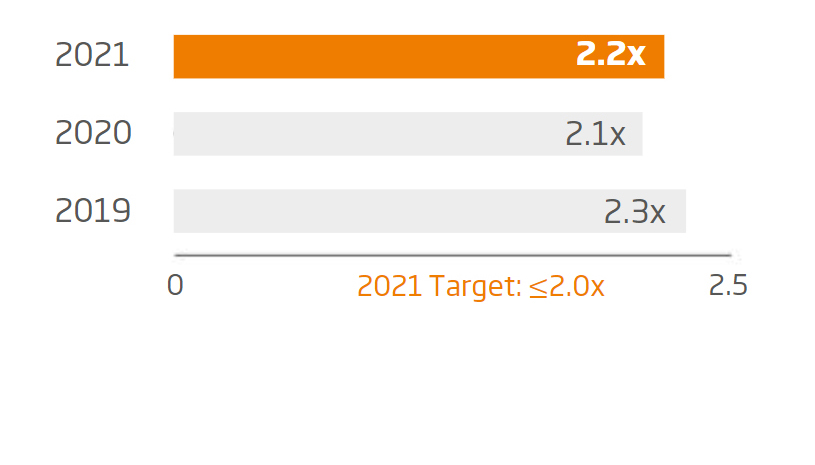 2021 Performance: Net debt reduced by £306 million to £1,795 million, reflecting strong cash flow, while net debt/EBITDA ended the year at 2.2 times, broadly similar to last year and a good reduction compared to the half-year at 2.4 times.
Cash conversion
We focus on cash conversion as part of our wider focus on capital management and maintaining a prudent balance sheet. Working capital is a key focus within the business in order that all capital is employed where it can best deliver returns for the business.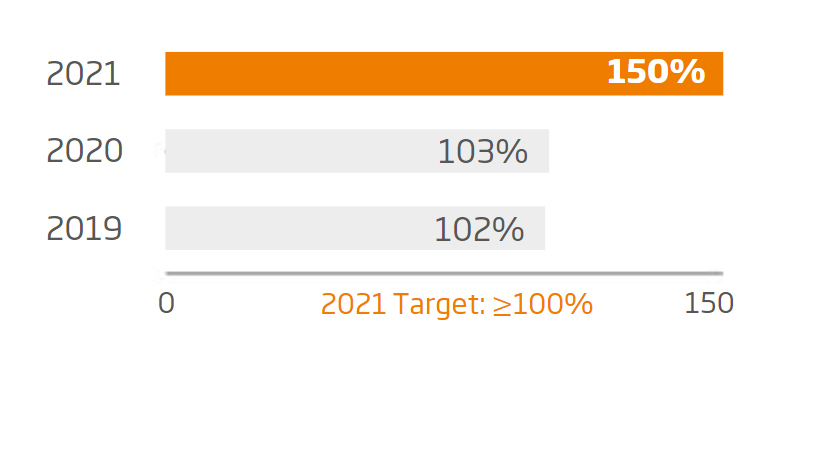 2021 Performance: Cash conversion was 150 per cent, in line with our target,
reflecting a particularly strong working capital improvement.