Eco Bowl ™
Research shows that more than half of shoppers actively look for more sustainable packaging. So we developed ECO Bowl™, a new, more sustainable alternative to plastic packaging for frozen, chilled and ambient food.
How does it work?
ECO Bowl™ consists of a corrugated cardboard tray and a thin plastic skin and lid film. Through the light and rigid structure, the amount of plastic can be reduced to the minimum and the materials can easily be separated for recycling.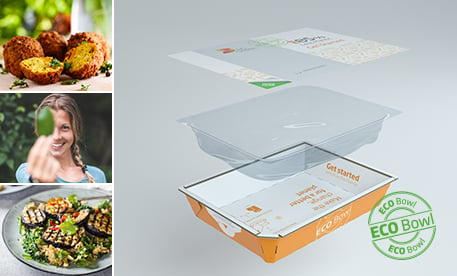 ECO Bowl™ is designed to run on MULTIVAC thermoforming packaging machines and tray sealers. Because of the excellent barrier properties of the film, we can guarantee equal shelf life when compared with conventional MAP (Modified Atmosphere Packaging) packaging for fresh food, or even improve it.
Light and sustainable
As consumers look for more sustainable packaging solutions, and intuitively prefer fibre-based packaging, ECO Bowl™ is an attractive new alternative for producers. ECO Bowl™ is a more circular solution as the corrugated tray uses renewable fibres based on 100% recycled material that can be recycled again.
Give your brand the canvas it deserves.
The tray and the top foil can be full colour printed, with additional messages on the inside. No need anymore for labels, cardboard hooded lids or similar. Take the advantage of having more stand-out on shelf, boost your brand activation and brand protection.