Dedicated packaging solutions for Health and Beauty
With our sustainable Health and Beauty packaging solutions, your customers can look good and feel good about their impact on the planet.

Sustainable packaging
More and more of customers are demanding their favourite health and beauty brands become more sustainable. Our range of secondary, Shelf Ready and Point of Sale packaging solutions can support you with that.
Transparency
Your customers want you to be clear about the ingredients in your products and the sustainability of your packaging and are basing purchase decisions on it. Our "Smart Brown" cardboard uses cleaner, minimal printed solutions across Point of Sale, E-commerce and conventional packaging to align your brand positioning with your packaging.
E-Commerce
Even before Covid-19, E-commerce was the fastest growing channel in the Health and Beauty sector and it's continuing to grow. Our sustainable, omni-channel packaging solutions help you meet new supply chain complexities and exciting business opportunities, including new subscription models, re-fill/loop potential and managing SKUs.
Case study
How we helped NIVEA pick-up a POPAI award for its high impact counter display
We worked in partnership with NIVEA manufacturer, Beiersdorf, and the marketing agency bmp Shopper United, to create a counter display for the launch of NIVEA's new Cellular 3in1 Care Make-up. Our solution delivered an award-winning customer experience in a crowded and competitive retail environment.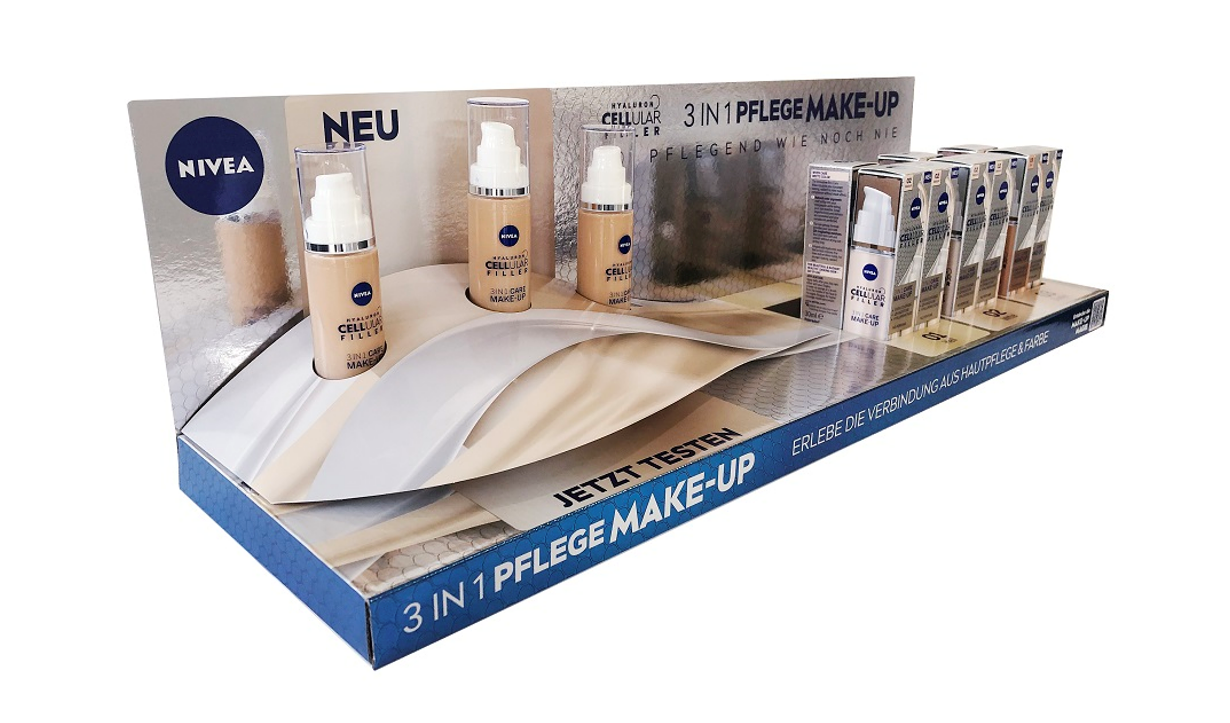 High impact in-store display
NIVEA wanted its beauty-savvy customers to be able to experience their Cellular 3in1 Care Make-up before purchase. Our solution stimulated the senses and made their products the hero, with testers prominently displayed on an innovative, refined wave-shaped pedestal, which invited customers to reach out, try them and buy. As well as increasing NIVEA's sales, our solution won a coveted POPAI award.