Dedicated packaging solutions for consumer electronics
DS Smith has developed specialised knowledge of the needs and challenges of the electronics industry.

The consumer market is constantly evolving due to new technologies and changing consumer demands. Businesses need powerful and connected packaging solutions to activate their brand. And it's also important to consider the sustainability of the packaging.
Smart, sustainable, stand-out solutions for a changing retail world
In electronics retail, we know your packaging needs to fulfil a wide variety of roles; provide protection, market your product and add value all round. We also know your market is increasingly competitive, involving more complex supply chains and rapidly evolving technologies including the IoT.
At the same time your customers want global availability and fast, trackable deliveries. All whilst expecting you to make a more positive impact on the world.
We provide the innovative, sustainable packaging solutions you need to stay ahead. With 100% fibre-based, recyclable packaging tailormade for your product that can be tracked from the moment it's ordered to the doorstep.
Promoting your brand
We're a recognised leader in value-added packaging solutions in your sector. We understand the importance of multi-channel solutions that protect your product in complex supply chains yet still deliver an inspiring un-boxing experience in your customers' homes.
Our robust, sustainable solutions help you delight your customers using as little packaging as possible. As your product development and production might take place in different countries or even continents, our global reach helps you comply with regulations wherever you trade and assures you of the same level of support and product quality.
Unique packaging, with multiple positive effects
We analyse your supply chain, retail trends, governmental regulations and carefully consider your customers' needs to provide you with tailored solutions that maximise impact and minimise materials use.
Contact us
Case study - Coffee Machine
Finding an alternative solution to problem plastics for a coffee machine
Our research revealed over 40% of customers want their purchases to be packaged in recyclable material. Whist over 30% have stopped buying certain brands because of their continued use of unsustainable packaging. In response to this growing consumer trend, we helped a well-known coffee machine producer, developed a 100% recyclable packaging solution.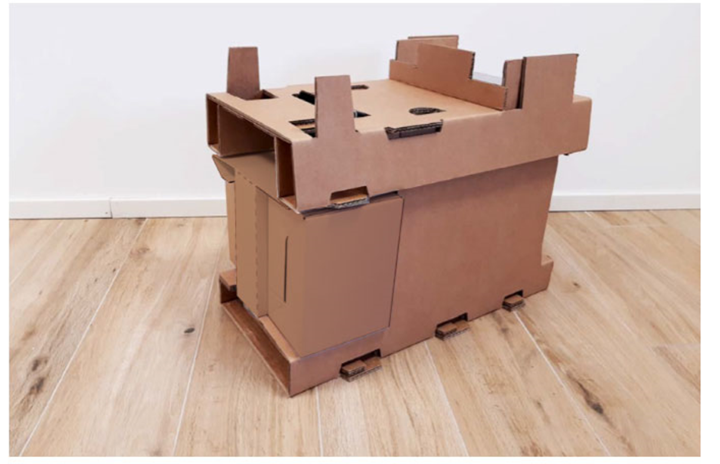 Solution
The main focus of the project was to replace the foam buffers in the current packaging with cardboard ones. The new solution still ensures the coffee machine is well protected and the packaging passes the drop test with flying colours.
As the new packaging is 100% recyclable, it meets consumer requirements when it comes to sustainability. In addition, it offers an improved opening experience and creates a real 'wow' effect.