Industrial
Our KAYPAL® industrial is a range of cardboard pallets suitable for different types of racks, conveyors, destackers or retractable covers.

Light, resistant and 100% recyclable, KAYPAL® is an innovative logistical solution. Our KAYPAL ® cardboard pallets are typically 1200 x 1000 or 1200 x 800 "Euro Pallets", but can just as easily be manufactured in any size to suit your products and method of distribution. Made from incredibly strong heavy duty corrugated cardboard, our cardboard pallets are suitable for loads up to 1000kgs.
Using corrugated cardboard materials rather than timber removes any need for special treatment to meet ISPM15 shipping certification and tare weights of the pallets are substantially reduced and consistent, with consequent reduction in air-freight charges.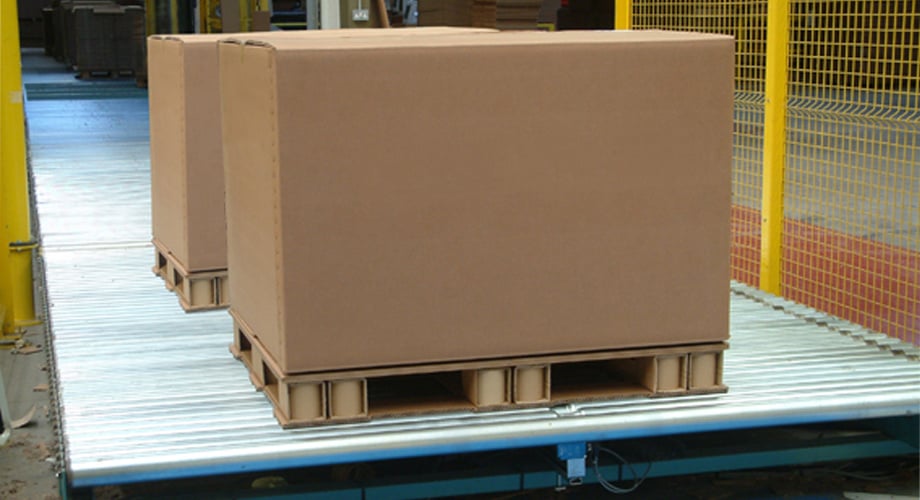 KAYPAL ® corrugated cardboard pallets come in a range of styles to suit a wide range of packaging applications. They are perfect for integrating with heavy duty pallet boxes too, making a one piece, one material, transport packing solution.
KAYPAL ® Mono is a single cardboard "Leg" available in various lengths, which provides an economical solution when full deck support from the pallet is not required. KAYPAL ® Mono is also incredibly space efficient for inside storage and does away with the problems of splinters and loose nails.