Contributing to Lidl Sustainability Vision
For the past two years, we've helped Lidl in France close the loop on their carboard recycling and deliver on their commitments to recovering valuable resources and reducing their impact on the environment.

Lidl Stiftung & Co KG is an international German retail chain that has over 12,000 stores across the globe which makes it the fifth biggest retailer in the world. Lidl is committed to promoting the sustainable and efficient use of resources and has a vision to ensure all its food and products are produced, sold and consumed in ways that benefit producers, people and the planet.
The challenge
In France, Lidl generates between 350 and 450 kilos of cardboard for recycling in each of its 1580 stores every day.
As part of its sustainability strategy, Lidl has set out goals that include supporting a circular system which captures and retains the valuable resources in packaging and ensuring its supply chains have a limited impact on deforestation. To achieve this, it is testing and trialling innovative closed loop systems with DS Smith aimed at supporting a circular economy.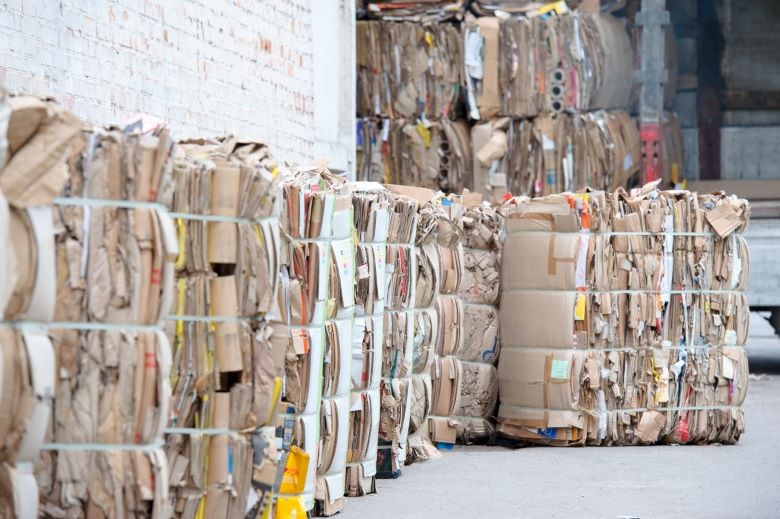 The solution
By partnering with DS Smith, Lidl is able to close the loop on its on-shelf packaging, helping it to capture and retain valuable resources, and move a step closer to reaching their sustainability goals.
Deliveries of goods arrive at Lidl stores and are unpacked onto shelves. The empty boxes are then sorted by Lidl teams on the shop floor. Here, cardboard is collected separately from other materials in a roll cages. When the roll cage is full, the cardboard is tipped into the store's baler which produces 450 kg bales of clean, dry cardboard for recycling. This is then moved to the nearest Lidl logistics site, before being sent onto Lidl's paper partners, including DS Smith Paper.
7
truckloads of cardboard for recycling leaves Lidl's sites for various French and European paper mills every day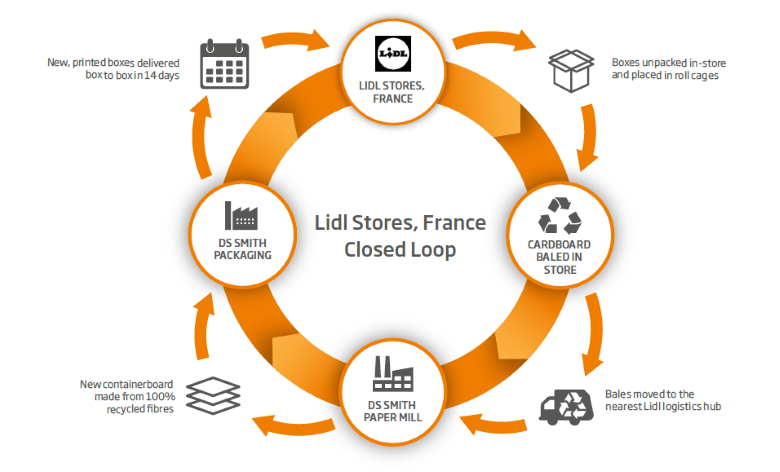 Bales of cardboard arrive at our network of DS Smith paper mills in France at Rouen, Coullons, and Kaysersberg. In addition to cardboard recycling for packaging, these mills are speciality mills that also produce coiling and other paper products. The quality of the bales is immediately checked for moisture content and possible contamination, such as plastic and metal. The bales are then immersed in a pulper where any other impurities are removed to produce pulp. This pulp is then moved to the paper making machines and is made into recycled brown liners. Liners are manufactured into new boxes at our packaging plant that is located at the same site. Once promotional messages have been printed onto the boxes, they are ready to be delivered to Lidl logistics hubs and stores across France. Across the DS Smith Group, we can achieve this closed loop Box to Box solution in just 14 days.
The Benefits
In the last six months, Lidl France has recycled more than 95,000 tonnes of cardboard, including 22,621 tonnes of cardboard using our closed-loop model.
"At Lidl, we are convinced that the best waste is the one that is not produced. But we are also realistic as we know that every act of production and consumption involves waste. It is therefore our responsibility to manage it by first limiting it as much as possible, then by recycling it.''
Lidl conscientiously separates the different types of waste and collaborates with adapted waste treatment structures such as DS Smith
Mike Harrison, DS Smith, says "We are delivering our Box to Box closed loop solution to an increasing number of retailers, including Lidl.''
Like Lidl, we have our own ambitious Now and Next Sustainability Strategy that commits us to recycling more, wasting less and keeping valuable resources in the supply chain as long as possible, and we are proud to be working with retailers that share our goals