There's a real buzz in Aschaffenburg right now
Protecting and enhancing the environments in which we operate is one of the major goals in our Now and Next Sustainability Strategy. By 2025 we will launch 100 biodiversity projects across Europe and North America, including a growing number of site-led initiatives from our Aschaffenburg Mill in Germany.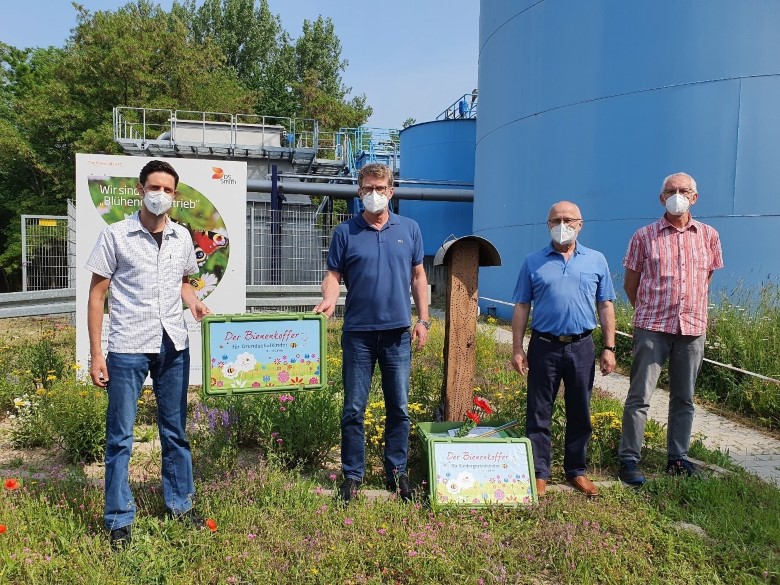 Left to right Daniel Feldmann (Aschaffenburg Hums), Ulrich Albert (DS Smith), Richard Kalkbrenner (Aschaffenburg Hums), Traugott Reis (DS Smith).
Supported by the DS Smith Charitable Foundation, the Aschaffenburg Mill has recently joined forces with the 'Aschaffenburg hums!' group – a collaboration between the City of Aschaffenburg, the Beekeeping Association Damm and the State Association for the Protection of Birds (LBV) – to create a buzz. The first collaborative project sees the creation of two bee cases that have been handed over to the Aschaffenburg hums. These are readily available for school children of all ages, offering a unique educational opportunity.
Adding to our biodiversity initiatives
The cases will provide a fascinating insight into the world of both honey and wild bees, and the role they play in ensuring ecological balance. At the handover of the cases, the Aschaffenburg Hums received a tour of the site, including our insect hotels, bird nesting boxes and a special area created for lizards.
Our collaboration with the Aschaffenburg Hums is not only educational but will benefit the environment and will be enjoyed and experienced by hundreds of school children.