VinylShippingBox.com sets the tone with unique postal packaging
Do you still remember them? The long playing record, or LP for short? It's back from the past. Vinyl is exciting music-lovers all over the world due to its iconic crackle and beautiful sleeve. But even more important is the unsurpassed quality of the experience. The true vinyl experience must not be compromised when it is sent by post, regardless of how far it is sent.

Music lovers who order an LP online expect to receive a flawless disc. But to avoid a wrong note, sleeve and plastic around it also have to be perfect. Any scratch or warp is a dent in the sender's reputation.

The challenge - Protection of LP records
Vinylshippingbox.com, a new start-up, understands this better than anyone else. For their customer NewOnVinyl they needed to develop a unique packaging solution to prevent transport damage to LPs. Not only did it have to guarantee the protection of LPs, the packaging had to be lightweight due to the high cost of air freight. The packaging also had to contribute to the vinyl experience. After all, that's what the transaction is all about.
The Approach - Postal packaging which contains music
At DS Smith these wishes did not fall on deaf ears. After several intensive brainstorming sessions our designers and the vinyl fanatics at Vinylshippingbox.com developed packaging fit for the most demanding music lovers.
The Result - Attractive and robust packaging
The result is a robust, flat outer pack with a double wall on both sides for extra strength. Inside it is an inlay of elastic film which grips the vinyl record tightly after folding. The LP hovers in the cardboard box, with sufficient space around it to absorb knocks during transport. Due to the even pressure on the record it can remain in its original sleeve. The design and printing also means a better unboxing experience for the recipient.
More repeat purchases by satisfied customers
Attractive appearance of the unique packaging
Lower costs due to quicker packing
Reduced possibility of damage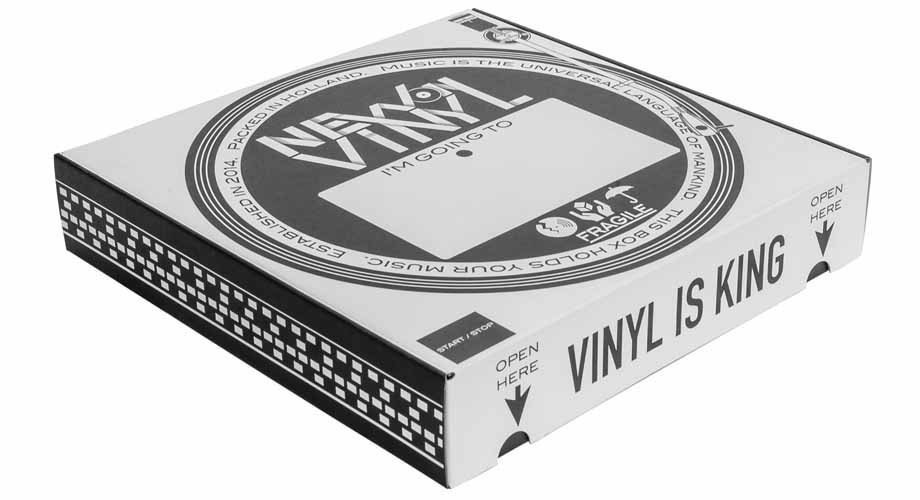 Customer feedback to NewOnVinyl has been very favourable. Music lovers from all over the world can now receive their favourite vinyl delivered to their homes without worrying thanks to Vinylshippingbox.com and DS Smith.
Do you have your own webshop and would you like to add an extra dimension to your postal packaging? Get in contact today.
We are happy to visit you to discuss your requirements.