Putting a cork on costs for the wine industry
About half of the world's wine corks are produced in Portugal amounting to an astonishing 100,000 tons annually. Transportation efficiency is paramount with so many corks produced for worldwide

Challenge: Packaging to facilitate automation and reduce cost
Most cork producers use a laborious process that requires a lot of time and packaging materials. Wine corks are manually packed into bags of raffia / plastic which is closed by stitching or gluing the ends. Once closed, all the bags with wine corks are manually positioned on pallets for transport / storage.
Our Approach: Bigger volumes, faster discharge
We focused our efforts on developing a square or octagonal corrugated cardboard container, capable of containing up to 75,000 - 90,000 wine corks without deformation, with an opening in front for discharging the product.
The final result is a corrugated cardboard box (1220x1150x2500 mm) with two dispensers on opposite sides of the packaging to reduce discharge times. The self-assembly bottom brings additional flexibility and is suitable for use in both truck transport and shipping containers.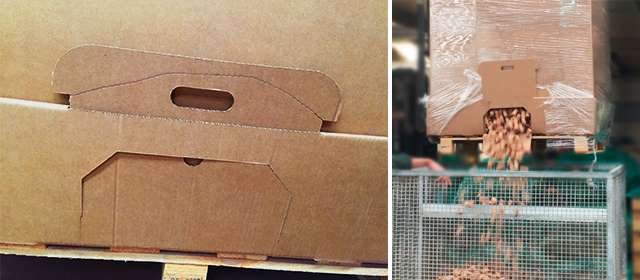 Results: Faster, cheaper, easier packaging
Lower labour costs thanks to reduced packing time
Lower transport costs with optimisation of space in storage and transport
Improved environmental performance as the solution is almost fully recyclable and use much less material than previous solution
Increased ease-of-use and reduced discharge times for end user.