Driving circularity with the University of Exeter circular design challenge
As the corporate sponsor of the University of Exeter's 2023 MBA CE Challenge, we invited enterprising students to take part in a week-long design sprint, answering a circular economy challenge, and inspiring a new way of thinking about sustainable packaging.

We are taking action today to lead the transition to a low carbon, circular economy
At DS Smith, sustainability is integral to our circular business model, and we can have the greatest positive impact by helping to create a low carbon, circular economy. It's a journey we have been on for more than a decade.
The circular economy eliminates waste and pollution by design as well as circulates products and materials at their highest value. By designing 100% recyclable or reusable packaging, we are keeping materials in use for longer. This reduces the need for virgin materials and pressure on natural resources. We continue to innovate into new areas, so as a part of our Now & Next Sustainability Strategy, we're launching reuse pilots to help us understand the opportunity for keeping our product in use for longer. 
The circular economy challenge
The MBA students were given a challenge to create a reusable packaging system for e-commerce and white goods, catering for our changing world.
The Circular Economy Masterclass and Challenge sponsored by DS Smith were an excellent introduction to the concept of the circular economy. It gave the MBA students an opportunity to apply learnings to a tangible use case, working with real-world complexities.
DS Smith experts from our sustainability, innovation, industry, design, and e-commerce teams provided the students with both knowledge and guidance which helped to deepen their understanding of our industry's dynamics and challenges. In a circular economy Masterclass, they also learned about our partnership with the Ellen MacArthur Foundation and how we're using our Circular Design Metrics to measure the circularity of various packaging designs.
The winning design
The winning solution showcased the benefits of driving e-commerce packaging reuse by focusing initially on orders where a return was expected, for example when a customer orders the same garment in 3 different sizes to try on at home. This provided the most effective pathway for learning before a solution is scaled further and it leveraged the data that retailers have, to help drive a circular economy.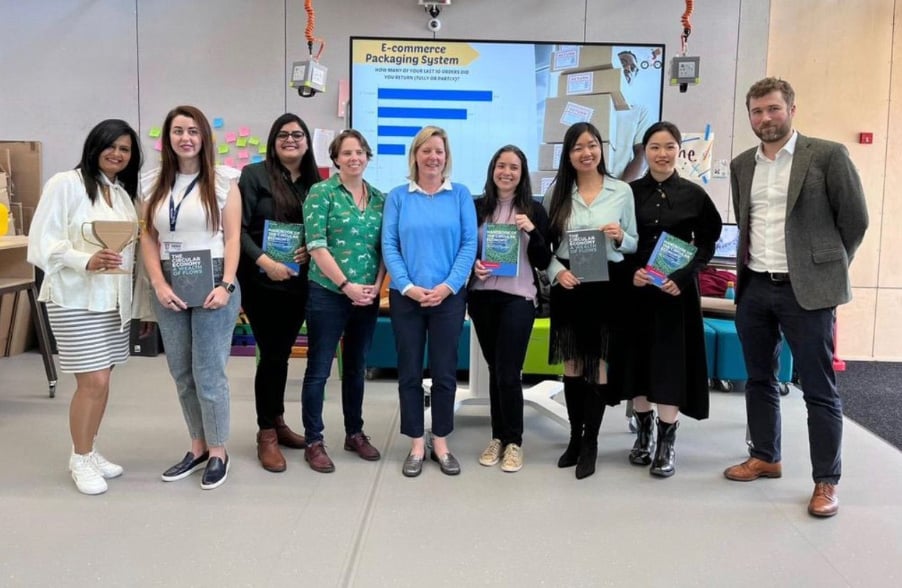 The winning team's solution has influenced our thinking on reusable e-commerce packaging which has been invaluable. I hope this experience gave students valuable knowledge and tools to drive the circular economy in their studies and future careers.
We would like to thank all of the students again for their energy, passion and dedication to the task at hand.