DS Smith Paper Mill in Zarnesti receives Sustainability and Environment Award from the British – Romanian Chamber of Commerce
The recognition was offered for the Mill's significant investment and commitment to long term development in Zarnesti.

Our Paper Mill in Zarnesti won the Sustainability and Environment category at the British – Romanian Chamber of Commerce (BRCC) Awards Gala, held at the end of January. The event, occasioned by BRCC's 25th anniversary, acknowledged champions in business, NGOs and Education, all which delivered impressive results in 2022. Along with the Sustainability and Environment Award, we were also shortlisted in the Community Impact (CSR) category.
The purpose of the Sustainability and Environment Award was to highlight a company who is championing sustainability and inspiring new ideas and positive change, along with a clear commitment to long-term impact, leading the organisation towards a more sustainable future. Our Paper Mill application was built around the 11 million Euro investment in technology – including a new WWTP – a project which is expected to be completed this year. Once operational, the new pieces of equipment and infrastructure will further optimize our mill's efficiency, will increase the paper making capacity and, not in the least, create the premises for successful development in the long run.
I am delighted that the commitment we have put into sustainability and protecting our environment has yet again been recognised.
"Through hard work, resources and responsibility, we are turning our company wide ambition to reach net zero emissions by 2050 a reality. We are honoured to receive this recognition from BRCC and we look forward to a long-term partnership with the local community and the business environment."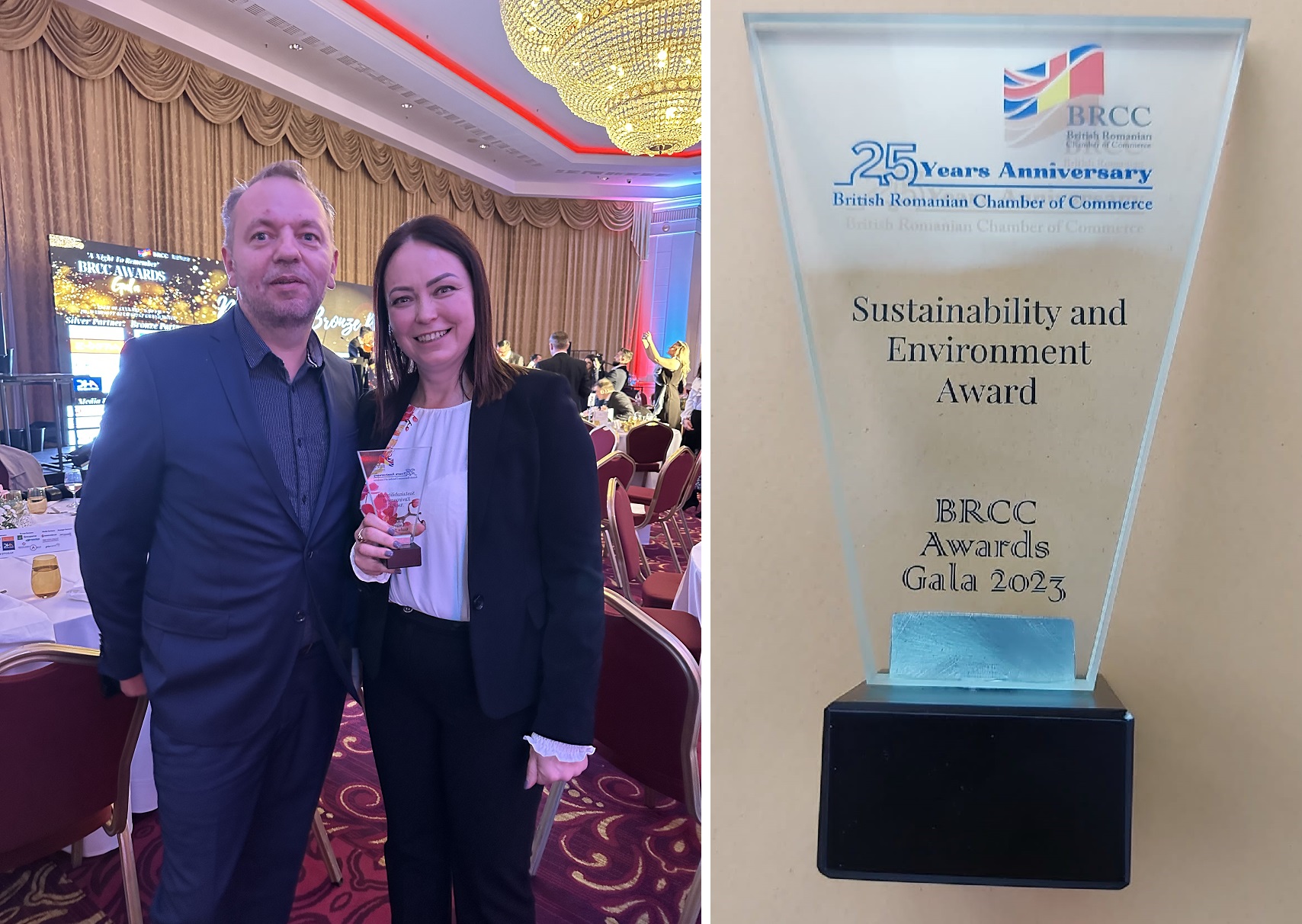 The Community Impact (CSR) category looked at the impact that our organization has created and how it contributed to the society – areas in which our paper mill had a lot to share as well, starting with the environmental education programme commenced in 2020, in partnership with the County School Inspectorate and up to various other initiatives supporting biodiversity, healthcare and less favoured community members.
Using only recycled papers, our Zarnesti paper mill is the largest paper manufacturer in Romania, accounting for almost half of the domestic demand for papers for packaging.
Our operations in Romania comprises of a recycling head office in Bucharest, two recycling depots in Otopeni and Cluj Napoca, a paper mill in Zarnesti, two packaging production units in Ghimbav and Timișoara and three service centers in Pitești, Timișoara and Otopeni, employing in total over 650 people