Inspiring the new generation of innovators
A brand-new laptop and a 3D printer have been donated to IES Cinca – Alcanadre High School as part of a long-standing education programme between the school and DS Smith Alcolea Paper Mill.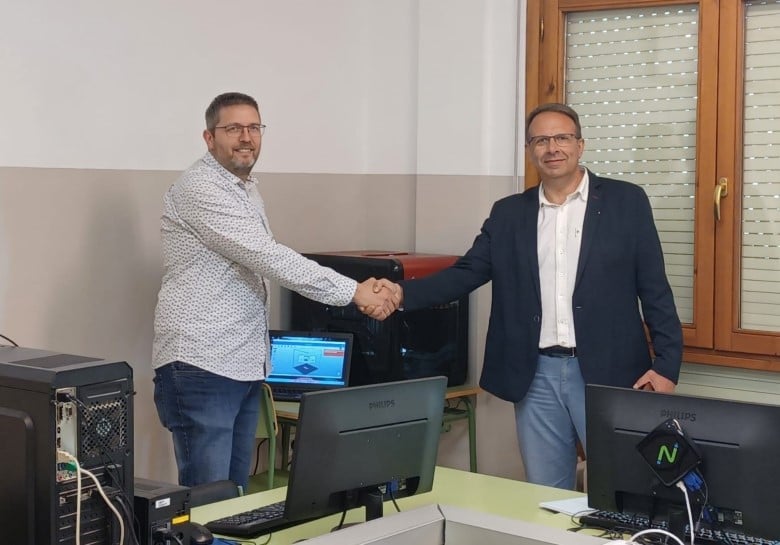 Alcolea is an integrated paper mill based in Alcolea de Cinca in Huesca, Aragon, in north-eastern Spain, and has been engaging with students from Alcanadre High School for over a decade.
Innovation for the next generation
3D printers build objects by adding layers of material together.
With the equipment, the students can design their own three-dimensional digital models and print out their creations.
3D printing - has skyrocketed in recent years, and it is no longer a novelty technology for a few consumer and industrial products and is forecasted to play a major role in manufacturing.
Students at the high school's technology department were excited for the donation, ready to get innovating with the latest tech. One of the first items created to demonstrate the school's new equipment was a key chain, of course featuring the DS Smith logo.
Contributing to our local communities
The donation was a part of DS Smith's Community Programme, through which we contribute to the local communities we work in. We operate in hundreds of communities across the world and, as a result, we have a significant opportunity to make a positive, local difference.
Estela Ayudan Peiron commented ''As part of its Now and Next sustainability strategy, DS Smith has committed to engage five million people in the circular economy and circular lifestyles by 2030, and it is fantastic to have such engagement with the pupils from Alcanadre School.''
We utilise innovation throughout the whole of our paper making process at the mill, so we hope that the 3D printer will inspire the next generation to be creative.