Celebrating biodiversity in Bulgaria
At DS Smith, we are committed to being a responsible neighbour and contributing to our communities. That's why by 2025 we will launch 100 biodiversity projects across Europe and North America as part of our Now and Next Sustainability Strategy.

On Sunday 22 May, 2022 we celebrated the International Day of Biodiversity, an awareness day organised by the United Nations to increase understanding of biodiversity issues and action to protect our environment.
Trakia Mill's biodiversity programme
Supported by the DS Smith Charitable Foundation, employees from our Trakia Mill in Bulgaria started their biodiversity programme with a bang by organising an International Day of Biodiversity celebration for local schoolchildren. Our people at the mill educated first and second graders from two local schools on environmental awareness in a fun, hands-on way.
The children, aged 8 to 9, boosted the biodiversity of their schoolyards by planting a garden together with their parents, building birdhouses, and placing bird feeders on trees. As part of the project, the team at DS Smith also installed information boards teaching the pupils about birds that are native to the area and why it's important to protect our natural environment.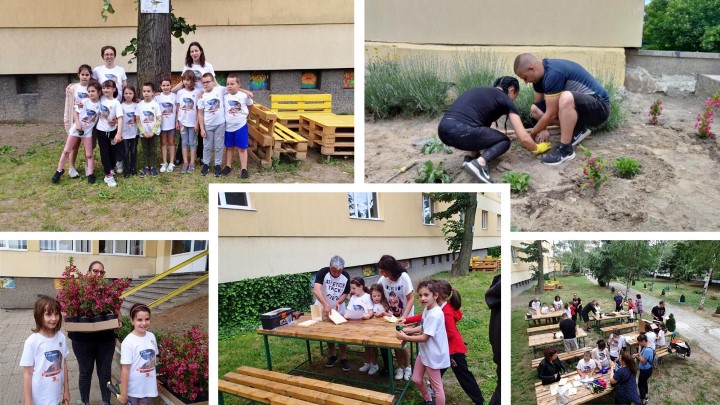 Creating an experience for the children
The children were enthusiastic and proud for contributing to the biodiversity and received a T-shirts, backpack, and small personalized flowerpots with succulents to grow at home.
It was a really rewarding and delightful experience.
Maria added ''The kids were so thrilled with the idea to be able to build birdhouses. They were not afraid at all to put on the gloves and start gardening, and afterwards they were eagerly sharing what they have learnt from the information boards for the birds. I was delighted to be able to help them have this experience''.
It was a joint effort with great outcome: a new garden, birdhouses, birdfeeders, insect hotels and happy kids with presents.
Kristina continued ''The project was sponsored by the DS Smith Charitable Foundation and supported not only by the school, but also from the Bulgarian Society for the Protection of Birds and the Regional Inspectorate for Environment and Water – Pazardzhik. Thank you to the colleagues and everyone else who helped us make this happen!"
Located in central Bulgaria, in Pazardzhik town, the Trakia paper mill and packaging plant are leading Bulgaria's manufacturers of corrugated packaging and paper for corrugated board.