DS Smith opens new state-of-the art laboratory to support customers' circularity ambitions
Our new Fibre and Paper Development Laboratory has been unveiled at our flagship Kemsley Paper Mill in Kent, UK.

We have invested £750,000 on the state-of-the-art laboratory to work with customers in optimising the circularity of their packaging. The laboratory will be used for researching technologies that enhance the performance and sustainability qualities of fibre-based packaging, including coatings and barrier technology, wet-end chemistries, surface chemistries, repulpability, and recyclability.
Researching alternative fibres
The new laboratory also advances our research in alternative fibres as sustainable raw material for paper and packaging products. Last year, we announced how we are exploring the use of seaweed as an alternative fibre source to wood, as well as a barrier coating to replace petroleum-based coatings.
The Fibre and Paper Development Laboratory is the latest development in our £100m R&D programme, announced in May 2021, to accelerate our work in the Circular Economy.
The new Fibre and Paper Development Laboratory allows us to optimise the performance and circularity of our customers' packaging
Nick continued '' Investing in research and development projects like this is a crucial way in which we will lead the way and redefine packaging for a changing world.''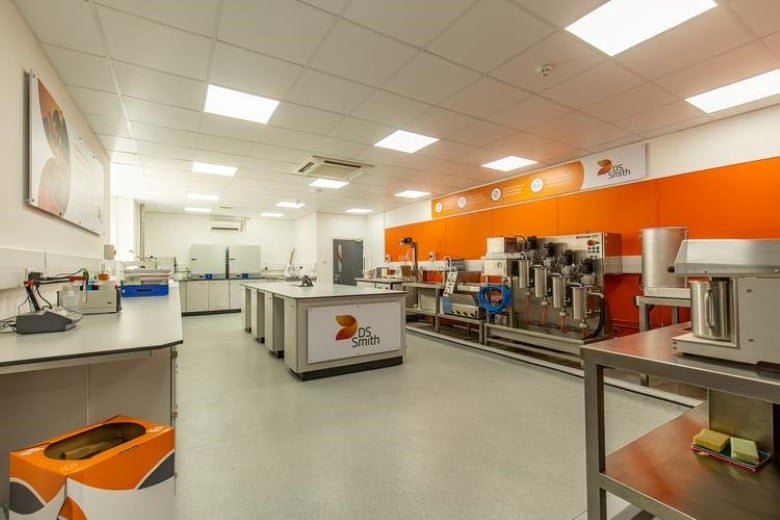 By exploring new technologies and materials, we can expand our offering of innovative circular ready packaging solutions that have less impact on the environment and support our customers' transition to a circular economy
Helping customers reduce their impact on the environment
With sustainable packaging rising up the agenda for Governments, and legislative changes including the UK Plastics Packaging Tax coming into force on the 1st April, our innovative approach will help customers design circularity into their packaging. Through innovations such as our Circular Design Metrics, an industry leading framework, customers can rate the circularity of their packaging and help reduce their impact on the environment.
This builds on our work on plastic replacement. Since the launch of our Now and Next Sustainability Strategy in 2020, we have removed more than 170 million pieces of problem plastics for industry, supermarkets, and online retailers with fully recyclable, fibre-based packaging solutions.