Staging six-pack of Tony's Chocolonely - Chocolate pleasure without remorse
Tony's Chocolonely obtains its new fresh and ingenious packaging from DS Smith. One project of DS Smith Europe-wide cooperation resulted in a 100% recyclable six-pack with selected chocolate varieties in the brand's brightly colored design. Thanks to this unique lateral viewing windows and hollow edges, the material optimized sales packaging developed by DS Smith offers an innovative and direct view of Tony's Chocolonely rainbow assortment.

DS Smith's creative sales packaging has space for six 180 g bars from Tony's Chocolonely rainbow assortment. The two viewing windows give a foretaste of the delicately melting delicacies. The special highlight: all six bars are perfectly visible through the hollow side edges. And that without any additional material. Because the cut-outs of the two side windows are simply folded inwards and fixed with a push-in fastener. Thanks to the automatic base, the innovative, material-optimized packaging can also be erected quickly and easily, filled just as efficiently.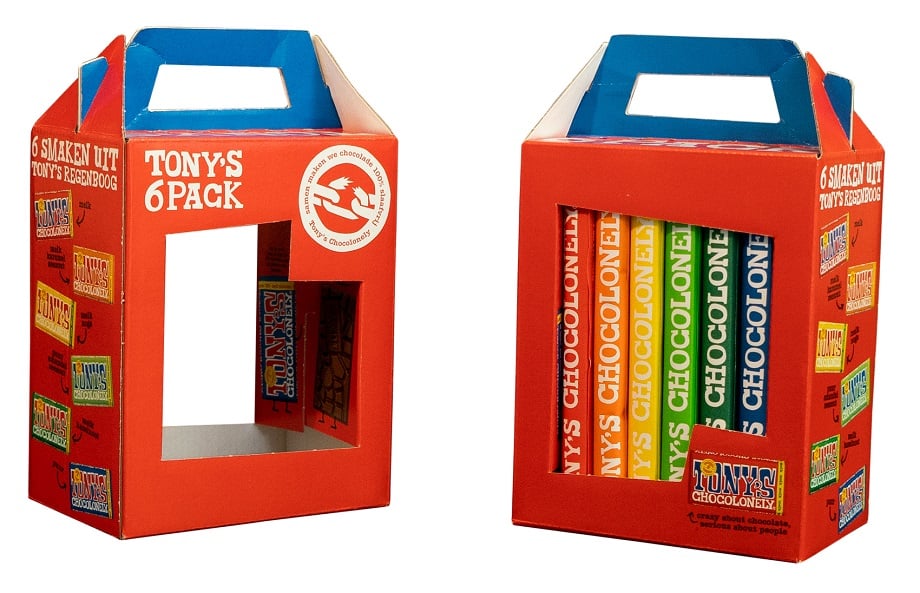 For maximum impact in the retail trade, the packaging is printed all around with a strong visual identity and high-quality offset printing. Diagrams in the look and feel of the brand inform attractively about the chocolate varieties contained in the six-pack and the associated mission of a socially fairer cocoa industry. The message gets through to the consumer. Not least thanks to the integrated carrying handle made of corrugated cardboard, which makes it easy for shoppers to access and carry the packaging, including fair-trade chocolate, home.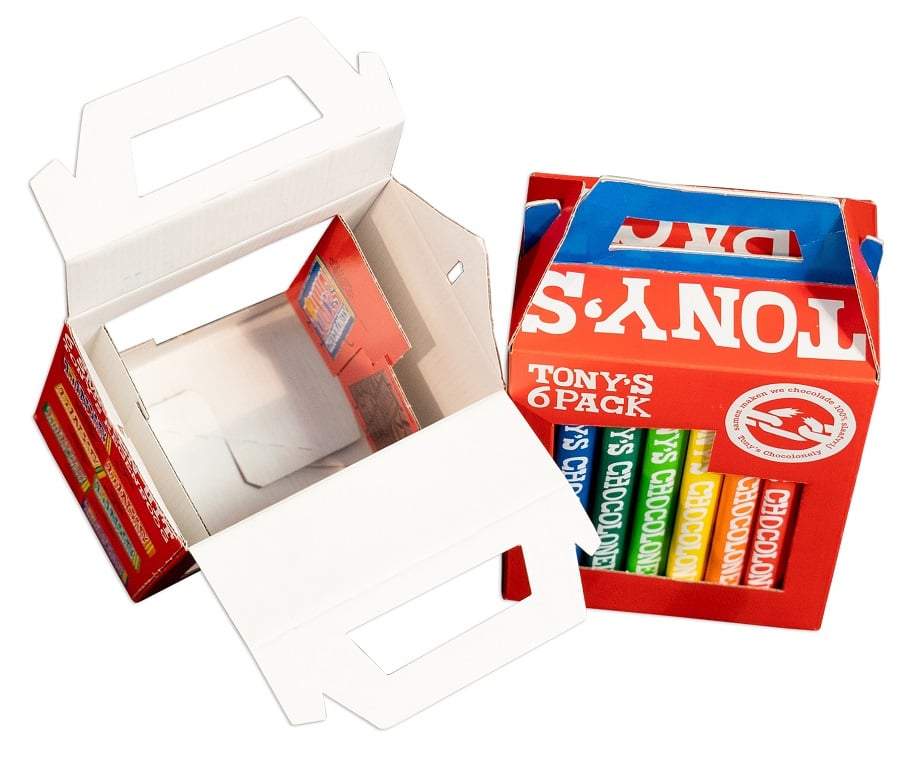 As a mono-material solution made of 100% corrugated cardboard, the Rainbow pack can be easily recycled at home by the shopper via the wastepaper recycling stream. And the smart design means that we are not using any more material than necessary, it is material optimized. DS Smith is committed to helping its customers to get ready for the circular economy. For more information about how DS smith can help your company to get Circular Ready, go to: https://www.dssmith.com/packaging/expertise/start-the-cycle