Investing in greener energy and cleaner water
We have invested €7.5 million in our Rouen paper mill to convert more of our waste water into energy, improve the quality of discharged water, and take another step towards meeting our carbon reduction targets.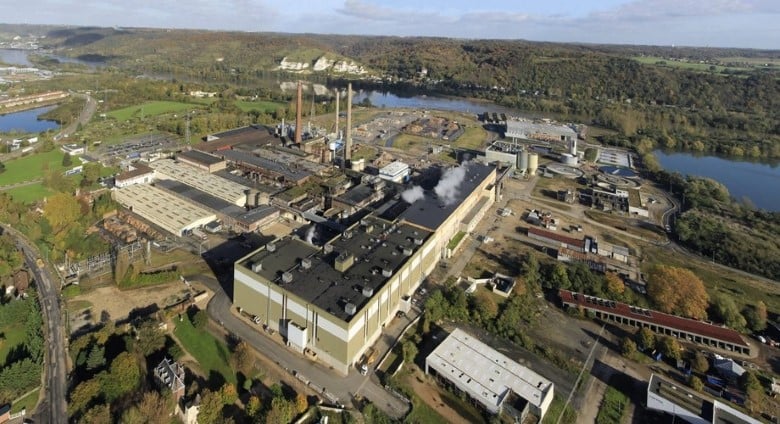 Our Rouen Paper Mill in France produces lightweight recycled fluting that's used to make corrugated paper, as well light medium, medium, and dual-use papers. It has an annual production output of 280.
How does the paper pulping process work?
Like all our mills, Rouen produces paper using fibre obtained only from recycled or sustainable sources. Paper for recycling goes through a pulping process where it's mixed with processed water to make a fibre suspension. Impurities are removed using a series of screens and the waste water is then cleaned and treated through an on-site anaerobic digestion facility before being safely discharged.
The process uses micro-organisms, working in the absence of oxygen, and creates biogas that's converted into sustainable energy by our partner IDEX. This is then used to provide greener electricity to homes and businesses throughout the Normandy region.
By investing in the expansion of Rouen's anaerobic treatment facility we are now able to process 100% of the waste water we produce on-site and, as a result, harvest more of the biogas produced.
This could boost the total biogas production of the mill from 26,000 MWh to 39,000 MWh annually, an increase of 13,000 MW (50%) which will deliver potential savings of up to 2,600 tonnes of CO2 per year.
That's equivalent to taking over 600 small cars off the road every year.
The broader benefits of biogas
Purifying our waste water to create power is another example of how we are building the circular economy.
As well as reducing our CO2 emissions, biogas is a greener alternative as its more circular than other gas fuels due to its biological make up.
At Rouen, our investment in expanding our anaerobic digestion system will also reduce the mill's biological sludge, reducing the number of vehicle movements needed to remove this from the site.
This will help us meet the target in our Now & Next Sustainability Strategy of taking 250,000 lorries off the road.
We take water stewardship seriously
As a water-intensive business, it's vital our mills consume, recycle and treat the water we use responsibly and efficiently so that we comply with all legislative requirements and minimise our impact when we return water to the natural environment.
Over 80% of the water we extract for our own processes already returned to be treated via our own or municipal effluent treatment. The investment in our facilities at Rouen will help us increase this further still.
We are pushing our carbon reduction goals
As part of our Now & Next Sustainability Strategy, we have set ourselves ambitious climate targets that commit us to at least a 40% reduction in CO2 emissions per tonne of production by 2030, compared to 2019 levels, and Net Zero emissions by 2050.
Rouen is not the only one of our European paper mills to see investment in anaerobic digestion plants that create greener energy from waste water. Others include our mills in Aloclea, Duenas, Kaysersbery, and Kemsley. Right across Europe we are improving our fuel efficiency and fuel switching to energy produced from renewable sources which also include biomass, solar, wind, geothermal, hydroelectric and hydrogen where possible.
Bruno Šteh commented ''We are very proud to have increased our green energy credentials with the expansion of our waste water treatment facilities at Rouen Paper Mill. We are not only treating the waste water onsite, but extracting a naturally produced resource which is converted into green electricity.''
This investment was a key driver in our overall strategy to reduce the impact of our operations here in France and contribute to providing green power to the region.