DS Smith gives VARTA an energetic appearance at the store
The variable pallet display developed by DS Smith for the promotion of VARTA AG household batteries is high-impact yet cost-efficient. Thanks to the cleverly designed corrugated cardboard inserts, the high-quality printed secondary placement can not only be equipped extremely flexibly with a mix of the most varied blister cards from the VARTA AG consumer range. Well-ordered and presented upright, the up to 60 value packs are also perfectly displayed at all times.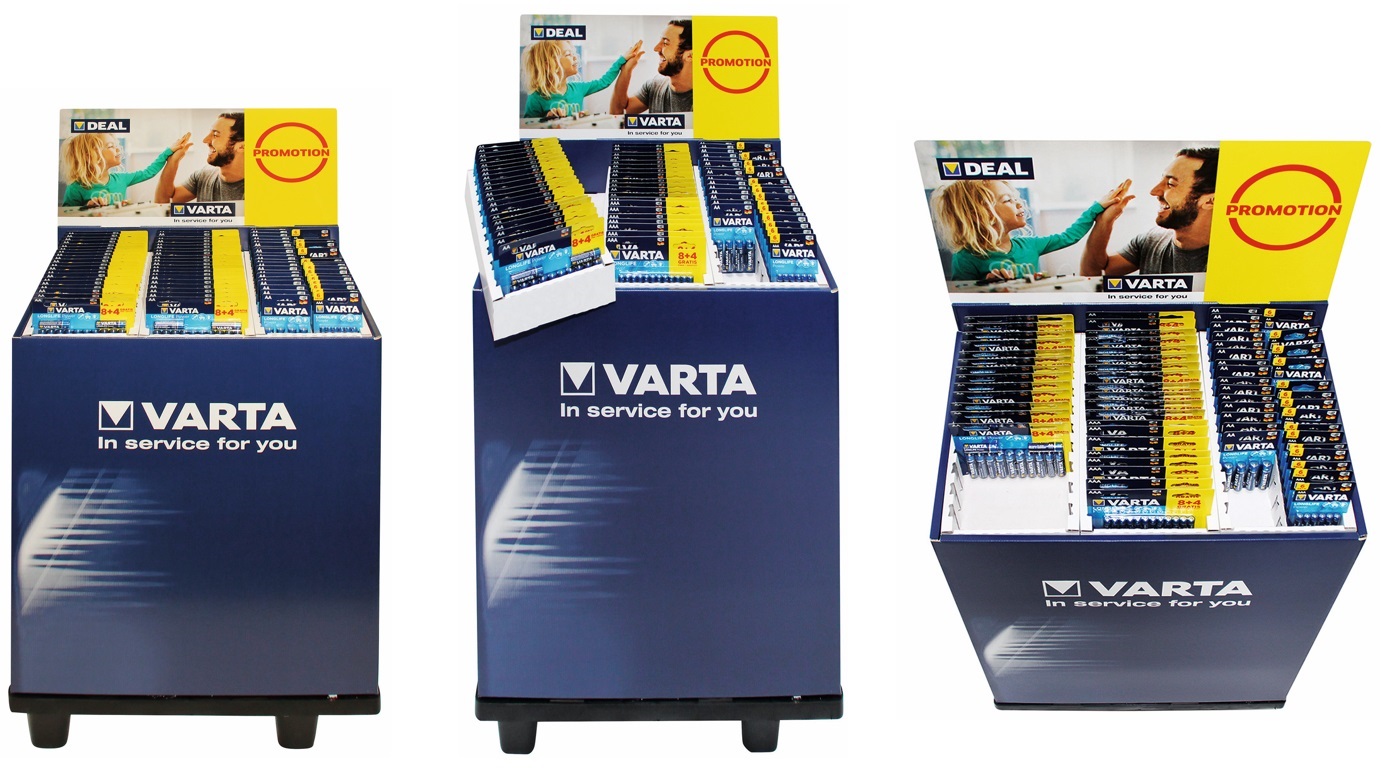 With its household batteries, VARTA AG provides the optimal energy solution for every need: from toys and digital cameras to remote controls, watches and much more. Since last year, the consumer division, which was sold in the early 2000s, has once again belonged to the long-established battery group, which sets standards worldwide as a technology leader. End consumers benefit from improved battery performance and optimised packaging design. In retail, the quality products made in Germany are promoted with an attractive promotion. A variable display solution from DS Smith ensures the necessary attention on the sales floor.
High-quality flexo and offset printing and a strong brand look and feel draw the shopper's attention to the promotion and the clearly presented products from a distance. To prevent the upright blister cards with the mignon, micro and button cells from tipping over and sliding into each other in the corrugated cardboard trays, the trays have notches and dividers on the sides.
The smart design not only guarantees a very accurate and tidy-looking presentation of goods, which allows the colour-highlighted advantage offer on the packaging to be optimally recognised at all times. Thanks to the variable trays, VARTA AG can use the ¼ -display for a wide variety of products. Up to 60 blister cards with different primary cells, in various sizes and configurations, find their place in it. DS Smith thus offers maximum flexibility and cost efficiency to the expert for mobile energy solutions, who has been able to position itself as the market leader for consumer device batteries in numerous European countries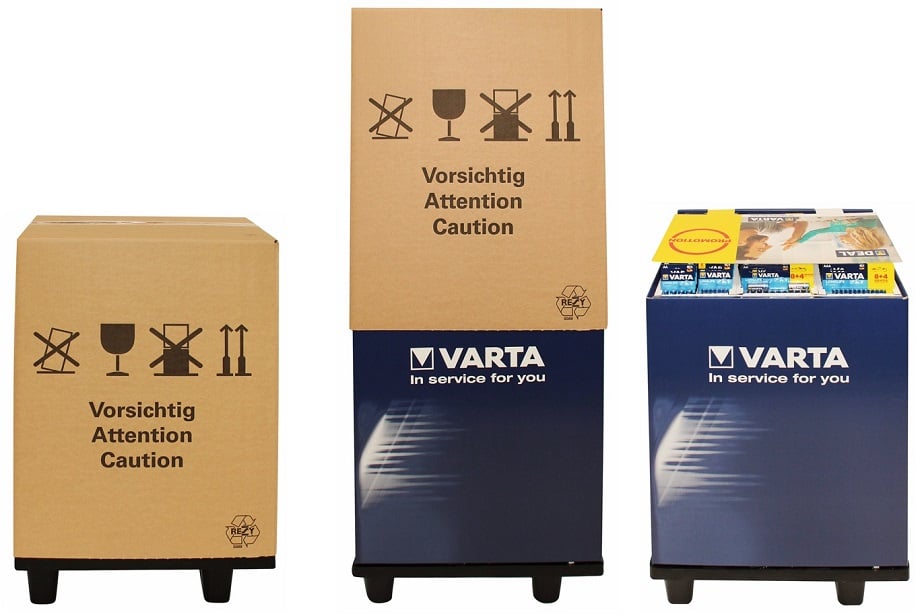 Despite the high product weight, the material-optimised secondary placement made of 100 % corrugated cardboard ensures great stability both during transport and on the sales floor. The solution is easy to assemble and simple to fill. The 100% recyclable display is delivered to the retailer fully assembled. In order to avoid stressing the sensitive cardboard blisters during transport, the display and packaging strategists have come up with another special feature. The transport cover stands on the pallet. This protects the blister cards from damage. Once they arrive at the retailer, all they have to do is remove the bonnet and fold up the poster, and the perfectly presented battery assortment is ready for the deal with the customer.
Would you like to know more?