Bringing back the bees to Skopje, North Macedonia!
At DS Smith, we are committed to being a responsible neighbor and contributing to our communities. In Skopje, North Macedonia, DS Smith led an original educational biodiversity project to 11 primary public schools in cooperation with EKO Volunteer club of Faculty of Agricultural Science and Food Skopje and educated about 600 children. DS Smith has been teaching them "10 ways to protect bees in an urban environment". This initiative is part of the 100 biodiversity projects DS Smith will launch by 2025, across Europe and North America as part of our Now and Next Sustainability Strategy.

Bees in the urban environment
Bees are crucial for the preservation of ecological balance and biodiversity in the environment. They provide one of the most recognizable ecosystem services, pollination, which is what makes food production possible. Consequently, they protect and maintain ecosystems as well as animal and plant species and contribute to genetic and biotic diversity.
Teaching the young generation that small animals like bees have such an enormous impact on their life and future is essential. DS Smith team in North Macedonia organized a funny and entertaining project on biodiversity with 600 children, teaching them "10 ways to protect bees in an urban environment ".
The project involved a combination of an online course and practical exercise where children could express their imagination to create a wonderful "bee house". In primary schools, the practical program was implemented by teachers to whom DS Smith initially gave training on how to make a good house for bees.
Yes, bees make honey... but not only
The children had knowledge about beekeeping in rural areas for obtaining honey and other honey products but did not know about the impact that bees have on our everyday lives. At the same time, they learned that human activity such as air pollution and pesticides can negatively affect bees causing negative behavioral, physiological, and genetic changes in wild bees.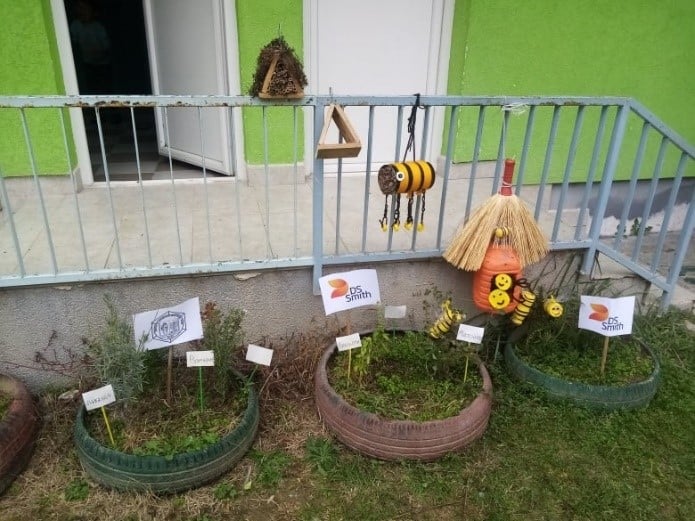 The common conclusion from these young entomologists was that these good practices to save bees in urban environments needed to be shared massively with their friends and families. They wanted to start crafting their own "mini bee garden" during Spring-Summer on their balconies and yards along with "bee houses" for the Autumn-Winter period as natural protection.