DS Smith goes one step further and launches plastic-free fixation-packaging for e-commerce using crepe paper instead of PE foil
Erlensee, 01 September 2021. DS Smith, one of the leading manufacturers of sustainable packaging solutions made of corrugated board, has set itself ambitious climate targets. In addition, the company is driving the circular economy and reducing waste and pollution through clever design, as one goal is to produce 100% recyclable or reusable packaging as early as 2023. A current innovation in the field of e-commerce is a fixation packaging that uses crepe paper to secure and fix the goods instead of the usual plastic foil. In the service centers of a well-known smartphone manufacturer, the plastic-free shipping solution already ensures more sustainability.


Online shopping is and remains a megatrend. As a survey published at the beginning of 2021 by the German E-Commerce and Distance Selling Trade Association (bevh) shows, e-commerce is not only popular with younger generations but has also become part of everyday life for the over-60s, especially in the wake of the Covid-19 pandemic. Around a third of all online shoppers belonged to this affluent age group in 2020. And even after the pandemic, a large part of the population does not want to give up the convenience of online shopping. According to bevh data, almost three out of four consumers plan to order online to the same or greater extent in the future.
With the uninterrupted growth of online trade, the need for material-optimized, recyclable, circular-ready shipping packaging is also increasing. Only with a functioning circular economy, it will be possible to handle the increasing packaging volume in a more environmentally friendly and resource-saving way in the future. Fixation packaging already dispenses with additional filling materials and is used in many industries for single item shipment of various products. Inside the packaging, the goods are securely fixed for transport with the help of a highly stretchable PE foil. In this way, products of different sizes and shapes can be shipped with only one packaging format within a certain range. The material-saving fixation packaging thus offers the retailer great flexibility and cost-efficiency. The new product can reduce the variety of packaging sizes to be stocked and simplify logistics processes. In addition, the fixation packaging is also suitable for return shipment.
DS Smith goes one step further with its innovative fixation packaging, which was developed in accordance with the company's circular design principles. In their more sustainable alternative solution, the packaging experts have replaced the PE foil with an easily recyclable, fiber-based crepe paper. This can be applied to the corrugated board just as easily by machine as foil. Thanks to its structure, the crepe paper is extremely stretchable, resistant, and thus perfectly suited for the protection of sensitive goods. The innovation can be used for both one-piece and two-piece fixation packaging. Their decisive advantage: as fiber-based mono-material solutions made of 100 % corrugated board, natural brown crepe paper, and 0 % plastic, they can be completely fed into the paper recycling loop.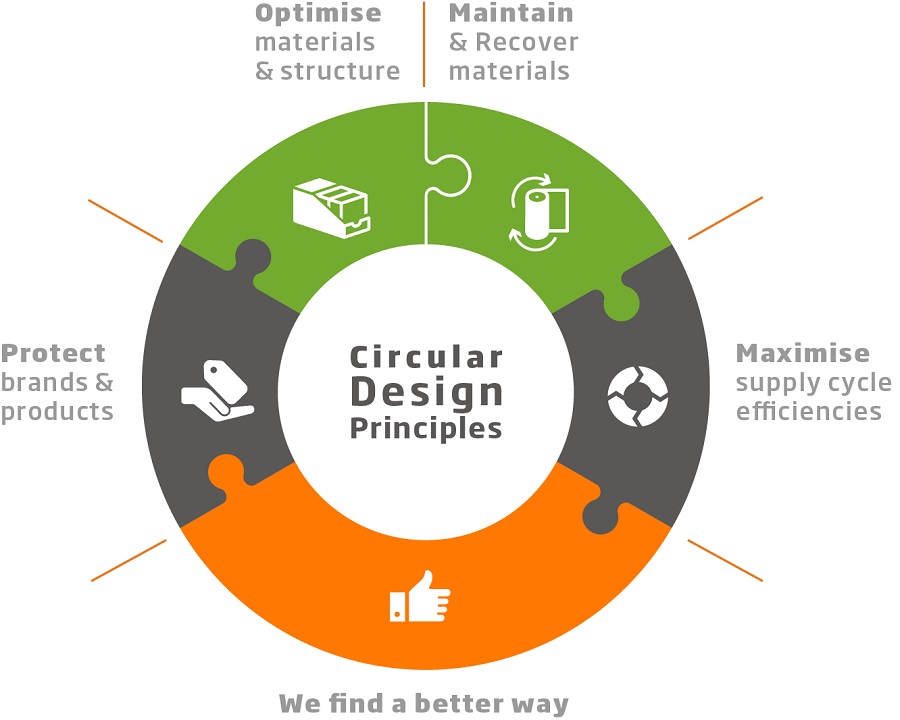 For brand manufacturers and their retail partners, crepe-fixation packaging offers better recyclability with the same high level of product protection. This not only benefits the environment but also the post-purchase phase. Because for more and more consumers, more ecologically compatible shipping packaging is a must, as a study conducted by DS Smith and the market research company Ipsos in 12 European countries from autumn 2020 shows. If the e-commerce packaging leaves something to be desired in terms of sustainability, this is a reason for 22% of respondents to no longer order from the retailer. This means that those who rely on environmentally friendly solutions such as DS Smith's crepe-fixation-packaging can score additional points.
A well-known smartphone manufacturer is already using the new fixation packaging in customer service to send repaired devices and replacement goods to its customers safely, in an environmentally friendly way, and with reduced logistics costs.
Would you like to know more?