DS Smith sets the scene for Pulmoll's new packaging design
Europe's largest tinned sweet manufacturer, Kalfany Süße Werbung, has relaunched its cult brand Pulmoll. The iconic design has been revised, as have many of the recipes. In addition, the small lozenges are now also available in mono-composite plastic bags with very good recycling properties.

A maximum of attention and visibility is provided by an extraordinary sales display. The innovative secondary placement made of corrugated cardboard was developed by DS Smith. Its special highlight: the bags, which are draped upright for sale, are slightly tilted backwards in the trays. Thanks to the sophisticated presentation of the goods, shoppers can recognise the individual varieties at a glance and access the soothing throat lozenges from three sides.
It is the little things that count in life. With this campaign message and a modernised product design, Kalfany Süße Werbung is repositioning Germany's smallest throat lozenge on the market. The Wilms import company is responsible for the distribution and sales of Pulmoll in food retailing. In order to give the pastilles in the new packaging look a big presence at the point of sale, the leading marketer is relying on the expertise of the display and packaging strategists at DS Smith.
The ¼ pallet display developed by DS Smith impresses with its open and clear presentation of goods. Even from a distance, the top sign, in the style of the new campaign, focuses on the small pastilles in an entertaining and amusing way, arousing curiosity about the Pulmoll range on offer. The products are the main protagonists of the attention-grabbing POS presentation. Thanks to the central bar and suspended trays, the display guarantees a clear view and easy access to the new product bags. One glance is enough to find your personal favourite variety. The round attachment, which adapts the classic Pulmoll tin with its unmistakable colour contrast and lettering, ensures a high recognition value for the traditional brand.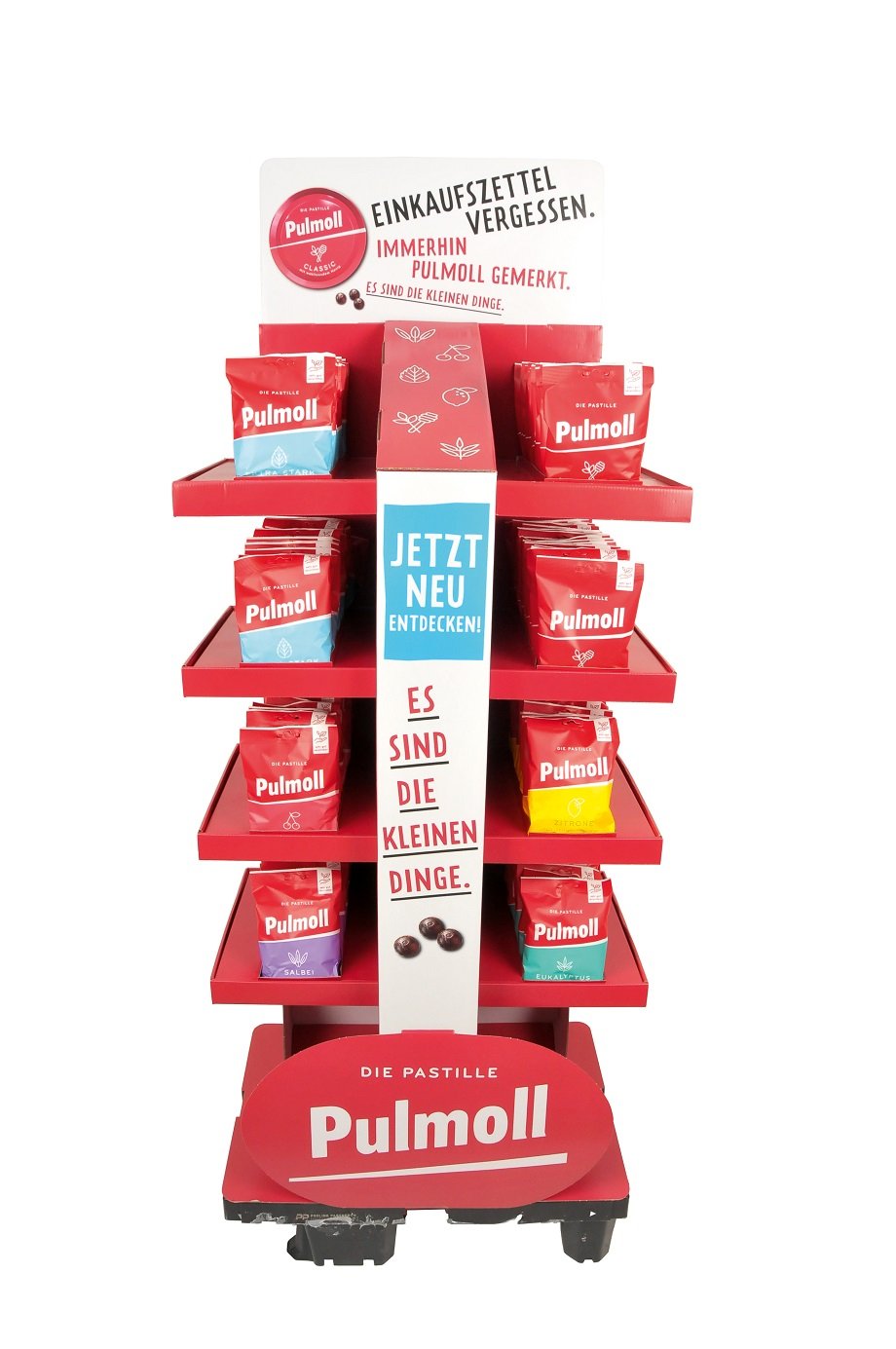 Constructed from just a few individual parts, the display solution speeds up assembly and handling in retail outlets. Despite the open design, the secondary placement is extremely stable and offers great stability both during transport and on the sales floor. Delivered pre-assembled to the retail trade, the Pulmoll display from DS Smith offers real added value along the entire supply cycle: for high sales success and time-efficient logistics. Once the products have been sold, the single-material solution made of corrugated board can be easily recycled via the paper recycling cycle.