DS Smith wins prestigious Awards at the Slovenian Packaging Oscar 2020
DS Smith is pleased to announce the win of one Gold Award and two Honourable Mentions at the 38th Slovenian Packaging Oscar 2020 Award for its innovative, eco- friendly E-commerce packaging.
Every second year, the Slovenian Chamber of Commerce is running the traditional Packaging Oscar events. This year, DS Smith was awarded as winner for one its solution and received Honourable Mentions for other two of its products.
The winner: Reusable E-commerce Box, a clear example of a sustainable innovation.
The winning packaging "Reusable E-commerce Box" is a cost-effective, eco-friendly solution with many benefits:
Packing process Speed optimization
It is quick to assemble, without additional gluing.
Product damage prevention
Designed for extra strength, resistant to shocks and damages during E-commerce supply chain.
Tamper Evident
Origami folding together with Tamper Evident closure prevent unauthorised access to products.
Enriched Brand & Unboxing Experience
This Frustration Free packaging is very easy to open with an extra space for personalized or special promotional messages on the upper side.
Sustainability & Circularity
Packaging material is optimized, made out of FSC certified papers. Made out of approx. 80% recycled fibre. This E-commerce box is very easy to recycle and designed for further reuse in case of returns.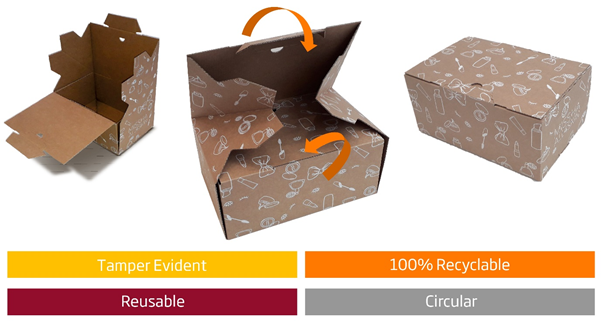 Slovenian Packaging Oscar jury commented:
"The E-commerce packaging, designed and developed by DS Smith has an innovative one-piece design. From easy assembling and handling to greater resistance throughout the entire supply chain, with a special "Tamper Evident" closure. And, most importantly, it allows re-use and closing of the packaging without additional gluing in case of returns." Comments Majda Androjna, General Manager, DS Smith Slovenia.

"Sustainability is an important trend and we are more than happy to contribute to the market with an Eco-friendly, award winning Reusable E-commerce packaging solution."
Recognition for shortlisted in the competition
As part of the 38th Slovenian Packaging Oscar 2020, two more DS Smith packaging solutions developed for the beverage segment were shortlisted in the overall competition and awarded with Honourable Mentions:
Sustainable wrap for beverages, with a special eco handle.
Triangle eco gift packaging​.