Keep sustainability at the heart this Valentine's Day
Last year, more than £20 billion was spent globally sharing the love on Valentine's Day, with flowers, jewellery, sweet treats and cards making up more than half.

As we look to treat that special person, keeping sustainability at the heart of our purchases isn't easy. So, DS Smith has compiled five Valentine's Day recycling tips to help you spoil your loved ones without spoiling the planet.
Choose a staycation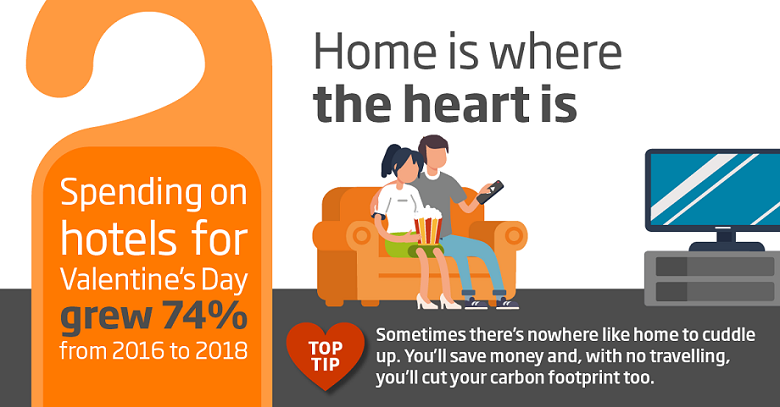 Spending on romantic getaways is forecasted to increase year-on-year to £267 million, with hotels experiencing the most staggering increase – recent data has revealed that total spend grew by 74% from 2016 to 2018.1
Sometimes there's no better place to holiday than at home. You don't have to jet off around the globe to experience that holiday feeling with some of the world's most desirable destinations just around the corner - you'll save money as well as mileage.
Let love blossom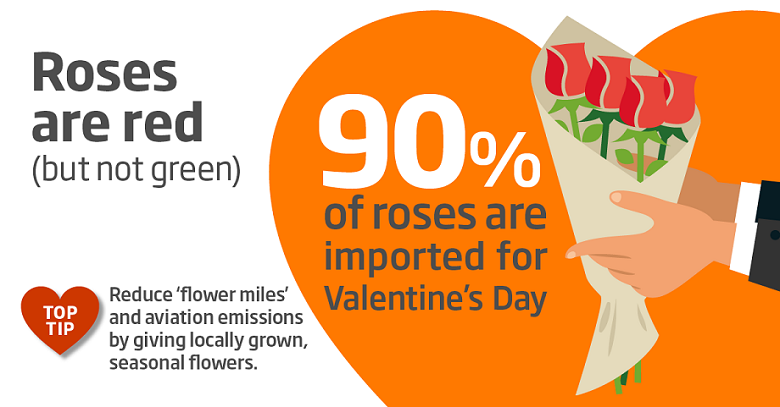 Red roses have been Valentine's Day tradition since the 17th century and continue to grow in popularity every year. In 2018, Mastercard alone saw a 59% increase2 in spend on roses compared with 2016, and with over 90% of roses being imported3, the result is a drastic increase4 of cargo planes across Europe and America.
To help minimise mileage, try locally grown, seasonal flowers - if you'd rather something that will last for years rather than days, buy your loved one a house plant or garden plant.
Wear your heart on your sleeve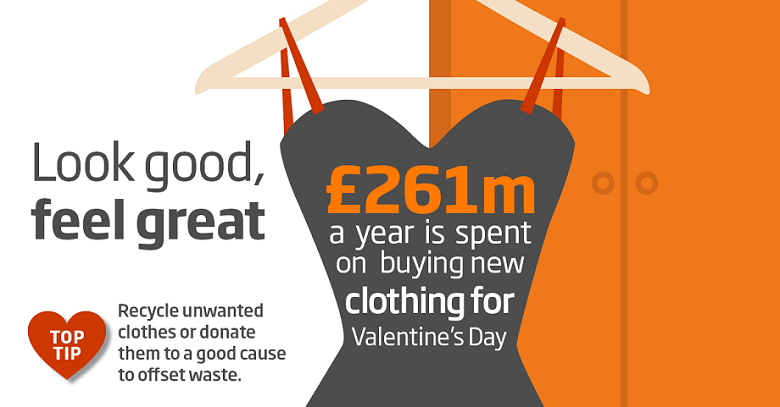 Fast fashion is having a huge impact on the environment and the UK is the epicentre the industry in Europe, with each person amassing an estimated 26.7kg of clothing every year compared to an average of 15.6kg.5
In 2019 alone, £261 million was spent on clothing and lingerie over the Valentine's period – according to the Waste & Resources Action Programme (WRAP), £30 billion in unused clothing sits in our wardrobes, and another £140 million's worth goes to landfill each year.6
To help offset unnecessary clothing waste, donate your clothes to charity to be put to good use, or shop second hand for something you know your partner will cherish.
Food for thought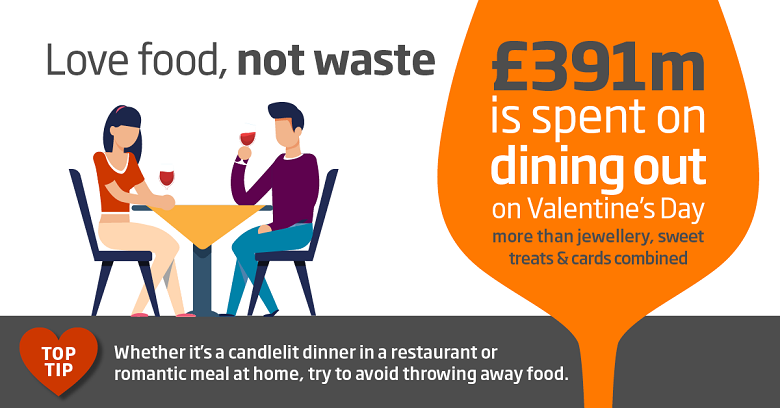 Each year in the UK, loved ones spend more on dining out for Valentine's Day than cards, sweet treats and jewellery combined.7 In fact, it's ranked as the second busiest day of the year for restaurants with more than a quarter of people eating out.8
According to the European Commission, around 88 million tonnes of food waste are generated annually, so, whether you're heading out for a candlelit dinner, or going for low-key romance by staying at home, try to avoid throwing out food.
Leftover food is a particularly challenging contaminant in paper recycling processes, so take advantage of separate food waste collections if you have them, and ensure there's no food on any plastics, glass, cardboard, or paper.
In 2017, DS Smith worked with Tesco to find an effective solution to manage food waste from stores, in turn reducing general waste volume by 40%.
Say 'I love you' with sustainable cards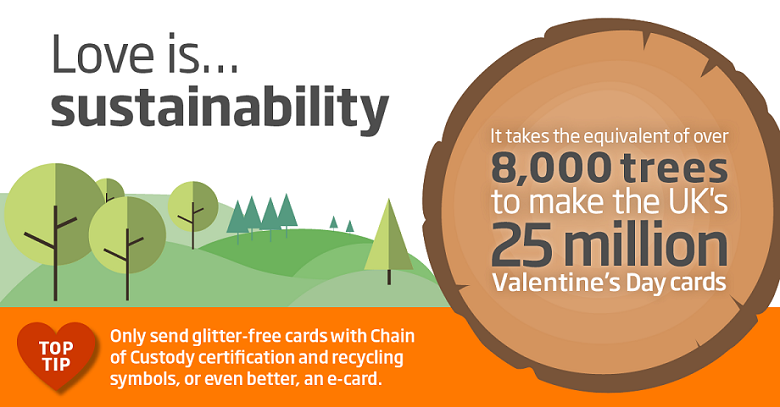 Around 25 million Valentine's Day cards9 are sent in the UK each year, equivalent to more than 8,000 trees10 - express your love for your partners, and the planet, by looking out for glitter-free cards that show Chain of Custody certification and recycling symbols, or even better, send an e-card.
Glitter is a contaminant in the paper recycling process and can prevent card and paper from being turned into something new.
While glitter is great for catching the eye, the particles, often made of plastic or foil, are so tiny they can give us problems if large quantities are received in the recovered paper we use for recycling.
Packaging companies, retailers, consumers, and the recycling industry can all work together to make sure that these seasonal celebrations are as sustainable as possible. Through our Box to Box in 14 Days closed-loop model, DS Smith can ensure that greeting cards and packaging are back on supermarket shelves as cardboard boxes within just 14 days. So, if consumers choose cards and packaging that can be recycled, we can all work together to alleviate the pressure on our planet's limited resources.
Sources
https://www.ig.com/en-ch/news-and-trade-ideas/other-news/valentine_s-day--lovebirds-splash-the-cash-despite-economic-gloo-190212
https://newsroom.mastercard.com/eu/press-releases/you-cant-hurry-loveespecially-when-it-comes-to-valentines-day-shopping-3/
https://www.westlondon.com/tonnes-of-valentines-day-roses-arrive-at-heathrow/
https://www.vox.com/the-goods/2019/2/12/18220984/valentines-day-flowers-roses-environmental-effects
https://unearthed.greenpeace.org/2019/09/12/fast-facts-about-fast-fashion/
https://www.wrap.org.uk/content/clothing-waste-prevention
https://www.ibisworld.com/industry-insider/press-releases/valentines-day-spending-to-reach-14-billion-in-2019/
https://www.restaurantbusinessonline.com/consumer-trends/valentines-day-second-busiest-day-year
https://bankholidays-2019.co.uk/holidays/valentines-day-2019/
https://www.gwp.co.uk/guides/christmas-packaging-facts/