Cardstumes Halloween Guide
How to craft fun and recyclable cardboard costumes – or 'cardstumes' – with step-by-step guides.

As families prepare for spooky season, we reveal how a little imagination can bring a second life to cardboard boxes found in the home. Our Cardstumes Halloween Guide provides you with all the tips needed to build creative costumes with materials found around the house that can then be recycled after the holiday.
Each year millions of people in the UK dress up for Halloween and this year choosing to create a 'cardstume' offers a sustainable plastic replacement that can be recycled, reducing the amount of material that ends up as waste.
With more than 135m cardboard boxes stowed in homes across the country, it's about time we had a little fun with them! At DS Smith, we're always on the lookout for ways to reduce plastic use and we're excited to share these easy-to-follow guides to help families reuse cardboard boxes at home, before ensuring they're properly recycled. Our 'cardstumes' not only look great, they also help in the effort to reduce the amount of hard to recycle material used – and the subsequent waste – while providing a fun and educational activity for children on the importance of reuse and recycling.


— Tim Price, Divisional Communications Director at DS Smith
Not only do our 'cardstumes' provide a fun, crafty activity for children as they get ready for a night of Trick of Treating, but they also reduce the waste that is usually generated by Halloween.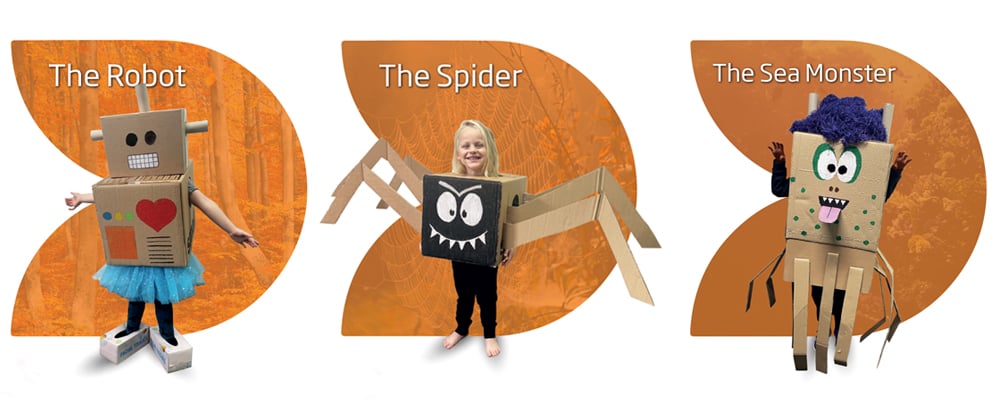 Whether you choose to create a robot, spider or sea monster we would love it if you shared your cardboard creations with us on social media using the tags #cardstumes #cardboardcrafts.