Hinckley MP visits DS Smith to talk circular economy
Sustainable packaging leader DS Smith hosts Dr Luke Evans, newly elected Hinckley MP on circular economy visit.

DS Smith, the UK's leading provider of sustainable packaging solutions has hosted the newly elected MP for Hinckley and Bosworth, Dr Luke Evans to discuss the circular economy and upcoming environmental legislation in the UK.
The Hinckley heavy duty packaging plant employs over 150 people locally and Dr Evans was given the chance to meet employees on a tour of the site by General Manager, John Doran. There, he learnt more about the benefits and opportunities provided by sustainable cardboard packaging and DS Smith's circular business model.
As pressure on UK policymakers to tackle climate change mounts, the visit provided Dr Evans with insight into the role DS Smith plays in the manufacturing and recycling of paper across Europe and North America. DS Smith has operations across Europe and North America and is able to recycle a cardboard box and turn it into a brand-new box in 14 days.
Dr Luke Evans, Member of Parliament for Bosworth, said: "It was a pleasure to visit DS Smith in Hinckley. It was my first visit to the plant and it was great to see for myself the positive impact that the business has on our local area. It was good to hear about the environmental aspect of the business and its focus on sustainability. It was particularly interesting to see DS Smith's closed-loop model first hand which appears extremely innovative in the way packaging is created, used and recycled in such a short space of time.
"There's lots of upcoming legislation that will affect businesses like DS Smith, and I look forward to working together in the future to better understand the impact that environmental policies put forward by the Government will have on local businesses."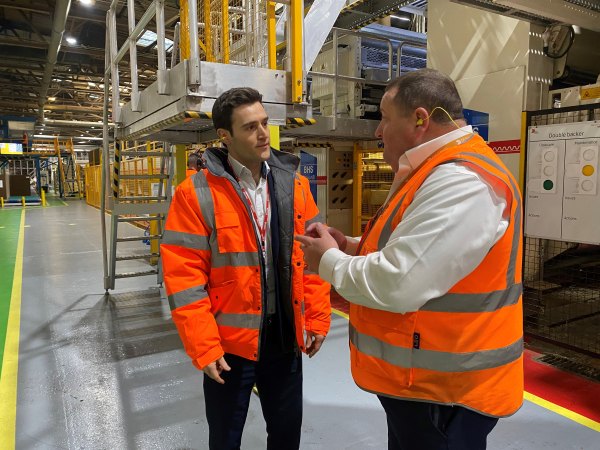 John Doran, General Manager of Hinckley Heavy Duty, said: "It was great to welcome Luke to our site to showcase the great work we're doing locally and demonstrate the positive impact we can have on the environment by putting sustainability at the heart of our business model.
"At DS Smith, we've focused on increasing importance of the circular economy, raw material quality for our manufacturing processes, and the benefits we see in the separate collection of paper. We're proud of our record to date, which is why it's great to have the opportunity to share it with those making the policies that impact our industry, customers, and communities."