The benefits of packaging in an increasingly waste-conscious world
A statement responding to the UK government's 25 Year Environment Plan, European Commission Circular Economy Plastics Strategy and other recent retail commitments.

The environmental impact of packaging materials and waste is becoming an increasingly high profile topic. The UK Government recently committed to eliminating avoidable plastic waste by end of 2042; and the European Commission has set a clear new Circular Economy Plastics Strategy. Over the last six months; eleven companies have committed to using 100% reusable, recyclable or compostable packaging by 2025; and more have revised their plastic packaging targets.
There is no doubt many of our customers are looking for more sustainable packaging and we continue to make advances on numerous fronts to help them meet their sustainability goals. We provide fully recyclable packaging that is often back in circulation within 14 days via our industry leading supply cycle.

"However, in some instances plastics are still the best solution for example, when transporting liquids. In addition, we manufacture plastics transport packaging for customers that have different supply chain needs where reusability and durability is required to withstand the toll of multiple shipments, warehouse operations and automated distribution systems."
Greg Dawson, Corporate Affairs Director, DS Smith
"We welcome the increased focus on this issue from governments, customers and all parties so we can work together on breakthrough solutions for more sustainable fibre and plastic packaging."
Policies should balance the need to reduce the environmental impact of packaging whilst recognising the vital role it plays in protecting products and minimising food waste
The primary role of packaging is to protect and preserve the value of products in transit across supply chains in order to limit damages, losses and waste of the product.
In most instances, the environmental footprint of the product will far outweigh the footprint of the packaging. Incpen research shows that on average, packaging protects 10 times more resources than it uses1 ; and food waste in stores increases by a third without packaging2. These statistics indicate that packaging ―by protecting the product― makes a positive and significant sustainable impact by reducing waste of resources invested in the product.
At DS Smith we take this balancing act, between protection and resource efficiency, very seriously through innovation. Made2Fit enables right size packaging for e-commerce, preventing excessive packaging and cost to transport air. DISCS® is an industry first to test if your packaging can survive the 50 touch-points of an e-commerce supply chain. Finally, PACE is a revolutionary way of specifying packaging based on performance rather than weight.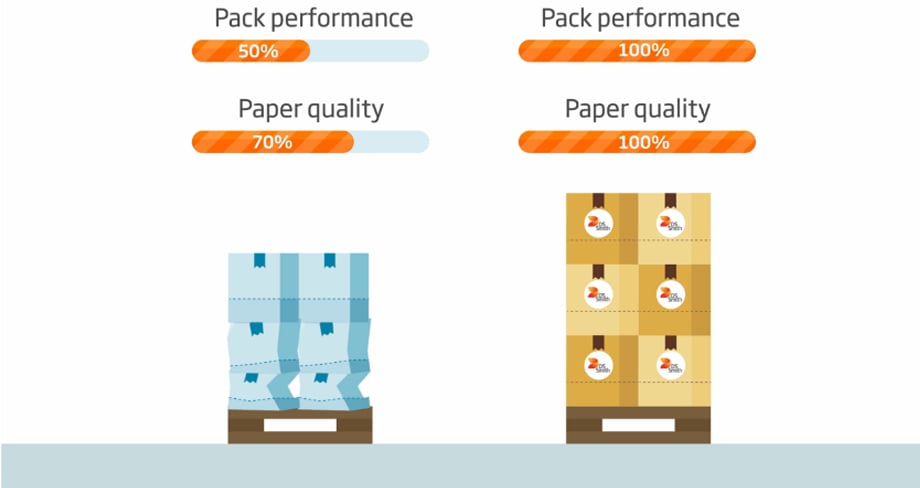 Brands have to balance specifications with supply chain impacts
The specification of packaging will often involve balancing the needs of the product, application, transport and logistics, production, primary packaging, brand and design, retailers and others. Increasingly this also means comparing the sustainability merits of different packaging options.
DS Smith's commitment to getting the balance right doesn't stop with the provision of sustainable packaging solutions. We work with organisations to help make sure that not only do we maximise the volume of material to be recycled, but also that an emphasis is given to the quality of material for recycling. To maximise recycling, we must get the balance right between setting increasingly challenging targets for the quantity of recycling, with making sure that we provide manufactures with quality raw materials for their production operations. See our report here.
All these criteria―in combination with the impacts of the product and primary packaging― must be taken into account.
In the FMCG and food sector the priority is adaptable packaging to meet the fast changing demands of consumers, customers, retail channels and supply chains. Corrugated is exceptionally effective at providing fresh, light, and 100% recyclable packaging, whereas in the beverage sector, priorities often focus on differentiation, shelf life and supply chain efficiency. Bag-in-Box solutions use up to 80% less plastic than alternative packaging formats and are significantly lighter than glass and metal; providing logistics efficiencies whilst increasing the product life by weeks.
However, no matter what material is used, the greatest sustainability opportunities are in the supply cycle.
By shaving 5mm off a standard secondary pack DS Smith prevented 20 fewer lorries on the road per year, 100 tonnes of carbon reduction and huge cost savings. This is equivalent to the carbon absorbed by two and a half thousand coniferous tree seedlings grown for 10 years. Multiplied across a global supply chain, these cost and carbon savings are enormous.
Our business model puts the circular economy in action
Last but not least, we welcome the strong focus on end-of-life. As we move towards an increasingly circular economy, closing the loop on material cycles are highest priority.
At DS Smith waste is a resource and the circular economy is right at the heart of our business model. Our Recycling Division manages over 5 million tonnes of materials for recycling per annum, driving the flow of fibre through our Paper and Packaging Divisions. This is demonstrated in our recent Box-to-Box closed loop recycling story. Similarly more than half of our Plastics Division's portfolio is 100% recyclable, multi-use solutions, that protect valuable products for hundreds of journeys. Lifetimes can be up to 17 years for beverage crates and 7 years for automotive transit packaging.
As brands and consumers become more conscious of the impact of packaging and packaging waste, our industry needs to encourage a better understanding of all the different criteria involved in packaging material selection.
Now is a key moment of opportunity for us as packaging manufacturers to shape the future of sustainable packaging by providing insight and expertise to our customers.
For more information contact sustainability@dssmith.com.