Expanding our customer coverage
The past 18 months has seen a number of acquisitions across Europe by DS Smith. We asked DS Smith Group Communications Director Hugo Fisher three questions about them.

Q. Why has DS Smith embarked on these acquisitions?
A. From a commercial point of view it comes down to maximising our ability to deliver increased sales, lower costs and managed risks for our customers. With an expanded footprint across Europe we can now offer a comprehensive service to our pan-European customers as well as local customers from Crete to the Arctic Circle.
Leading market position across Europe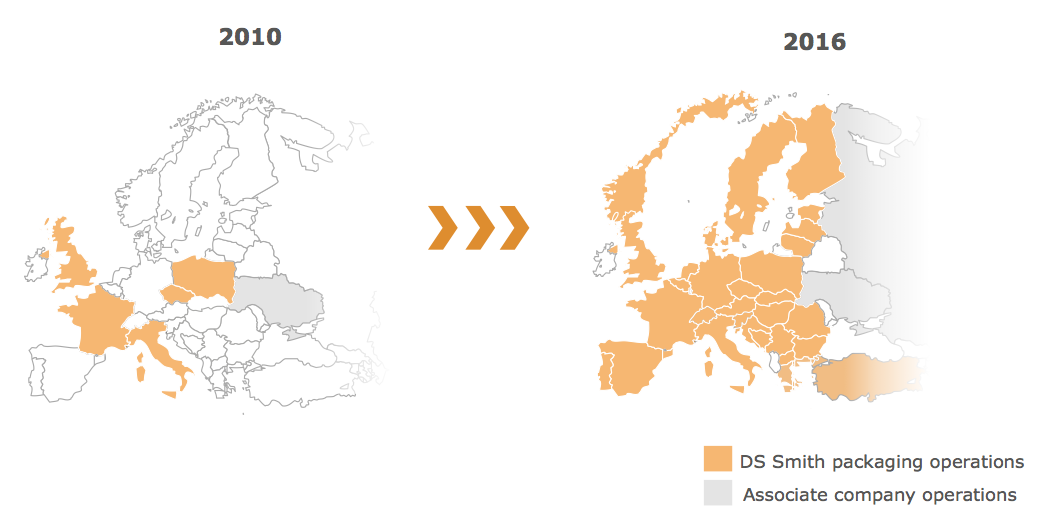 Q. How does this help DS Smith customers?
A lot of it starts with listening to and working with our customers who want to work with us where they are doing business. The Duropack deal is an example of an excellent strategic fit that strengthens our customer offering by expanding into new geographies as well as enhancing our capabilities in markets where we were already present. We now have a greater ability to provide our offering to large pan-European customers who want to rationalise their supply bases across Europe.
Q. Where has DS Smith acquired companies?
A. The most recent series of acquisitions started with Andopack (now DS Smith Andorra) in November 2014. We went on to acquire Grupo Lantero the following year with their seven sites across Spain to fully commit to the important and growing Spanish market.
In between, DS Smith acquired Duropack, a strong company operating throughout south eastern Europe. The acquisition included 14 corrugated packaging sites, 2 paper mills and 18 recycling sites across 9 countries comprising Austria, Hungary, Bosnia, Bulgaria, Macedonia, Serbia, Slovakia, Croatia and Slovenia.
Towards the end of 2015 we expanded into Greece and Turkey. We now have three sites in Greece that were part of a high quality business that we partnered with for a number of years. In Turkey we acquired a leading producer of specialist corrugated packaging and displays, focused on FMCG customers and well positioned for the large Istanbul market as well as European export.
Most recently and closer to home we acquired TRM Packaging in the spring of 2016 to enhance our footprint in the Northwest of England.
Taken as a whole these moves make a big difference to our customers as they can experience increased sales, lower costs and managed risks across Europe in more places than ever before.