DS Smith completes acquisition of Duropack
On 31 May 2015, DS Smith Group completed the acquisition of Duropack

Further to the announcement on 22nd May 2015 confirming receipt of unconditional competition clearance from all of the relevant authorities, DS Smith Plc, the leading provider of recycled corrugated packaging in Europe, is pleased to announce that it completed on 31st of May 2015 the acquisition of Duropack.
Miles Roberts, Group Chief Executive said: "We are delighted to complete the acquisition of Duropack, a business that is highly complementary to DS Smith's geographic footprint and transforms our position in higher-growth South Eastern European geographies. We look forward to integrating the business into the DS Smith Group and are excited about the excellent opportunities for customers, employees and shareholders".
Further details on Duropack
Geographic presence: 14 corrugated packaging sites, 2 paper mills and 18 recycling sites across 9 countries comprising Austria, Hungary, Bosnia, Bulgaria, Macedonia, Serbia, Slovakia, Croatia and Slovenia.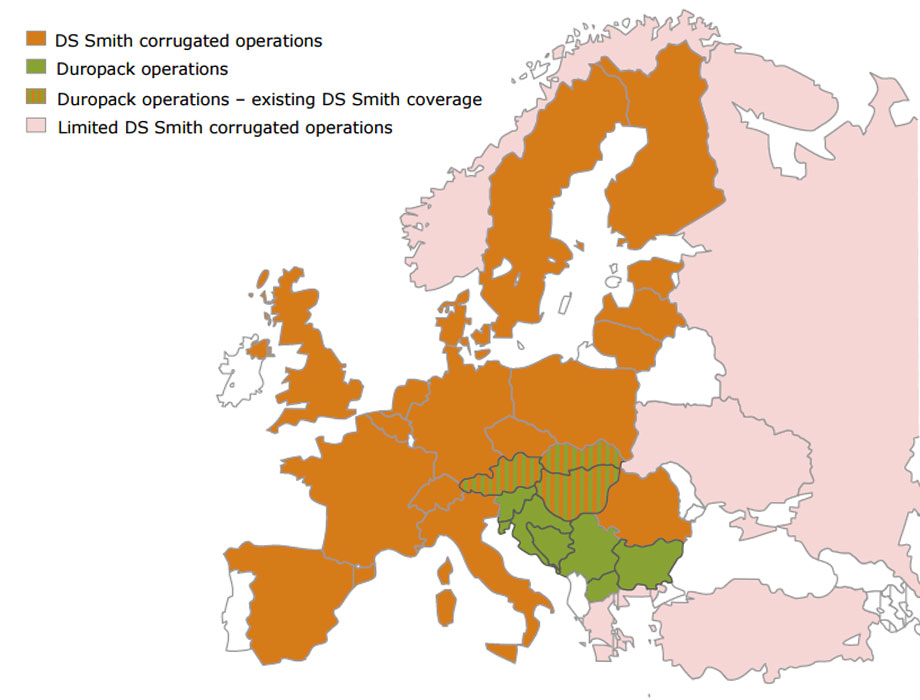 Volumes: c.565msm corrugated packaging, c. 208kt testliner production and c. 160kt recycled paper collection.
Financial details: Gross assets of €281 million as at 31 December 2014; 2014 EBITDA of €41 million.