Earth Overshoot Day and Ecological Debt
29th July 2019 is Earth Overshoot Day: the tipping point in the calendar where humans have used up 100% of the year's supply of resources.

Having 'overshot' our usage, we are now in ecological debt – meaning that every resource we 'spend' for the rest of the year is in the red.
It's unsustainable, as we've outstripped the planet's ability to regenerate what we're using this year. That's why recycling matters more than ever.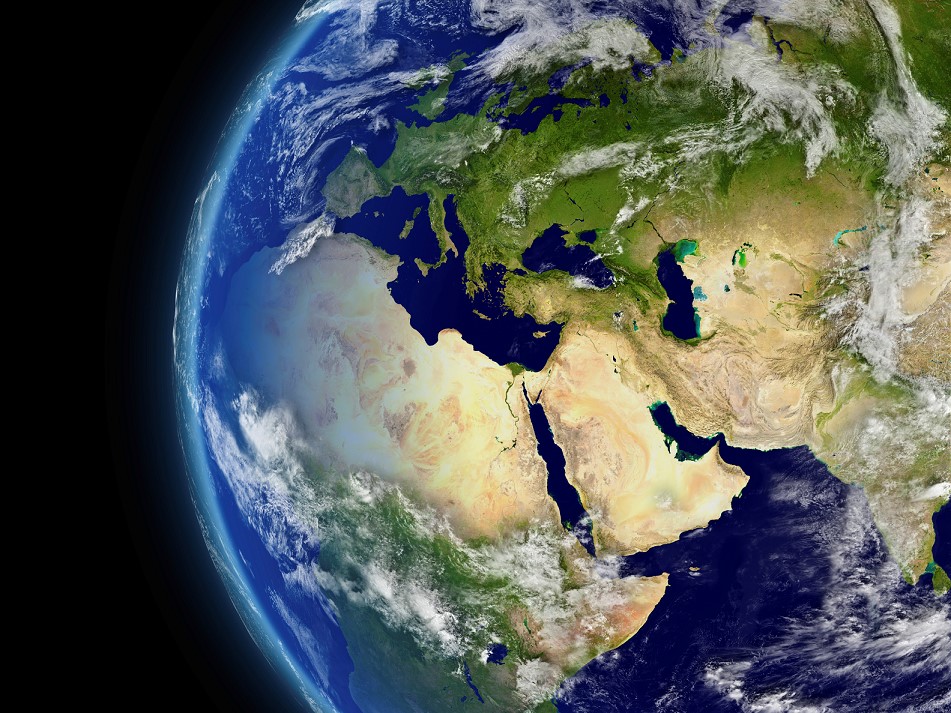 What is an 'overshoot'?
An 'overshoot' occurs when the demands of the population exceed the environment's ability to provide resources. The Global Footprint Network calculates Earth Overshoot Day every year to show the point at which human resource use has become unsustainable.
The trend displays a problem - we're getting into ecological debt earlier each year.
Humanity lived within the 'budget' of the Earth's natural resources until around 1970, when Earth Overshoot Day was December 23rd.
But since then, our use of resources has only increased. Our carbon footprint has more than doubled since the early 1970s – as has the world's population, from 3.6 billion people in 1970 to 7.7 billion people in 2019.
We're depleting our resources far faster than they are being renewed, and every year, we're doing it more quickly, through overfishing, deforestation, food waste, pollution and other human-made problems.
Earth Overshoot Day 1970-2019 1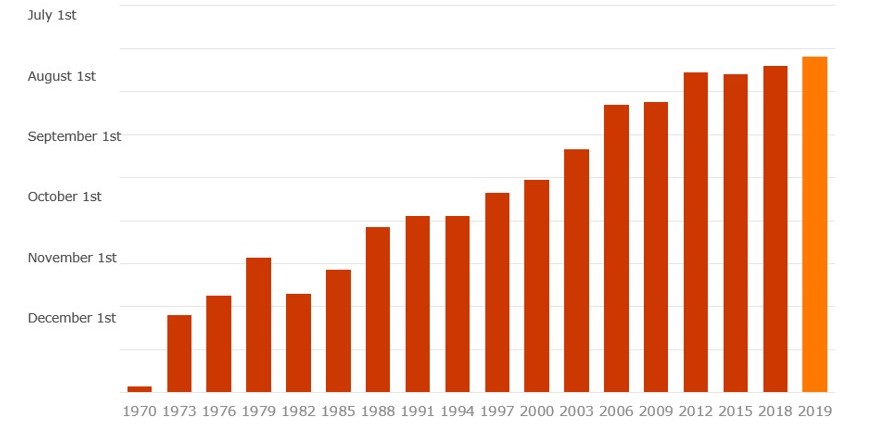 In 1980, for example, Earth Overshoot Day was November 2nd – meaning that within ten years of the first Earth Overshoot Day, we were going into resource debt six weeks earlier. Earth Overshoot Day has crept up the calendar since then. It was October 13th in 1990 and October 4th in 2000, but by 2010, it had leapt to August 28th.
In 2017 we went into ecological debt on August 2nd. 2018 showed a change of one day with Overshoot Day landing on August 1st, and this year it falls on July 29th 2019.
The graph above shows that we have begun to plateau and that the rate in which we are hitting Earth Overshoot Day is slowing down.
Despite this, Earth Overshoot Day is still landing earlier each year. And even a change of a couple of days means we're getting less sustainable – we're still using all our allocated resources in seven months.
How quickly will we go into debt next year?
We face an urgent need to manage our resources more effectively, with the UK alone at a recycling tipping point.
DS Smith looked at 20 years of evidence and found that based on current trends, the UK won't reach it's 65% recycling target rate until 2048. This is over a decade late past its 2035 target.
What can we do to help?
Our resource use has been accelerating, but as people become more aware of the problem, we are taking steps to cut waste and increase our sustainability.
Governments around the world are implementing legislation to help combat resource waste. In 2015 the EU launched its Circular Economy Action Plan in a bid to protect the environment and generate sustainable growth across Europe.
And in the UK, we have seen the recent launch of the Resources and Waste Strategy, and this is to be followed closely by the Environmental Bill. Together these are two pieces of significant legislation that will help shape how the UK manages its resources going forward.
Organisations are doing their bit too – through corporate social responsibility programmes and a greater understanding of how their resource use impacts on the communities in which they operate, but also on the wider macro environments.
The world is changing around us, and stakeholders are demanding more. Consumers are demanding change, with 75% of millennials2 willing to pay more for sustainable products. Whether it's plastics waste, global warming, carbon footprints, or resource management – all these issues and more are increasingly front of mind for citizens. Smart companies are stepping up and declaring their commitment to be more environmentally responsible, and holding themselves accountable.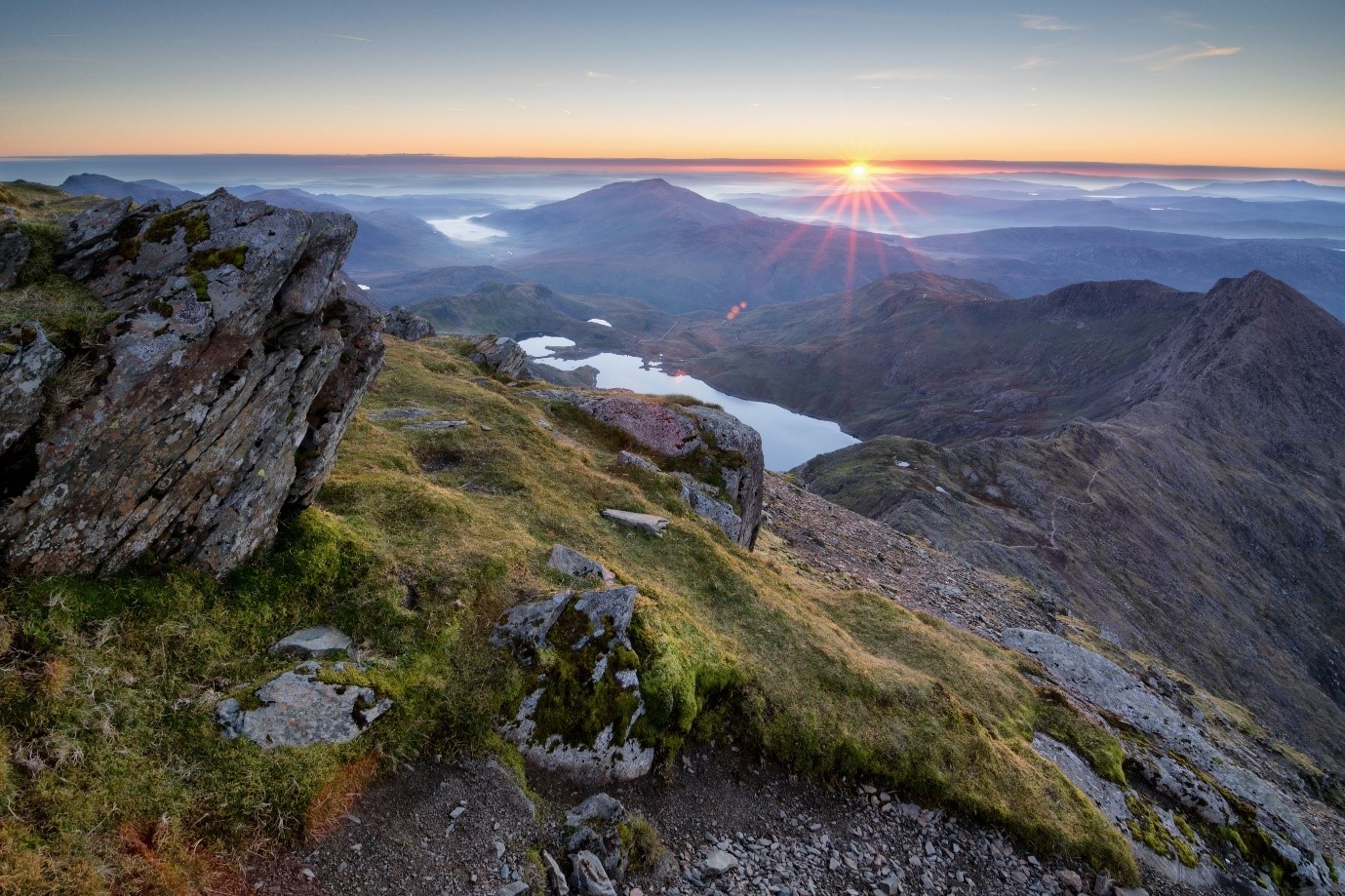 What is DS Smith doing to help?
At DS Smith, our vision is to be the leading provider of sustainable packaging solutions. We launched a Sustainability Strategy in 2018, which set goals for us to meet that will continue making our operations more sustainable.
'Supply Cycle Thinking' is the way we encourage our customers to look at their 'supply chain' in a more efficient, circular manner. Thinking in 'chains' encourages people to see materials as having a 'start' and 'end' point, being thrown away when they are no longer useful.
Supply Cycle Thinking is a system where no materials are lost, because products and business models are designed to ensure a continuous recycling loop of quality resources.
By seeing our relationship with resources as cyclical, rather than 'use and lose', we can all help to promote the sustainability of our economies – and stop using up our biological capacity before the Earth has a chance to replenish its resources.
As an integrated packaging and recycling organisation, we see a need for a new approach to packaging - and a need for strong leadership in our industry. How do we deliver more products, without more vehicles making our cities more congested? How do we protect products from damage, and reduce the amount of packaging in our homes?
This is what drives us and why we have purpose of redefining packaging for a changing world.
Sources
1. Global Footprint Network National Footprint Accounts 2019: https://www.footprintnetwork.org/resources/data/
2. Sustainability as a shopping priority: https://www.nielsen.com/uk/en/insights/news/2015/green-generation-millennials-say-sustainability-is-a-shopping-priority.html