Case Study: Circular model reduces waste by keeping materials in the supply cycle for longer
Our Lucca Paper Mill has successfully developed a new paper and plastic fibre reject separation plant, ensuring materials are kept in the supply cycle for as long as possible and that the maximum value is obtained.

At DS Smith, we see waste as a resource. Everything we do focuses on providing innovative, effective, sustainable strategies that help to increase recycling and reduce waste. In fact, across Europe, our Recycling Division manages 6 million tonnes of material every year.
Lucca Paper Mill, located in Tuscany, is a market leader in containerboard and the biggest mill of its kind in the country with an annual production volume of 410,000 tonnes per year. All of Lucca's products use recovered fibre, so they are always looking for ways to optimise the use of raw materials.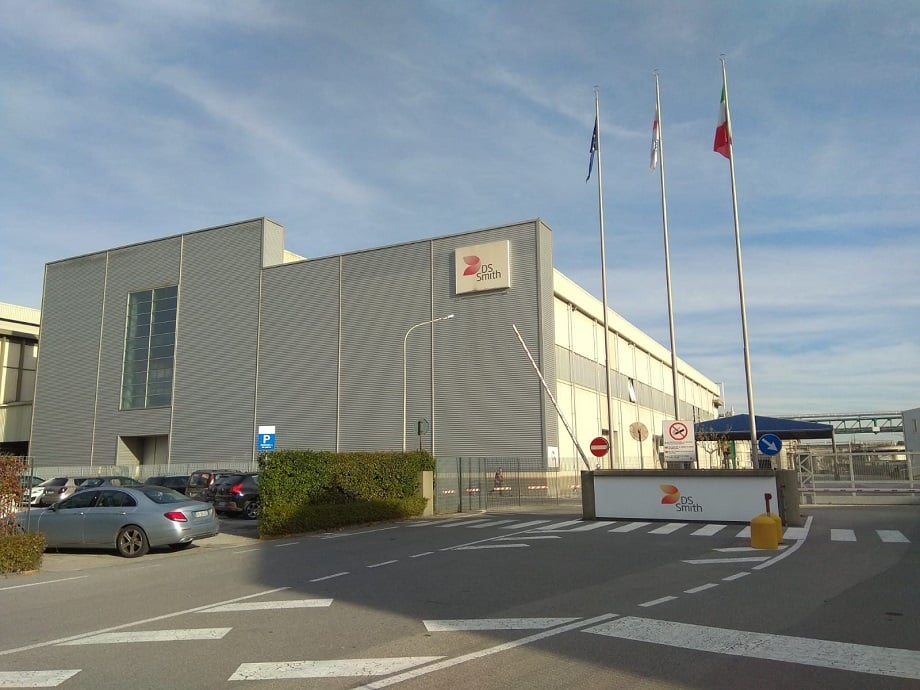 Over the past 2 years, technicians have developed a new plant to process reject plastic and paper fibres reducing waste volume by up to 20% and diverting valuable resources from landfill or incineration.
The challenge
If it were only paper fibres that entered our Paper for Recycling (PfR) operations things would be much simpler. The reality, however, is that various materials, such as plastics, wood, fabrics or metals, can end up mixed in with paper fibre.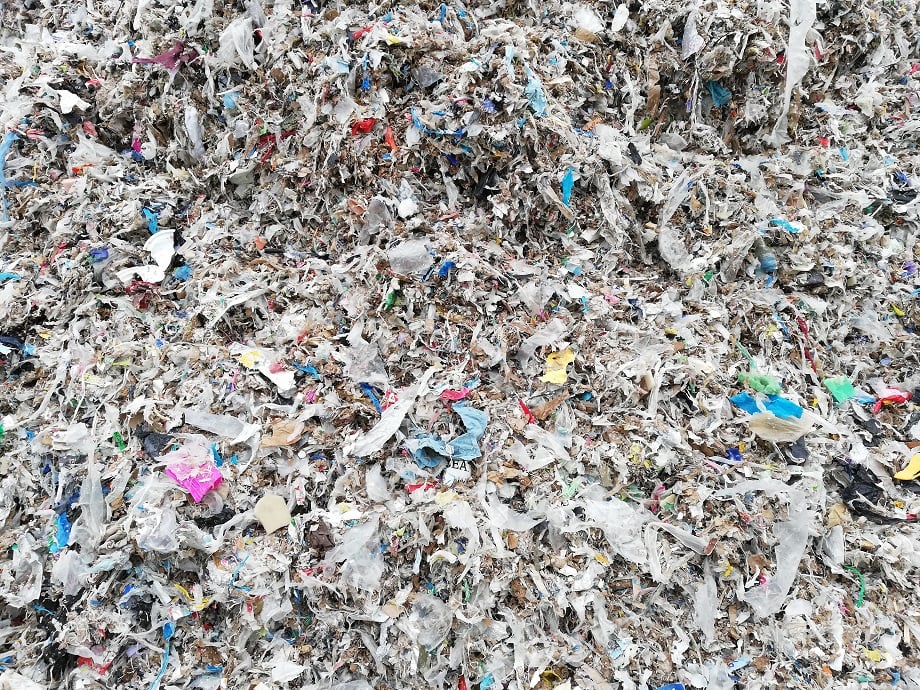 Managing contamination is crucial in ensuring our high-quality finished paper products can be made using recycled fibres. The first stage of the paper-making process, pulping and screening, uses ragger rope to capture and remove any unwanted materials, and it's during this process that valuable paper fibres can also be extracted.
The rejected materials are notoriously hard to recycle and would historically be sent to landfill or incineration - the challenge for Lucca Mill was to divert rejects from landfill and keep materials in the supply cycle for as long as possible.
The solution
Since 2017, Lucca Mill has been designing, testing, and implementing a new plastics and paper fibre reject separation plant.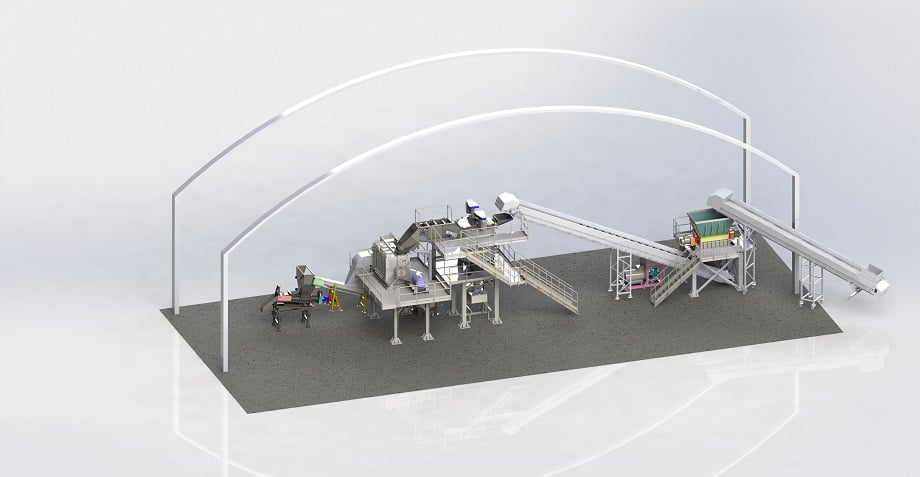 Once the rejects are extracted from the papermaking process, they are sent by a conveyor belt to the plastics and paper fibre reject separation plant.
The plant feeds reject into a shredder to reduce the size of the plastic pieces, then with the help of water and gravity, it weakens the bond between the various components.
Materials are put through a centrifugal cylinder which when in rotation completely separates materials – clean plastics are removed, and useful fibres are returned to the paper making process.
Plastic and paper reject before the
new separation plant was installed
Plastic reject after it has passed through the new separation plant
What are the benefits?
By evolving processes, we have been able to defer valuable materials from landfill or incineration. As a result, the mill is keeping useful materials in the supply cycle for as long as possible – a true example of a circular model in action.
With the new separation plant in place, Lucca Mill has reduced total reject weight by up to 20%, resulting in over 2,500 tonnes of fibre being returned to the paper making process every year. Over the next 12 months, the mill plans to double this figure.
If we were to roll out similar plants across our global network of Paper Mills, more than 50,000 tonnes of valuable paper fibre could be used once more.
Circular Economy Award Win
Each year, MIAC, the International Exhibition of the Paper Industry, brings together the paper manufacturing industries based in Italy. The exhibition provides companies with an opportunity to compare technology and machinery, but also a forum to compete across the paper sector.
Every year, prizes are awarded to paper mills that display innovation in their manufacturing processes and/or products. In 2019, our mill in Lucca competed and won in the category 'Innovation for the Circular Economy' with its plastic-fibre separation process.
The jury commented: "Within the circular economy category, DS Smith Paper Italia Spa is ranked first for having introduced into the company technology, not only innovative and complex but also bringing a step forward the usability of the plastic fractions (implementation of plastic-fibre separation)."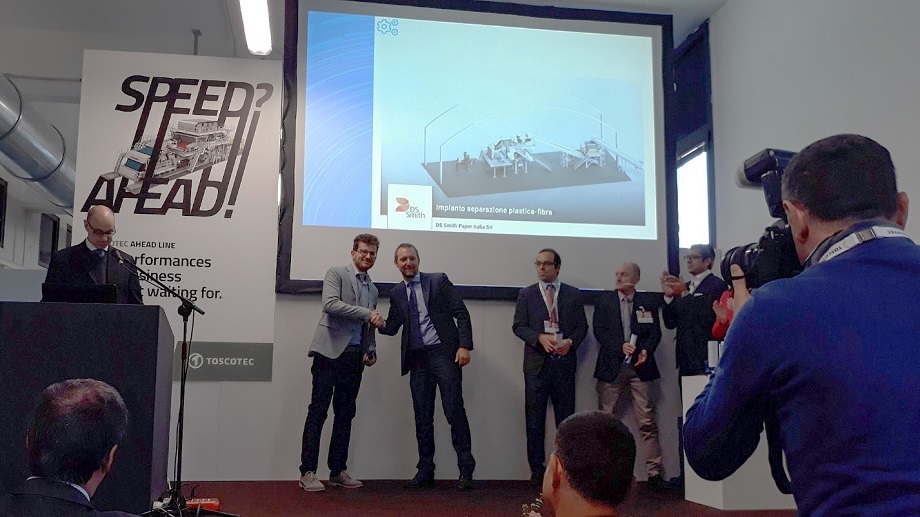 When you take time to think about all possible solutions, looking past the most obvious, both innovative, and positive outcomes will arise.


— Stefano Andreotti, South East Europe Technology Manager for DS Smith Paper
Our unique business model makes us different from other companies in the recycling sector, as the materials we collect for our paper and packaging operations are kept in-house for as long as possible, creating a real closed-loop solution for our customers.