DS Smith Packaging Systems, prize winner at the Oscars de l'Emballage 2015
The innovative case erector FCO 150LS for limited and medium volume series from DS Smith Packaging Systems won the Oscar for secondary and end-of-line mechanisation and packaging at the historic evening show of the 60th anniversary of the Oscars de l'Emballage, the French packaging industry's benchmark competition.

In Paris on 23 November 2015, the jury of the celebrated annual Oscars de l'Emballage event handed down 20 Oscars in five different categories. The evening was hosted by Henri Saporta, Managing Editor of Emballages Magazine,, and by journalist Michel Picot.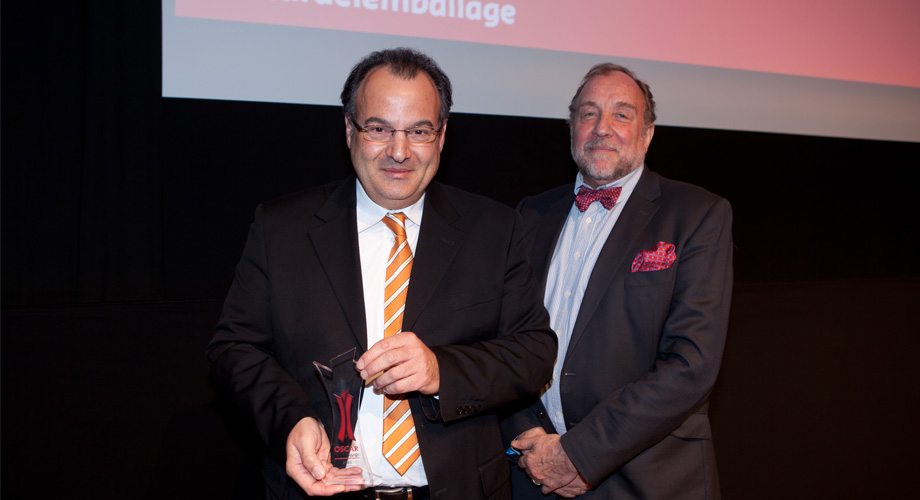 From left: Stéphane Birebent, CEO of DS Smith Packaging Systems, and Jean-Marc Doré, Founding President of GEPPIA (The French Food Packaging and Processing Machinery Trade Association)
In presenting the FCO 150 LS case erector with an Oscar in the category Secondary and End-of-Line Mechanisation/Packaging, the jury noted the originality of the machine's architecture. Fitted with an oblique mandrel, the FCO 150LS case erector provides improved efficiency, both in production and in operator ergonomics. The ease of format change was also acknowledged and appreciated.