RRP to help Laughing Dog be leader of the pack
Fold Hill Foods approached DS Smith's packaging strategists to provide retail ready packaging (RRP) for its popular pet food brand and enhance impact for the slow-baked and naturally wholesome world of Laughing Dog.

Challenge
To help drive sales of the company's Laughing Dog brand, ensure maximum impact on the store shelf whilst complementing the brand and not compromising the shopper expectation.
Approach
DS Smith manufactured the retail ready tray in E-Flute, but made the hood separately in R-Flute® to protect the products in handling, storage and distribution. In addition, it was printed using a litho-laminating process with colours that perfectly matched the different pouch variants.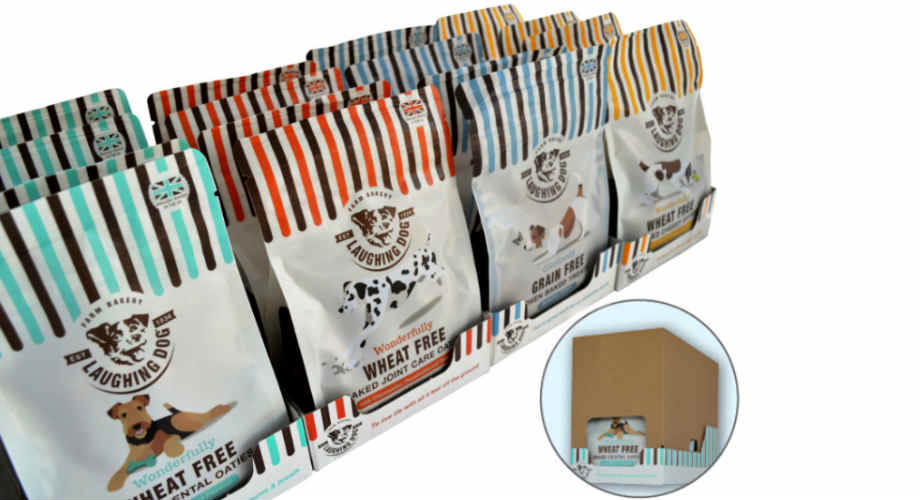 Results
A response from trade and consumers contributing to new listings
Packs that look clean and crisp making it easy to spot on the shelf
Increased awareness to help store colleagues direct shoppers to the product
Tray and primary pack harmonised to provide a strong visual cue for the product and aid brand recognition
Filled as a one-piece pack with an easy to remove, non-perforated, hood
Conclusion
Fold Hill Foods is a family owned business that manufactures various different pet food products. The Laughing Dog brand was bought by Fold Hill Foods in 2009 and the final packaging is a powerful example of aligning design innovation to meet client and shopper expectations.