New impressive packaging solution for hearing protectors
Work safety is an most important issue for DS Smith. That is why we were excited when one of the world's leading communication and hearing protection manufacturers, the Finnish Silenta Group Oy, wanted to cooperate with us to find the packaging solution which best supports product sales.

The challenge
Silenta Group Oy manufactures CE certified work safety products for hearing protection purposes and therefore improves employe well-being at workplaces. Silenta Group's hearing protectors are used around the world in manufacturing, armed forces and various free time activities, which means that the packaging must be suitable for several different markets, emphasize the high-quality and safety of the product, be compact and stand out from the other competing products in the retail market.
Our solution
In order to increase sales, DS Smith suggested a new visual image which would allow Silenta products to stand out. Based on this, a DS Smith graphic designer working at one of our PackRight Centres designed a new visual image for the packaging which allows the product to stand out more effectively.
As the new visual image was created by a graphic designer specialising in packaging, the design plan ensured that the correct colours were used at the production stage, and the impact of the colours was also considered.
The new solution allows the customer's product to stand out from the competing products more effectively than before, which also increases sales for the customer.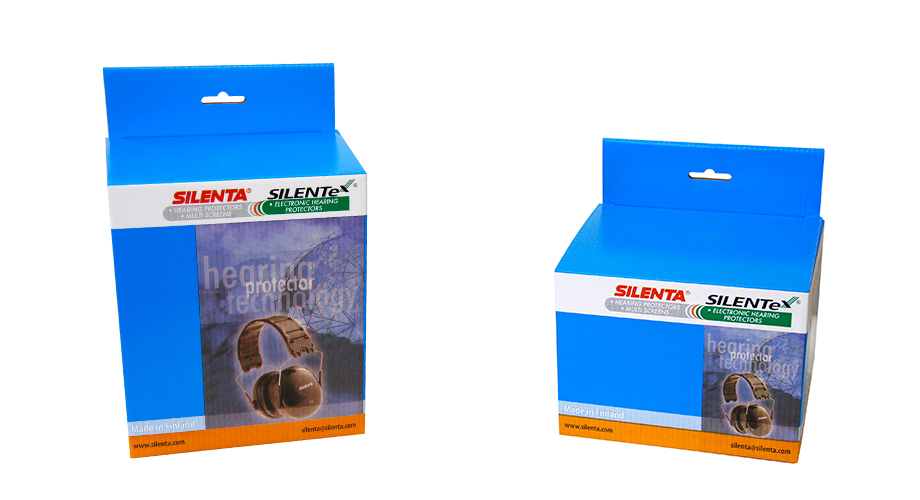 The result
Increased sales as the packaging solution created for the Silenta Group Oy's needs fits the company image and allows the product to stand out in stores.
Improved brand awareness because the packaging displays the Silenta brand and consumers are introduced to the company's other high-quality products.
The corrugated cardboard packaging solution, colored with water soluble colors, is recyclable and environmentally friendly, which means the customer's operation is in line with sustainable development.