DS Smith drives increased sales for Royal Unibrew with enormous corrugated cardboard truck
At DS Smith we take pride in understanding the various sectors in which our customers operate. For example, the summer season is crucial for brewers, so in the spring our Danish sales team came up with an idea to help Royal Unibrew sell more beer at this key point in the year. Royal Unibrew loved the idea and the resulting displays drove sales in BILKA stores from mid-June.

Challenge
Convince Royal Unibrew that our idea would increase sales and brand recognition while also being very cost-effective and easy to implement.
Our Approach
It was an exciting, challenging assignment for DS Smith's team to design a display that was based on Royal Unibrew's own distribution trucks so that it was recognisable to supermarket customers as Royal's trucks, and not just regular packaging. Wecreated a driver's cab, set up on a EUR pallet, then an enclosure to be mounted on the number of pallets that would make up the total length of the truck, and finally we produced a copy of the rear end of the truck.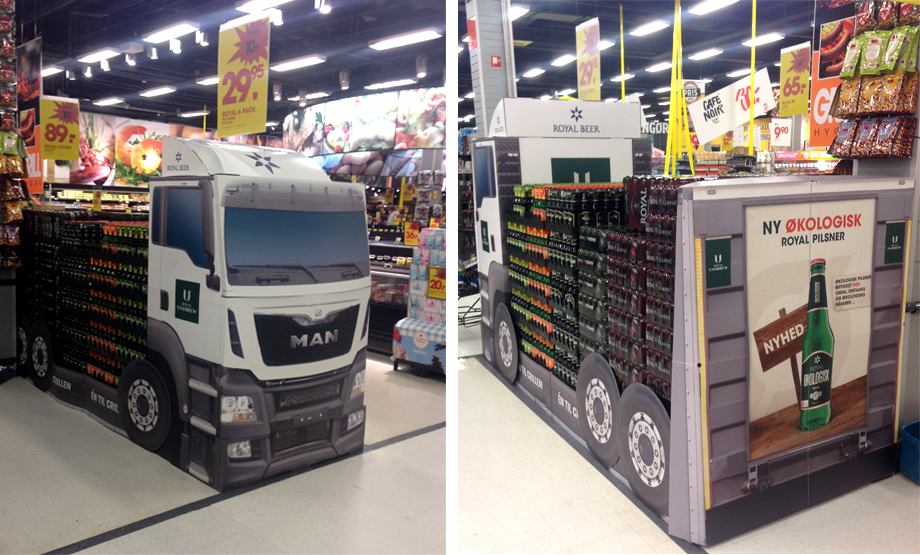 Results
Increased sales of Royal Beer
Increased brand awareness of Royal Beer thanks to recognisable 3D outline
Adaptable display depending on store size and floor space
Ease of assembly for store employees means it goes up fast
Logistically optimised so that it could be folded into a flat pack in the Euro pallet format, without compromising the appearance and strength of the structure, for smooth distribution
A further increase in sales as early success has led to a relaunch of the project, and more beer delivery trucks are now making their way out to stores
Led to requests from large parts of the Danish food retail sector to have a similar display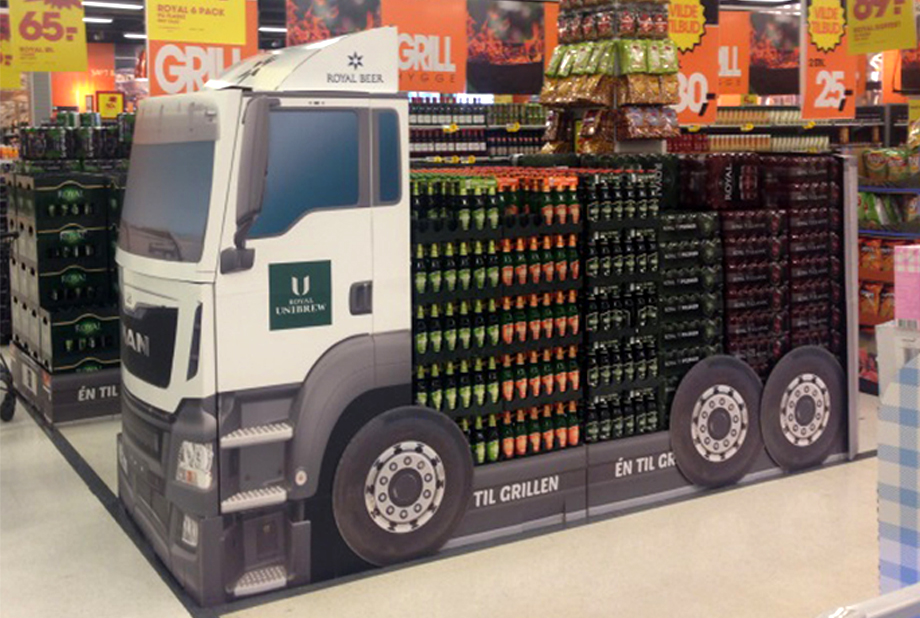 About Royal Unibrew A/S
Royal Unibrew produces, markets, sells and distributes quality beverages. They focus on products in the areas of beer, malt beverages, soft drinks, energy drinks, fruit juices and cider. Royal Unibrew is a leading regional operator in a number of markets, primarily in Northern Europe, Italy and in the international markets for malt beverages, the main market for which comprises Denmark, Finland, Italy and Germany, as well as Latvia, Lithuania and Estonia.
In Denmark, Royal Unibrew is the second biggest supplier of beer and soft drinks, with a number of strong brands. In 2014 the company generated revenue of DKK 6,056 million and sold 9.0 million hectolitres of beer, malt beverages and soft drinks. The Group, which has its head office in Faxe, Denmark, has approximately 2,400 employees in total worldwide. Royal Unibrew is listed on NASDAQ OMX Copenhagen A/S and has approximately 14,000 registered shareholders.