DS Smith displays help perk up KRÜGER coffee sales
A little time to unwind with a good cup of coffee, tea, or cocoa is a real joy for people. KRÜGER, the European market leader in the area of instant products, wanted to use this insight for their in-store displays.

Challenge
Develop a scalable display, that's easy to set up by sales staff and most importantly, will contribute to increases in sales of the promoted products.
Our Approach
Develop an elaborate and eye-catching display design with a wall clock-themed poster for an optimum level of attention and long range visibility. In order to take part in an accompanying campaign developed by KRÜGER consumers simply have to cut out the clock coupons from the campaign packaging, collect a total of '60 minutes' and send them to KRÜGER with a participant card. The competition and the accessible goods presentation ensure an increased number of impulsive and sample purchases.

Results
Increased sales of promoted products.
High ease-of-use as POS construction can be quickly undertaken by the sales staff.
Cost-effectiveness as display can be adapted for use with a range of KRÜGER products – (KRÜGER Family, KRÜGER Trinkschokolade & Schokotasse and KRÜGER chai latte) limits need for any other displays.
Flexibility to use the POS promotion throughout the year.
The openly constructed POS positioning with the convex-shaped superstructure opens up an extensive and far-reaching view of the range of products and free access to the instant specialities.
Expandable in length for various markets (4x¼, 6x¼ or 8x¼ Chep pallets) and is suitable for all outlet sizes.
Brand consistency throughout the promotion using contoured clocks on the POS display and poster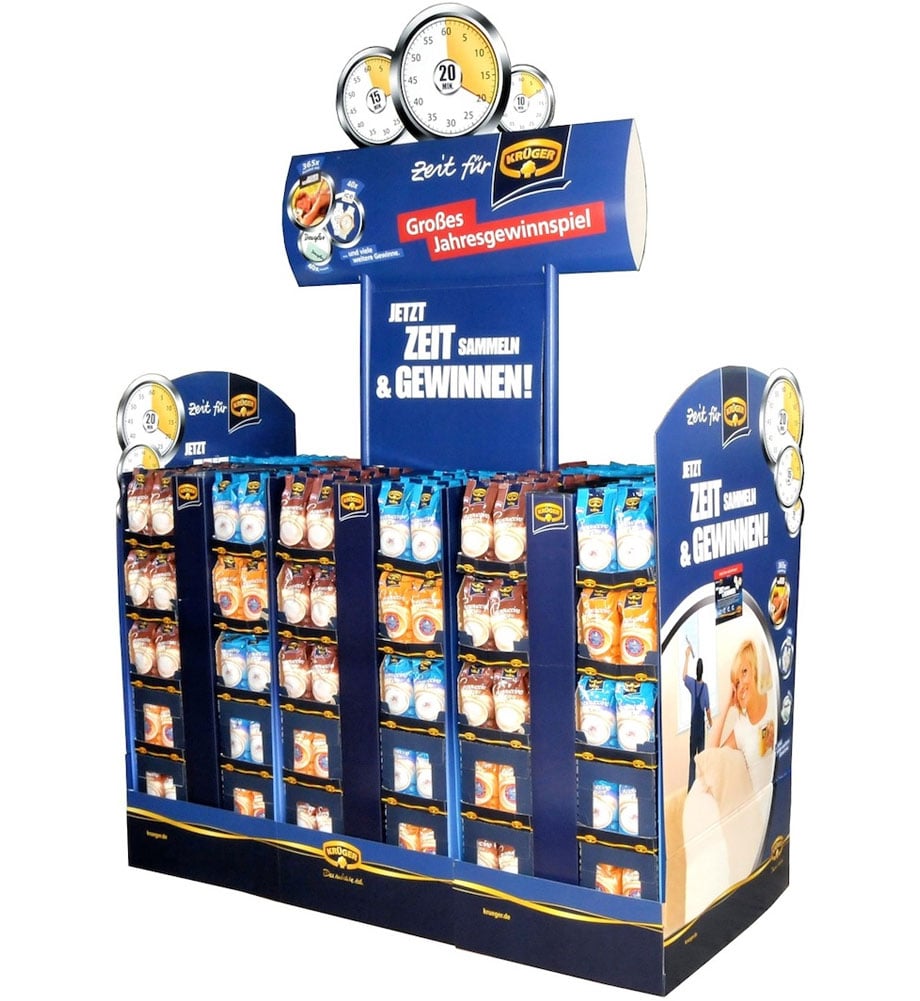 The look and shape of the display, combined with addressing the customers with a competition, ensure increased attention and therefore better sales of the products. After all, who doesn't like to take a pleasurable time out and win something at the same time?