Two WorldStars for DS Smith
The Wine-Star display along with the Shelf Retail Ready Pack were awarded with the most renowned packaging award: WorldStar.

During this years' Interpack, DS Smith was praised by the international jury of the World Packaging Organisation (WPO) for their Wine-Star display and the Shelf Retail Ready Pack concept. Both designs were regarded as the most innovative and outstanding within their respective segment.
The jury of the WPO only evaluates packaging concepts that have been already awarded in national competitions. As both Magic Corner & Wine-Star had been already awarded with the German Packaging Prize during last year's autumn; they managed to get on the WPO's shortlist, making them part of the 135 world's best packaging developments of last year.
The Shelf Retail Ready Pack was awarded in the "Food" category. This concept was the end result of a close collaboration with Mars' Western Europe Packaging Innovation team and was developed for the French market. Its attractive and attention-grabbing product presentation catches the consumer's eye. Side and back openings combined with an extremely open tray facing ensure maximum light and optimal product visibility.
The robust modular trays are easily stackable and designed to build off shelf displays. Stackinglugs ensure fast, secure set-up at the point of sale.
The Shelf Retail Ready Pack also adds value throughout the supply chain. Retailers benefit from the time saved in opening and placing it on shelf.
The cleverness of this solution can be found in the ingenious lever mechanism which is patent pending. The trays can be assembled manually in only 4 seconds.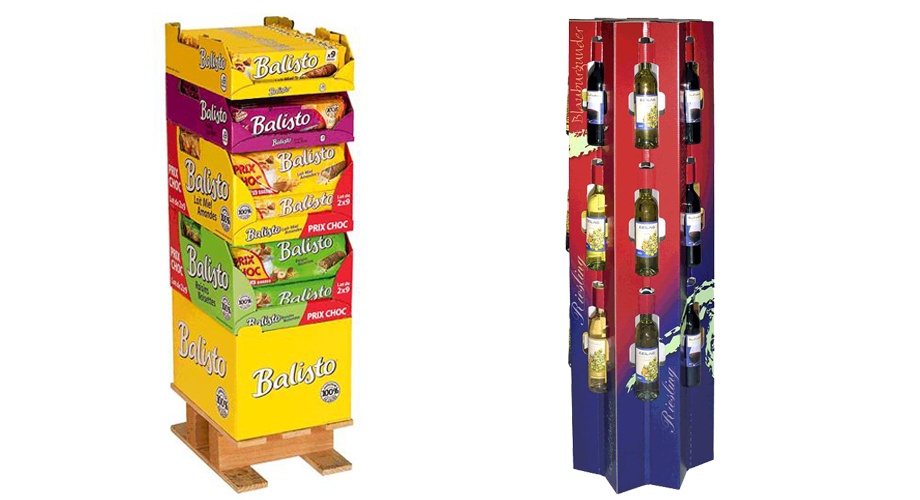 The star shaped display "Wine-Star" is a new display development that presents wine bottles in a unique way which immediately catches the eye. The arrangement of the bottles allows free sight of all products and is also accessible from all sides. Depending on the print, Wine-Star can be used for one wine brand or for the presentation of a whole wine assortment.
The wine bottles are held securely through bottleneck clamps but can be taken out easily by the customer. Due to its stable construction, the display can be repeatedly refilled and therefore is suitable for long term usage as well.
"We are very proud and appreciate the two WorldStars which recognise our ability to innovate" said Carolyn Wagner, Sales & Marketing Director at DS Smith Germany / Switzerland. "Both solutions are at the same time eye-catching and support differentiation at the POS, without losing sight of the practicalities at the integration process." The two World Stars confirm our 360° degree approach in the display and packaging development", says Wagner.
For more information contact
Anja Röhrle
DS Smith Packaging
Marketingleiterin D-A-CH

Bellingerstraße 7-9
36043 Fulda
Germany

Telefon: +49 661 88-130
anja.roehrle@dssmith.eu