Double win for DS Smith at POPAI Awards
For the first time, the POPAI POS awards were organised in the DACH countries. DS Smith managed to impress immediately by collecting two awards.

POPAI (Point of Purchase Advertising International) already has a proven track record when it comes to industry prizes. This time for the first year they also set up a competition within the DACH countries (Germany, Austria & Switzerland). Spread over 15 countries, an independent jury with delegates from within the Marketing arena, education, trade and design assessed the entries on design, material, creativity and POS impact.
DS Smith won the Silver POPAI POS award for the display launching Kit Kat Singles in the category "food / items of daily use / sweets - Temporary". The display created in the famous bright KIT KAT red, draws all attention to the new Nestlé product. The XL format reflects the "KIT KAT singles' packaging and includes a 3-D look inside the packaging.
It neatly fits with the brand image and anchors the look of the new packaging in the minds of consumers. This clearly did not go unnoticed: not only did this display reinforce Nestlé's desired brand image it also made an impact on the consumers.
The first edition was sold out so fast that a second edition was produced. The display helped Nestlé to obtain a strong position particularly in the priority channels. It was a success across the board with a perfect buy-in and sell-out.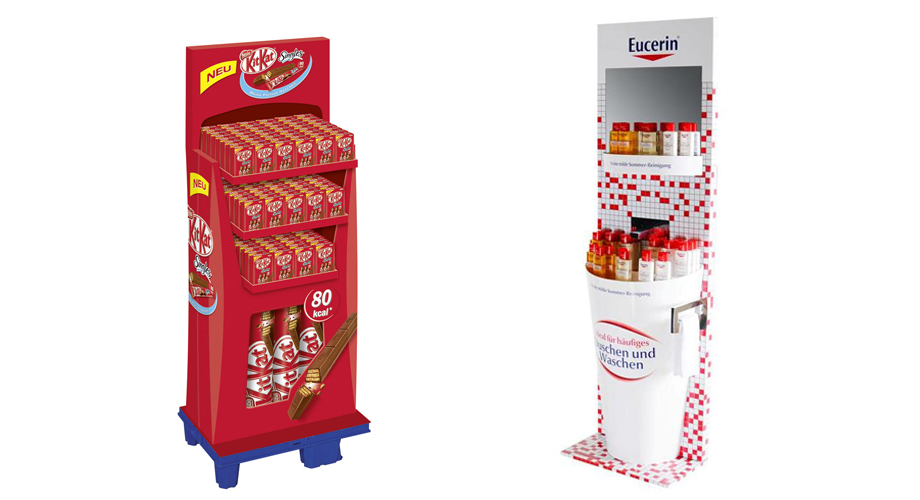 In the category "Health / Beauty / Fragrances - Temporary" DS Smith was awarded with the Gold POS POPAI Award for its seasonal display for Beiersdorf Eucerin. The display brings consumers into their familiar bathroom environment.
This familiarity evokes trust which is a building block of Eucerin's brand as these products are specially designed for a very sensitive skin. The design catches every detail from the wash basin including water tap, the towel holder and the tiles in the trademark colors of Eucerin "pH 5 Sensitive Skin" - everything is made in offset printed, laminated board.
Only the acrylic glass mirror is the exception. Result: maximum attention for high-quality products and a design which is easy to handle & to assemble by the retailer.
Fore more information please contact