A new low-speed mandrel case former
DS Smith Packaging Systems is launching a new mandrel case former for limited and medium volume series, the FCO 150 LS.


With the FCO 150LS, you benefit from all the DS Smith Packaging Systems technology at a very competitive price.
The new FCO 150LS case former is a revolutionary machine in every way. For the first time, DS Smith Packaging Systems has designed a slanted mandrel that offers unique access for simple and quick operations. Like the other case formers in the DS Smith Packaging Systems range, the 150Ls guarantees a perfect case squaring thanks to the mandrel forming. With maximum productivity guaranteed and no untimely stoppages, your end-of-line machines can perform at their best. In addition, the mandrel technology makes it possible to form recycle cardboard with various types of fluting. Fully adjustable, the FCO 150LS offers amazing flexibility of use thanks to the large number of case shapes available (transport, shelf-ready, display). It can form opened or closed cases, four or eight-edges packaging, as well as cases equipped with centering devices.
Examples of packaging units formed by the FCO 150LS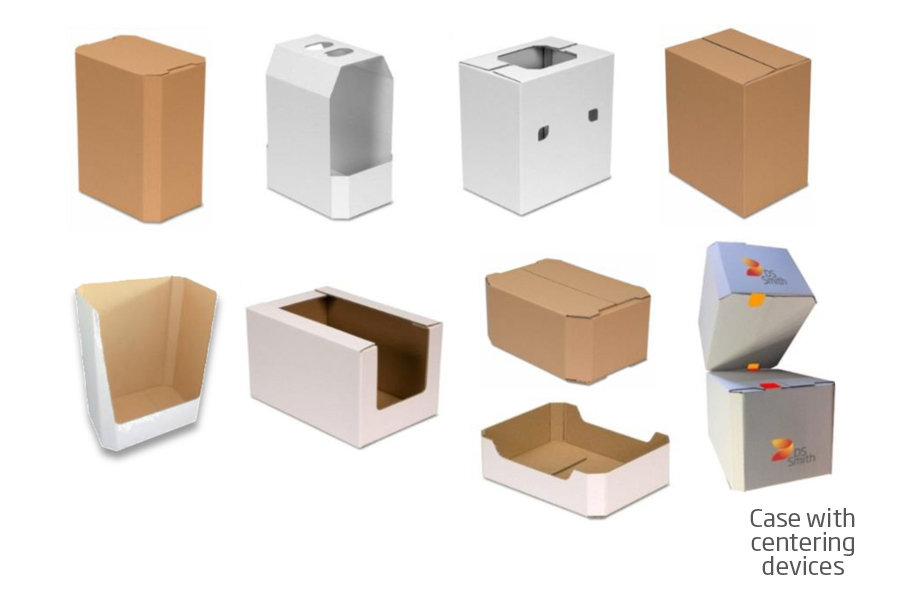 With a throughput rate of 25 cases per minute, the FCO 150LS is perfect for the production of limited or medium-volume series.
Benefits of the FCO 150LS
Wide variety of formats
Ergonomical (magazine height less than 980 mm)
Accessible (large openings and open frame)
Bonding of blanks from above for improved operating reliability (no clogging)
Easy to change format (mandrel adjustable in three directions)
Linear layout (based on the case erctors principle)
Reduced footprint
Reduced maintenance costs
Highly competitive price