Huge Gift for DS Smith
DS Smith won over the judging panel with the "AFTER EIGHT Deko Geschenk" Display, as the best solution in the "food, everyday items and confectionery – Temporary" category.

In partnership with DS Smith, Nestlé demonstrates the appeal of the full range of its AFTER EIGHT brand as a leading gift choice throughout the year.
During each season, the decorative positioning of a big golden bow gives the cult confectionery brand a powerful presence at the point of sale. And the differentiation for Nestlé is that only the display header needs to be varied according to the specific gifting season, so the display unit is always adapted to the current campaign, with the header simply attached to the liner with glue dots. As a result the display can inspire impulse shopping all the year round – from Valentine´s Day, to Easter, to Mother´s Day and all the way through to Christmas.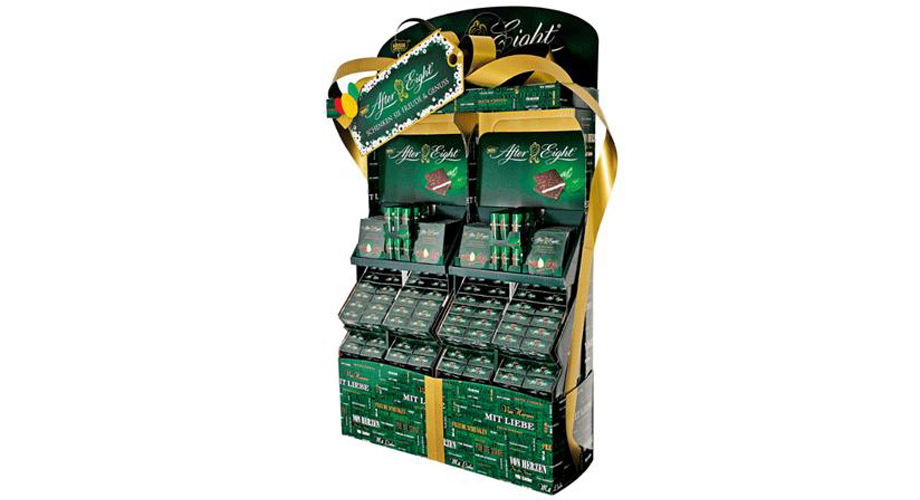 Like an unwrapped gift, the display offers the consumer unobstructed view of the product as well as easy shopability for the whole variety of the AFTER EIGHT-range. The construction is highly functional in all retail theatres - whether as 2x¼-Chep side-by-side or as a 2x2¼ Chep back-to-back – the display from DS Smith Packaging is adaptable to all retail channels and formats.
"With this development we show how we can support our customers with highly optimized innovation for point-of-sale solutions", said Michael Lamprecht, Sales & Marketing Director D-A-CH at DS Smith. "The Gold POPAI Award underlines that our full-service approach to packaging solutions, and our focus on innovation, gives customers the guarantee they are looking for in terms of highly effective and value-for-money point of sale displays."
Gifts for every cause: With DS Smith, Nestlé stages the attractive variety of the brand AFTER EIGHT for the top give-away cause of the year. The specialty: The construction can be used for different season-cause with less effort. Thereto the adequate sign can be attached with glue dots easily. DS Smith received the POPAI D-A-CH POS Award 2013 in gold for it.
For more information please contact