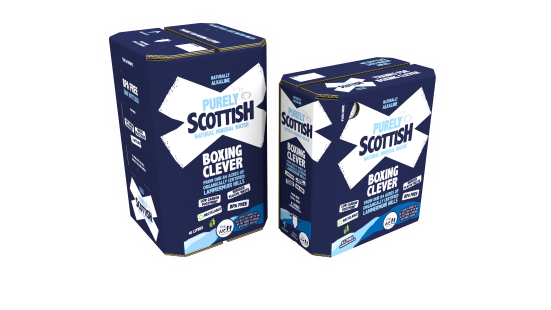 In their effort to eliminate plastics from their products, Well Water and DS Smith created a new bag-in-box solution which is both environmentally friendly and efficient.
They found the traditional plastic water cooler bottle model to be flawed, with hundreds of "water miles" needed to be made before profits are achieved. DS Smith's packaging solution removes the need for plastic returnable bottles, achieving a greater than 60% reduction in truck movement and associated carbon emissions.
By using a fibre based OTOR design, DS Smith was able to create a more visually attractive and reduced plastic product. The use of BPA free packaging represents a move away from BPA (BisPhenol A) hardened plastic bottles. This eliminates the rising health concerns associated with same. The cooler cannot contaminate the water so what is packed is what you drink. Hence the tagline "Purity by design".
As well as the environmental benefits, the innovative bag-in-box solution provides several tangible benefits for customers.
The bag is taint free, meaning that it does not change the water's taste, and is also more hygienic than plastic alternatives, with each bag having its own fresh water tap.
Furthermore, the boxes are easier to store than plastic bottles, and are also lighter and easier to lift.