Building an ecosystem to deliver the Circular Economy
We are bringing together a community of radical thinkers and encouraging revolutionary new ways of working in partnership.

The transition to the Circular Economy won't happen overnight, nor will it be delivered by any organisation acting alone. It will need brilliant minds to come together like never before. We are putting ourselves at the heart of a community that can make this happen.
The switch from the Linear to the Circular Economy is not optional. The clock is ticking, and to make change happen faster we are building a dynamic and diverse ecosystem of experts from across our own business, our industry, government, communities and beyond.
At DS Smith we are a curator of solutions to problems. We are constantly scouting for partners and building relationships that will help us solve long-standing sustainability challenges.
We are transforming the way we work
We are passionate about working together, sharing ideas and exploring new ways to innovate and delight our customers.
We are breaking down both physical and administrative barriers so that radical thinking can flourish across our sites, across the world. We are creating entire new innovation teams and virtual platforms that facilitate a seamless exchange of information and ideas, from drawing board to boardroom, recycling depot to paper mill and back again. So new packaging concepts can be quickly and easily scrutinised for recyclability for example, and technical advances in our mills can be fed directly to our design teams to make our circular design principles even more effective.
Thanks to advanced digital platforms, our network of 700 Designers and Innovators in over 30 countries can share ideas in an instant. Allowing us to adopt, adapt and scale packaging concepts quickly and easily for our local markets.
Experts from across our Packaging, Paper and Recycling divisions share experience and expertise in our Recycling Forum, addressing issues like hard to recycle plastics and evolving legislation. The Forum will also engage with external packaging producers, legislators and trade associations to help us recycle more, waste less and support the role we are taking in the 4evergreen alliance.
Collaboration to bring about lasting change
We became a Strategic Partner of the Ellen MacArthur Foundation because we wanted a partner to challenge us, help us drive design and innovation and further embed circular economy thinking into our business in new ways. In May 2021, we celebrated two years working alongside global organisations in the Foundation's Network such as Google, Unilever, Renault, and the H&M Group, sharing knowledge and helping us to drive our circular economy agenda further for ourselves and for our customers.
Over the past year, we have collaborated on several white papers and other publications authored by The Foundation including 'Financing the Circular Economy' and the 'Upstream Innovation Guide.' We also joined more than 50 global leaders and signed a statement pledging to build better growth following the Covid-19 pandemic, placing the Circular Economy at the heart of the economic recovery. We have been able to share The Foundation's expertise with our customers too, like Mondelēz, who joined us for a Circular Economy Innovation Sprint that accelerated momentum, engagement and commitment to implementing circular economy principles into their packaging designs.
We're pleased to be partnering with DS Smith in their ambitious efforts to drive the development and scale adoption of innovative customer solutions. We look forward to their continued leadership as a front-runner in the transition to a circular economy.
We embrace people or organisations that think differently to us and we have entered a partnership with World Kinect Energy Services to manage our energy consumption with tactical solutions across 26 European countries. By improving our energy purchasing and usage, increasing efficiencies and reducing waste in production, we have been able to increase our ambition on carbon reduction by committing to reach Net Zero emissions by 2050.
We are consulting – and we are being consulted. As well as direct government interaction we are also contributing to four meaningful consultations on the UK government's Waste & Resources Strategy, that help to reboot stagnating recycling rates and develop an evidence-based roadmap to a more sustainable future.
We are joining forces with suppliers
As we reinforce our position as the leading supplier of sustainable packaging solutions we are working closely with a wide variety of partners to further expand our offering.
For example, we are partnering with:
TemperPack on ClimaCell®, a fully renewable and recyclable solution which offers a sustainable thermal insulation barrier for temperature sensitive goods such as meal kits, perishable groceries and medical products.
Touchguard, to develop anti-microbial coating for packaging to provide an additional layer of protection across the value chain.
We are also proud to partner with organisations such as Aquapak, working on the development of a fully recyclable packaging alternative to hard to recycle plastics. This will support the targets in our Now & Next Sustainability Strategy which include manufacturing 100% reusable or recyclable packaging by 2023.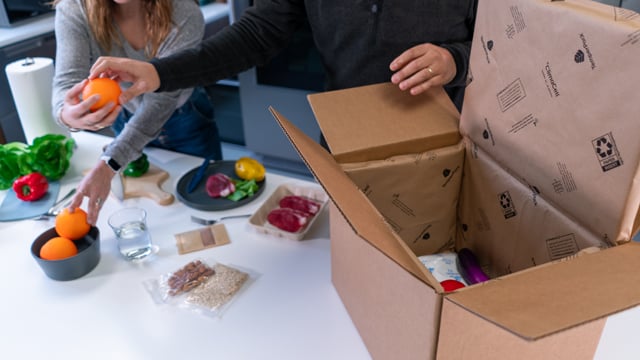 We know that delivering the Circular Economy may increasingly require us to reconsider and define the edges of our businesses and we are already experiencing this as we bring in whole new areas of expertise, like robotics.
We are partnering with our customers
Partnerships allow us to develop packaging that helps our customers sell more, reduce costs, manage risks and become circular ready. Our relationships have enabled us to develop deep industry and customer insights and we have examples of successful client collaborations that extend over 20 years. From automotive to retail, read more about our partnerships here.
Today we support many of our customers as they build sustainability directly into their business models.
We have helped specialist flower and plant packaging supplier Koen Pack deliver a fully auditable and traceable closed-loop model that turns 100% of Koen Pack's cardboard recycling in the Netherlands back into new boxes.
For Laithwaites Wine, we demonstrated a fully traceable closed-loop model for their cardboard arriving at their distribution centre, removing plastic and keeping over 1,000 tonnes of cardboard packaging in the supply cycle for as long as possible.
Many of our customers are looking for sustainable solutions to achieve their own sustainability targets and solve big challenges; Replacing problem plastics, taking carbon out of supply chains or moving to more efficient recycling solutions. The questions we are asked may not always be directly about the Circular Economy - but the answer often is.
By partnering with DS Smith we're using our cardboard waste as the raw material for new boxes, preserving natural resources and reducing CO2. It's wonderful that this solution helps to meet our vision to turn 100% of our waste into new products.
Looking ahead, we have launched FuturesProofing, an exciting digital experience for our customers to test their business, product and packaging strategy for the future. Alongside our packaging experts, customers explore potential future worlds, from climate scenarios that lead to new eating habits and demand for reusable packaging to deforestation scenarios that lead to more circular flows of materials and energy. Over the coming year, we will invite more customers to join these workshops.
We are inspiring the next generation
As part of Our Now & Next Sustainability Strategy we have pledged to engage 5 million people on the Circular Economy and circular lifestyles by 2030. We will achieve this through our community programmes and the delivery of school lesson plans and outreach programmes, both face to face and through digital platforms.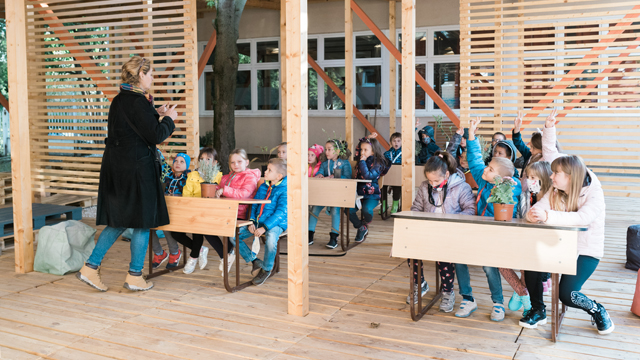 We are also being inspired by young talent
E-commerce sales across Europe grew by a staggering 31% in 2020 which has had a significant impact on the fibre circulating around our system.
In the UK, a collaboration with design students at Cardiff Metropolitan University is helping us to produce radical ideas that will 'turn the last mile of delivery into the first mile of recycling'. The first of these ideas is now about to launch as a pilot.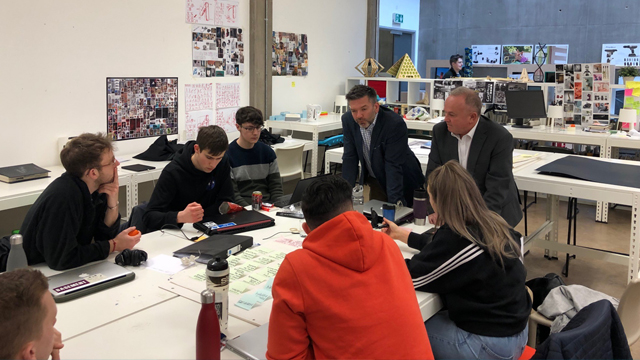 We are engaging with our local communities
We operate across over 300 sites around the world and we care about supporting the local communities that we're a part of.
All our employees have a vital role to play in delivering the commitments we've made in our Now and Next Sustainability strategy. In the last 12 months, a total of 166 of our sites have engaged with their communities, with activities from school trips to litter picks occurring almost every other day somewhere at our sites around the world. Our team at Fordham recently united with Bitvic employees to improve the bidiversity at our site. If you'd like to read the full article click here.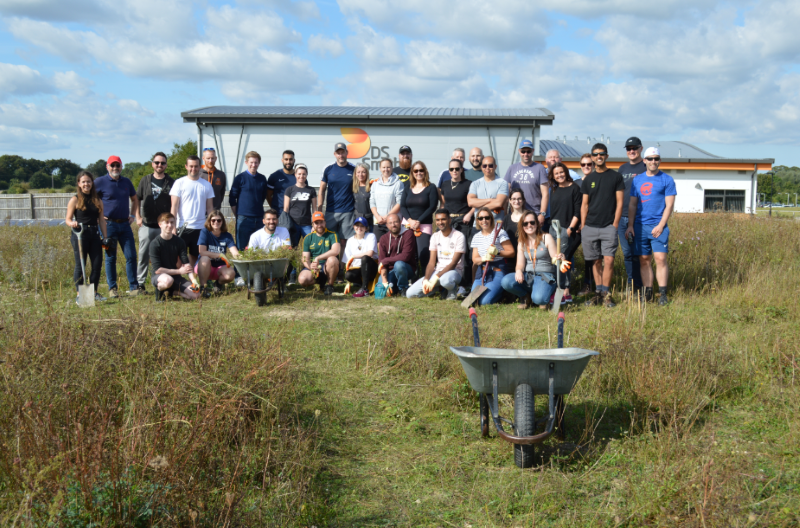 The future is collaborative. The future is circular
The challenge of delivering the Circular Economy is going to require a real commitment to collaborative working, just like our ecosystem. So it's no coincidence that "Working together to deliver" is one of the four pillars of the UN Climate Change Conference 2021 (COP26), which also stresses the importance of collaboration between governments, businesses and civil society to rise to the challenge of the climate crisis.
Whether you are a customer or a supplier, let's start talking about the part you can play in our ecosystem. So we can make the transition to the Circular Economy together.