Britvic and DS Smith Unite for Biodiversity Volunteering Day
38 employees across the two multinational organisations came together for a full day programme of activities which will improve the environment for insects and birds and enhance biodiversity; that was a true demonstration of aligned values.

Each year, Britvic provides its employees with 2 volunteering days and this year their Procurement Team chose to come together and give back to nature. After a long period of home working this was a great opportunity to have fun together, whilst volunteering on an activity which aligns with Britvic's Healthier People, Healthier Planet objectives: reducing carbon; conserving water; working with local communities and improving mental wellbeing for their employees.
Hosted by DS Smith, the initiative was carried out in the grounds of their state-of-the-art Impact Centre in Fordham, which is a purpose-built facility designed to explore the role of packaging through the supply cycle, and inspire future innovation in sustainable packaging solutions.
"Britvic's Procurement team had a fantastic day volunteering with colleagues from DS Smith and the National Trust. Together we improved the biodiversity and environment at DS Smith's impact centre. We look forward to seeing the positive impact the bird boxes, insect hotels and wildflower areas have on the local environment and community over time." commented Matt Swindall, Chief Procurement Officer at Britvic.
"Our Impact Centre facility provides the perfect opportunity to learn how packaging can create value and help brands and retailers overcome complex challenges within the supply cycle as we transition to a circular economy – having hosted Britvic at this facility year after year, throughout our partnership, it felt like the perfect location for this joint sustainability project." commented Lydia Butler, Regional Customer Experience and Impact Centre Manager at DS Smith.
Organised with the help of the The National Trust, 31 people from Britvic Procurement and Sustainability teams, and 7 DS Smith employees from Sales, Marketing, Design & Innovation and Group Sustainability teams carried out activities that included:
Maintenance on the on-site wildflower meadow; clearing several paths to the centre of our wildflower field where DS Smith will soon install a new insect community hub, education zone and beehive community, jointly funded by our customers and employees
Shrubbery clearance and maintenance on the Impact Centre grounds; removing plastic stem guards to promote growth and replacing mono-species existing plants with bee and butterfly-friendly plants which promote create biodiverse habitats
Bird box installation to support local population of Wagtails and Swifts which thrive in the wildflower meadow and along the local train track wildlife corridor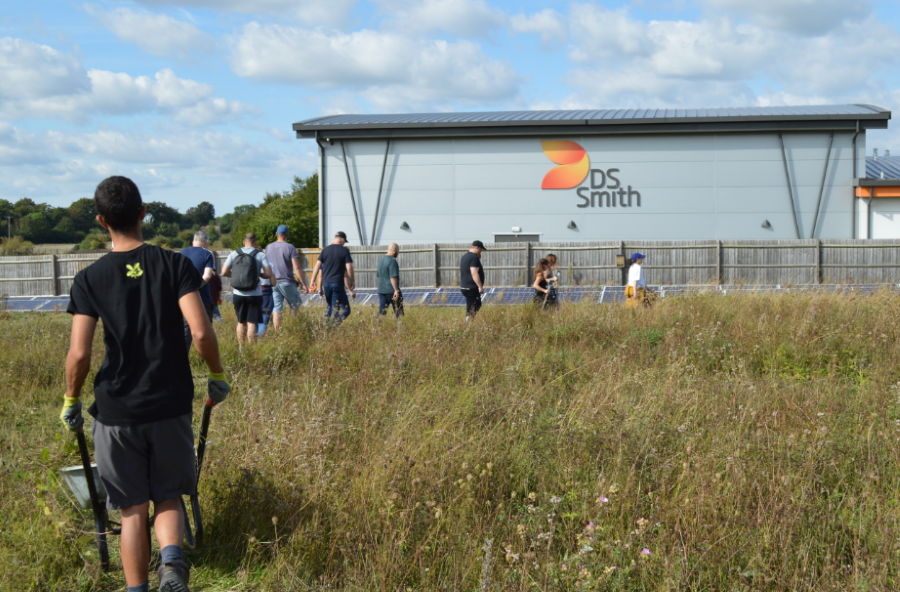 DS Smith, a leading provider of sustainable fibre-based packaging, has been supplying Britvic for over 30 years; developing a truly strategic partnership with shared goals, expertise and collaborative working.
"As a long-term partner to Britvic, DS Smith is playing a crucial role improving the sustainability of our card and paper packaging supply chain. This is just one example of how we are collaborating on our sustainability journey." Continued Matt Swindall, Chief Procurement Officer at Britvic.
"This project continues to solidify our partnership as we not only work on joint packaging-related projects, but also on joint sustainability projects which demonstrate our combined values." commented Janine Carter, Strategic Account Manager at DS Smith.
In 2020, DS Smith launched its innovative two-phased Now and Next Sustainability Strategy, which continues to focus on the transition to a circular economy by partnering with customers, communities, governments and influencers to keep materials in use, design out waste and regenerate natural systems. It maps out ambitious commitments and goals for the next decade including focus on CO₂ reduction, protecting biodiversity and reducing water consumption.
In 2020/21, 57 projects to improve biodiversity were funded by the DS Smith Charitable Foundation, with a further 47 projects under consideration, from wildflower meadows and community gardens to bug hotels and ponds.