Who we are
Redefining Packaging for a Changing World

We always keep an eye on the future, as we are operating in a changing world. The UK is rapidly transforming, our towns and cities are experiencing rapid digital growth and entire populations are transforming. The growth in digital technology is revolutionising the way we shop and live. We increasingly expect to purchase products tailored for us, whenever we want them, wherever we want them, delivered to us in a way that fits our busy lifestyles. We want more choice and convenience but with less impact on the world around us.
This presents huge opportunities for all of us, but also requires new ways of thinking.
How do we deliver more products, without more vehicles making our cities more congested?
How do we deliver more to people's homes, without filling them with excess packaging?
How can companies adapt to changing shopping habits, while running their operations smoothly and efficiently?
How can we make products available across borders, while ensuring consistency everywhere, every time?

There's a need for a new approach to packaging, and a need for strong leadership in our industry. This is what drives us and why we have a shared purpose of Redefining Packaging for a Changing World.
We are different as we see the opportunity for packaging to play a powerful role in a changing world. Our Purpose is to help our customers respond to changing shopping habits with the sustainable packaging solutions that our society needs.
Our Purpose drives our four strategic goals
Delight our customers
By delivering outstanding results to them as we increase their sales, reduce their costs and manage their risk.

Realise the potential of our people
By creating a safe environment where every colleague can use and develop their skills and ideas.

Double our size and profitability
By driving operational excellence, growing our market share and expanding in to new markets.

Lead the way in sustainability
By building sustainability into our decision and growing our recycling platform.

We have a clear set of values that all of our employees should own and live by:
BE CARING. We take pride in what we do and we care about our customers, our people and the world around us.
BE CHALLENGING. We are not afraid to constructively challenge each other and ourselves to find a better way forward.
BE TRUSTED. We can always be trusted to deliver on our promises.
BE RESPONSIVE. We seek new ideas and understanding and are quick to react to opportunities.
BE TENACIOUS. We get things done.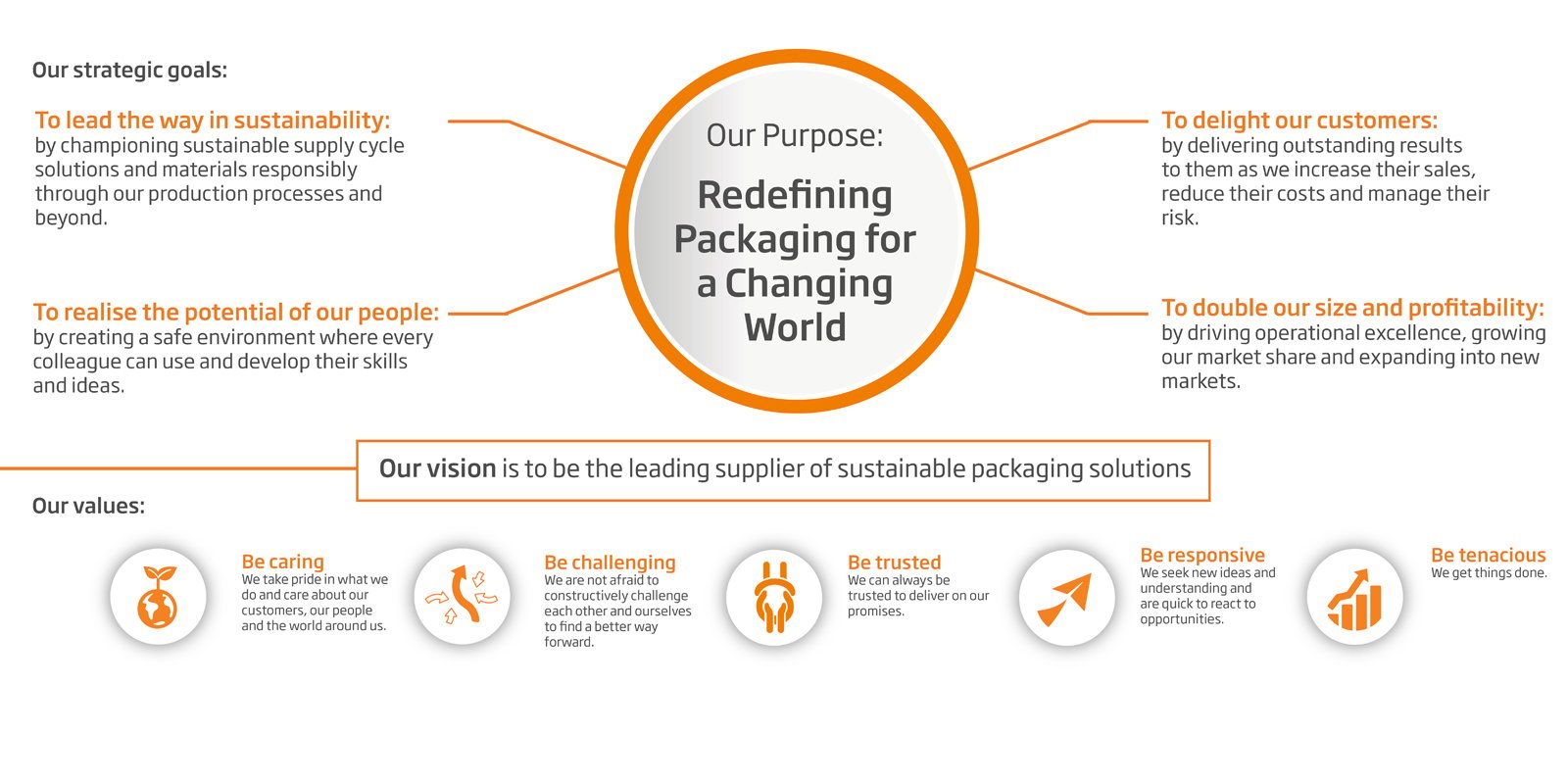 These values guide how we make decisions and shape company policies and practices, influencing both individual employee behaviour and organisational culture. The right values have to resonate with our behaviours. They need to reflect what we genuinely believe, and what we actually do. Our aim has therefore been to identify those values which all employees are able to live by and own.