DS Smith and Laylo partner to deliver new premium wine experience
Laylo first approached DS Smith to help reduce the likelihood of damage whilst the wine is in transit to consumers' homes, and enhance the unboxing moment.

Laylo, a premium boxed wine retailer, was seeking the right partner to design a packaging solution that not only looked great but would ensure no damage occurred to the product while in transit. A problem, the founders say, that was occurring frequently and compromised the premium, more sustainable unboxing experience they had hoped to deliver.
The new packaging needed to be planet safe without compromising its core function of preventing damage to the wine. To do this, DS Smith's Creative Design Team created a strong, protective, yet elegant design solution.
By offsetting the inner wine packs at an angle, DS Smith was able to reduce the number of exposed edges and corners that could potentially be damaged. The inner fitting works in harmony with the wine packs and the outer pack to cradle, support and protect the product from any drops, impacts and shocks.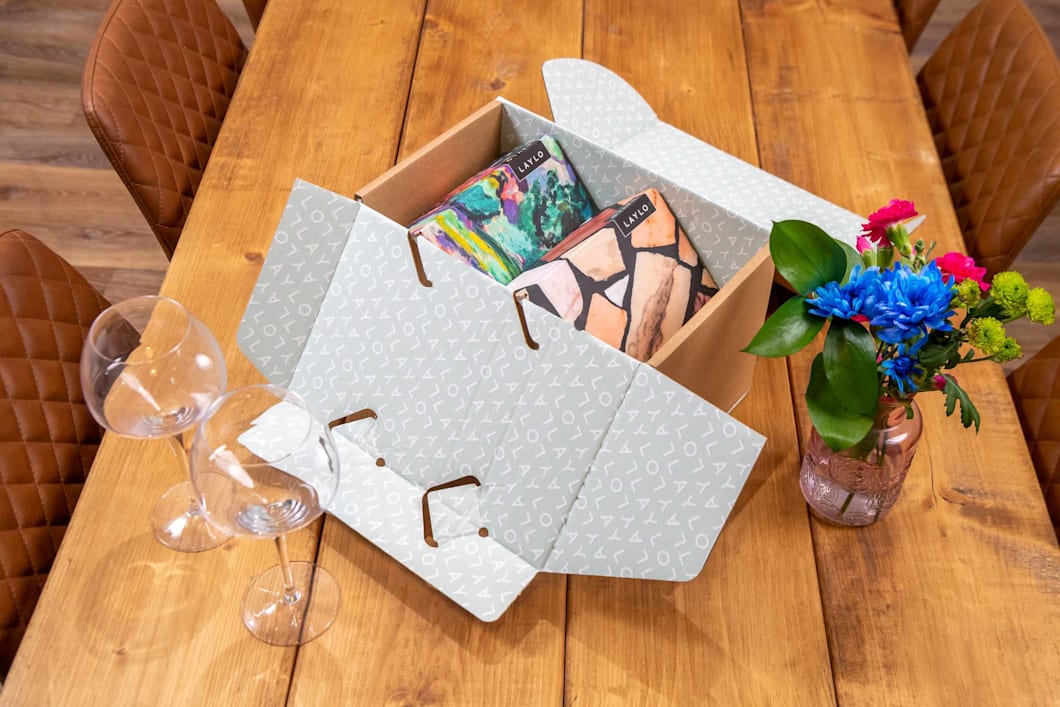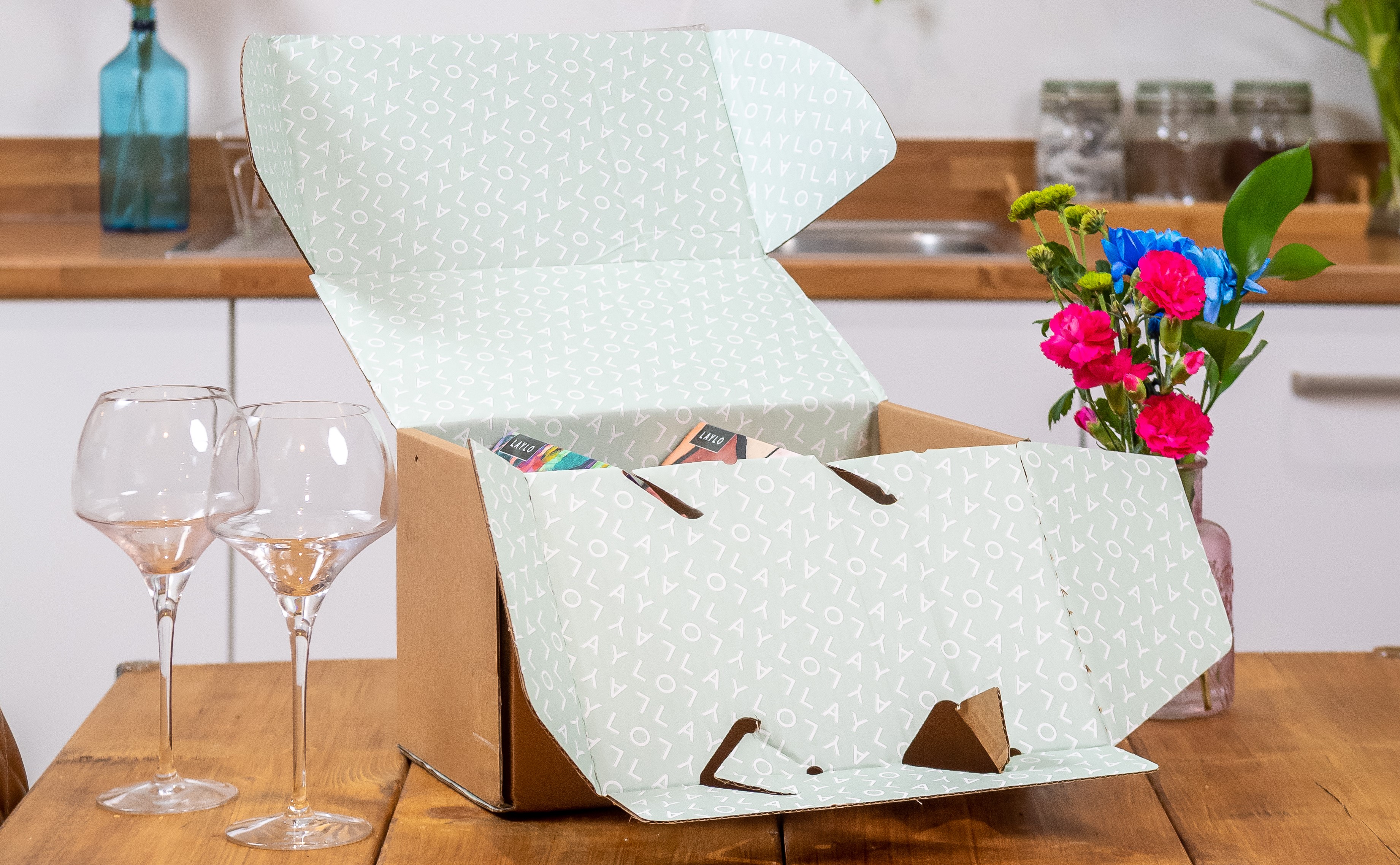 We established Laylo because we saw the sustainability benefits of boxed wine, and we knew our biggest challenge was to change perceptions around quality. To do that, we designed beautiful packaging you'd be proud to have on your countertop. We want every box to arrive in perfect condition, and for the unboxing experience to demonstrate the quality and expertise behind the brand.

- Laura Rosenberger at Laylo
As well as ensuring the wine was protected while out for delivery, enhancing the customer opening experience was also a priority for Laylo. DS Smith therefore combined print and structure, with a two-step open and reveal – that demonstrated Laylo's commitment of care for the customer and product.
Laura continues to say that "DS Smith has been the perfect packaging partner to work with. From start to finish, the collaborative and hands-on approach to design and product development left us feeling assured that our new packaging could withstand the rigours of the supply chain and wow our customers."
DS Smith also used the company's Circular Design Metrics software to analyse the carbon footprint of each pack design. The finished design and kraft materials create a pack with a footprint of 202 grams CO2e – whilst ensuring full protection of the wine packs through the e-commerce supply chain. The pack design is engineered to use a size efficient area of material, whilst the kraft paper, with its longer fibres that help the packaging resist impacts and drops while in transit, ensures the product arrives with the consumer looking its very best.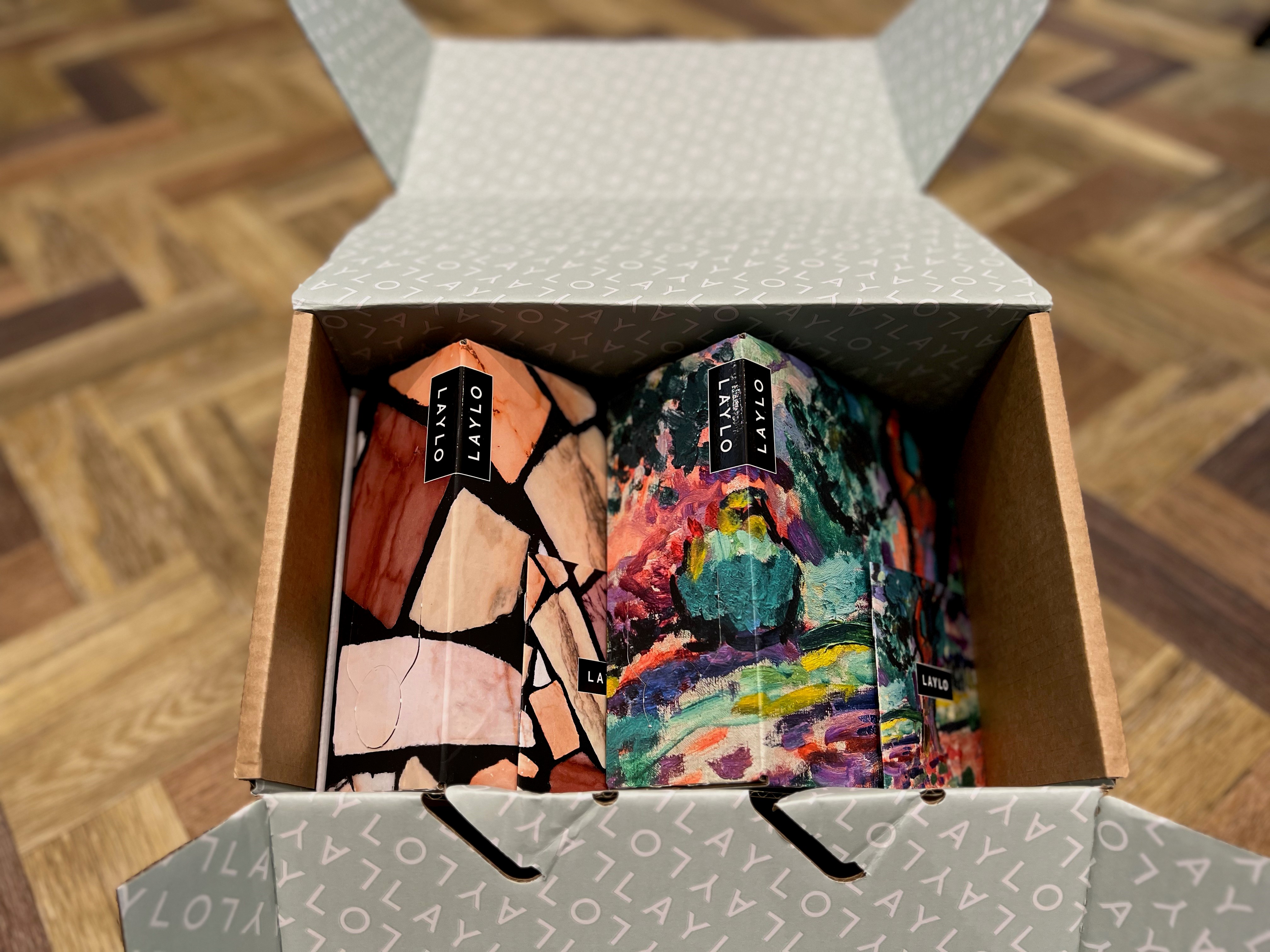 DISCS™ - Industry first testing process
Today, packaging must withstand several touch points throughout the e-commerce supply chain, to deliver consumer goods in optimal condition. DS Smith's DISCS™ technology (named after the types of testing it performs - Drop, Impact, Shock, Crush, Shake), replicates the stresses and strains of the e-commerce supply chain to develop high-performing and resilient packaging that can resist the many challenges encountered under transit. By supporting the development of durable packaging, the DISCS™ system promotes sustainability by reducing the amount of materials consumed for packaging and thus the strain on natural resource use.
Anne Curtis, Business Unit Lead, E-Commerce at DS Smith comments "No one wants to receive damaged goods, especially when they're expecting to receive a premium product that tastes even better than it looks. However, the demands of e-commerce put intense pressure on packaging as it moves through the supply chain - with some products reaching greater G-forces than an Astronaut travelling through the atmosphere to space."
"This is why we put packages through their paces – we use an impact intensity measurement to see how they fare, and what we find is that the answer is not more packaging, but better designed packaging. This is the kind of innovation our designers are focused on, as well as finding ways to make every item as sustainable as possible."
More information on the DISCS™ testing can be found here and details on DS Smith's Circular Economy Leadership can be found here.