Garçon Wines bottles up sustainability for the wine industry
Advancing wine packaging for seamless home delivery and other supply chain sustainability benefits.

Garçon Wines, the inventors of flat wine bottles are "advancing wine packaging into the 21st century, creating an innovative and truly sustainable wine bottle that makes the planet healthier, industry wealthier and society happier". To this end, they enlisted the help of DS Smith to reflect this ambition in their secondary packaging.
The multi-award winning, slimline bottles are made from 100% post-consumer recycled PET plastic. The new shape and material results in bottles that are 87% lighter and 40% more spatially efficient than an average round, glass bottle of the same volume. These weight and space savings mean they are considerably more efficient to transport, slashing logistics costs and CO2 emissions from the wine supply chain. Importantly, and unlike other alternative wine packaging formats, the bottles look beautiful and respect the heritage and tradition of the wine industry. The bottles are also fully and easily recyclable after use.
Originally developed by co-founders Santiago Navarro and Joe Revell to facilitate the hassle-free delivery of wine into UK homes via the letterbox, Garçon Wines set out to improve consumer convenience and help reduce the 900,000kgs of carbon emissions associated with missed deliveries in the UK.
Alisdair Easton, General Manager at Garçon Wines explains: "Round glass wine bottles that are fragile, heavy and spatially inefficient are, in our view, no longer fit for purpose in a 21st century world of online sales, complex supply chains, resource scarcity and most importantly, climate change."
Garçon Wines' first project with DS Smith was to create a single bottle postal pack for online sales. It needed to be thin enough to fit through an average UK letterbox but strong enough to protect the bottle and ensure it arrived free from any damage.
Alisdair continues: "We needed to find a packaging partner that could work with this innovative brief and, because of the global interest in the design, also manage the international scale and scope of the potential business, helping us create a world-class product. As an industry leader, DS Smith was able to offer all the above. Thanks to their collaborative approach, the end design was exactly what we planned for and we immediately received resoundingly positive feedback from our partners in gifting and online wine."
The single bottle postal pack is made from a combination of FSC certified corrugated materials for the outer liner and recycled fibres for the remainder of the pack. This ensures the packaging reflects the sustainable ethos of Garçon Wines, who place a strong focus on designing products that use the right materials, responsibly.
Following the success of the flat, wine bottle and postal pack, which won over 10 awards including the Diamond Finalist Award in the prestigious Dow Packaging Innovation Awards, Garçon Wines knew that to further disrupt the wine supply chain they would need to develop a multi-bottle pack to amplify the space and weight savings of the individual bottles. In collaboration with DS Smith, they devised a game-changing secondary packaging format that significantly cuts carbon emissions and logistics costs from the supply chain of wine. By packing eight flat bottles vertically with two lying horizontally in the airspace around the bottlenecks, almost all unused airspace is eliminated.
Del Ibbs, Area Sales Manager for DS Smith explains: "The Garçon Wines team visited DS Smith's PackRight Centre in Hinckley and spent a day learning about how DS Smith works and talking about their vision for the transit case. Together we discussed the entirety of the project from design through to manufacture. We were able to use our expertise to develop the design further and ensure there was appropriate protection between the bottles, while also using our Value Tool to quantify the supply chain savings that would result from the changes. It is a privilege to be involved with a customer from the ground up and the solution has just won the award for Best Sustainable Packaging at the World Food Innovation Awards 2019."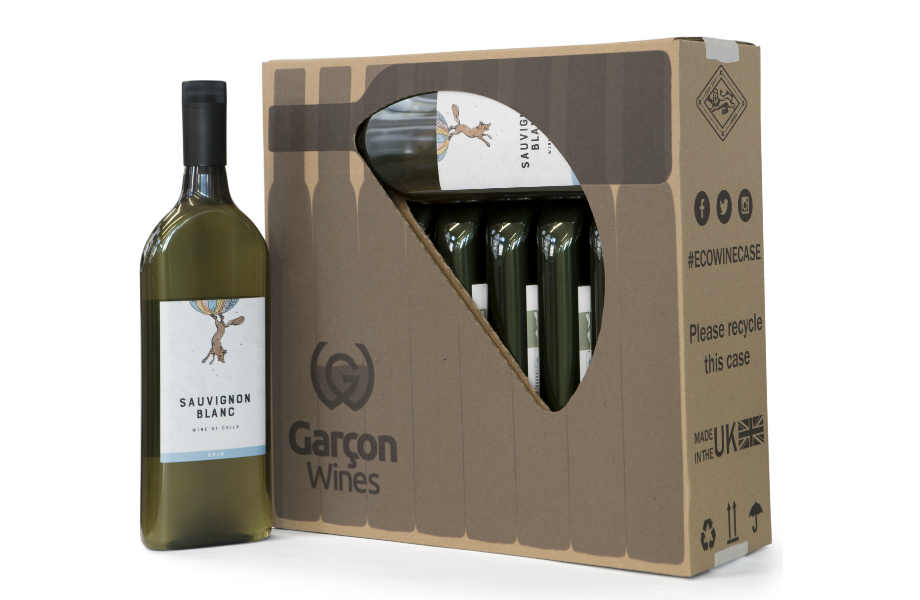 Based on a pro-rata per bottle comparison with an average 6 round, glass bottle case, Garçon Wines' new 10 Flat Bottle Case, developed in conjunction with DS Smith, is approximately 55% spatially smaller. This space saving per case means that a pallet loaded with 10 Flat Bottle Cases could carry 1,040 bottles of wine in comparison to just 456 traditional bottles of wine with a standard pallet load. Fitting 2.28 times more wine on a pallet translates to lower costs in terms of packaging, warehouse handling and storage, and transportation. On an example consignment of 50,000 bottles of wine, the Garçon Wines flat wine bottle and accompanying 10 Flat Bottle Case would significantly reduce the need for heavy good vehicles (HGVs), which carry a standard 24 pallets from five HGVs to just two. This would have a direct, positive impact on the reduction in carbon emissions and costs by at least 60%.
Speaking about his experience of working with DS Smith, Alisdair concludes: "In DS Smith we have found an ideal packaging partner, one that shares our ethos – they are committed to designing and manufacturing high-quality, sustainable products that have a minimal carbon footprint and reduce inefficiencies in supply chains. DS Smith are experts in their field and have helped us develop innovative and ground-breaking secondary packaging that truly complements our unique bottles. In addition, they can provide Amazon frustration free packaging (FFP) certification, which is something we specifically look for. There is a fantastic synergy between our two businesses, and we are already looking forward to working together on advancing the wine industry for a better tomorrow."
For more information on Garçon Wines, please visit https://www.garconwines.com/