RRP to help Laughing Dog be leader of the pack
Fold Hill Foods, owner of Laughing Dog pet food, has partnered with DS Smith to provide a retail ready pack (RRP) that provides maximum impact on the store shelf, helping to drive sales in the pet food category.

In support of the brand's re-launch and product extension of healthy dog treats, DS Smith designed the pack to increase awareness of the brand and to help store colleagues when they are directing shoppers to the product.
Printed using a litho-laminating process and using colours that perfectly match the different pouch variants, the resulting pack looks clean and crisp making it easy to spot on the shelf. When merchandised together the tray and primary pack harmonise to provide a strong visual cue for the product and aid brand recognition.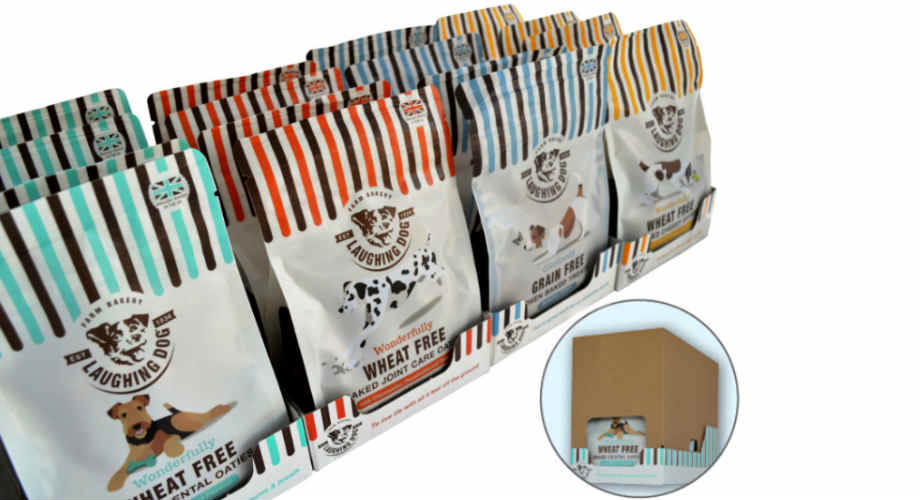 The retail ready tray is manufactured in E flute, and the R-Flute® hood protects the products in handling, storage and distribution. DS Smith produce the two items separately, and via an inline combining process bring the tray and hood elements together. The finished pack is delivered to Fold Hill Foods as one complete unit which can be filled as a one piece pack. The benefit can be seen in store when the hood is easy to remove and without the need for perforation, the pack perfectly complements the brand, whilst matching shopper expectation.
Tony Foster, sales and marketing director at DS Smith's UK packaging division, commented: "The RRP that has been created for Laughing Dog demonstrates that a pack can be designed to look great on the shelf, help to make the packing process efficient, and be robust to meet all the challenges of the supply chain".
Jaiminie Chauhan, Marketing Executive at Fold Hill Foods, said: "Since the re-launch we have had a great response from the trade and consumers about our new design, this has contributed to new listings".
Fold Hill Foods is a family owned business that manufactures various different pet food products. The Laughing Dog brand was bought by Fold Hill Foods in 2009. The product range is sold through both pet speciality stores and standard retail channels.