Box to Box: recycling and landfill prevention
Packaging users increasingly turn to DS Smith, to change the realities of used packaging, from misunderstood "waste", to a valuable resource, managed and recovered for further use.

Across Europe, DS Smith handles 5.4 million tonnes of recovered paper every year. In the UK, DS Smith operates market leading businesses, which make recycling real. DS Smith produces corrugated packaging, collects recycling from retailers, industrial plants and other sources, and the Paper division transforms old packaging to new materials - strong, high quality, recycled papers. Then the whole process starts again – the corrugated loop, box to box.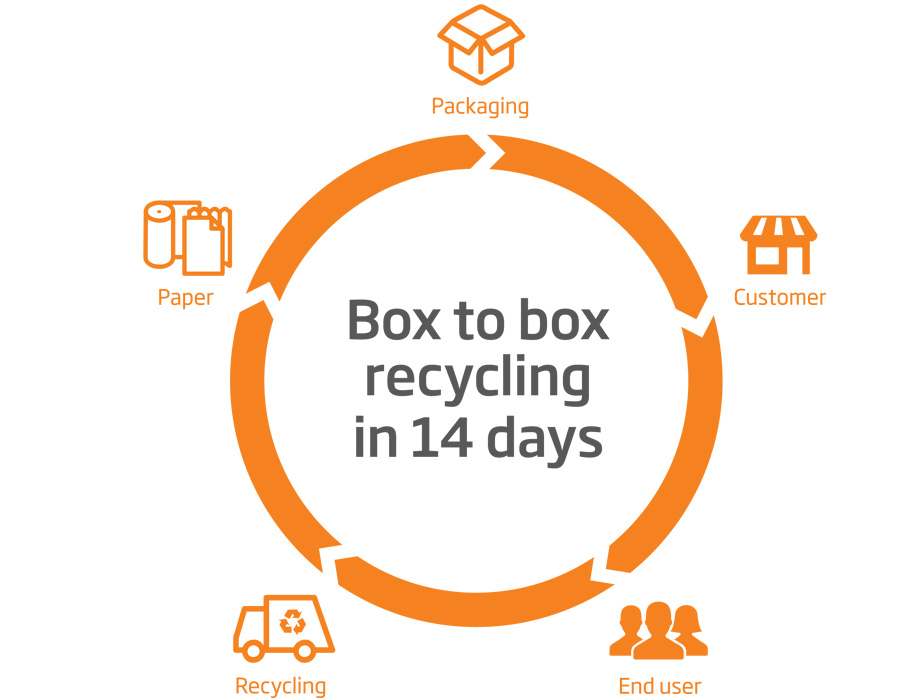 The exceptionally effective recycling infrastructure for corrugated packaging enables users to feel confident that their packaging will be recycled and won't contribute to landfill.
More than 80% of corrugated packaging in the UK is recycled, a higher rate than for any other major packaging material. Such effective recycling enables a renewable resource – paper fibre – to be used again and again, as part of a closed loop recycling process for corrugated packaging
Corrugated packaging: part of a renewable system
Paper fibre for corrugated packaging is a renewable resource, based on high levels of recycling, combined with responsible forest management. It will not run out.
New fibre and virgin papers derive from sustainably managed forests, where the number of trees planted at least matches the impact of harvesting. In fact, in Europe, the area of forest has grown by 17 million hectares in the last 20 years and 33% more trees grow every year than are harvested.
Growing trees are vital in absorbing CO2 from the atmosphere. Healthy, well managed forest resources, used to support many industries including corrugated packaging, play a cogent, economically necessary role in controlling greenhouse gases.